9/25/2014: Another $35M to $100M for sports pork, bribes?
The jocks don't even have the goddam common decency to give the academic side a reach-around, and pay off the Matt Court land and Jaqua tutoring first. Chris Hansen has the report in the RG on the latest duck-pork, here: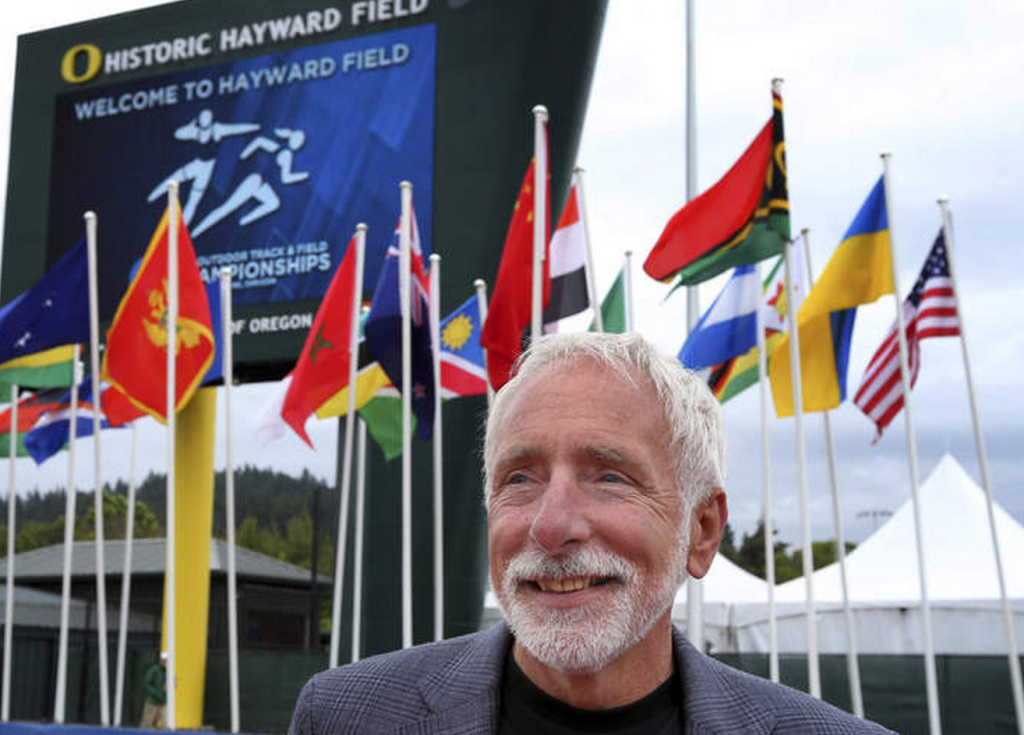 TrackTown USA's bold attempt to bring the 2019 World Outdoor Track & Field Championships to Hayward Field was formally sealed today when USA Track & Field officially submitted a bid to the International Association of Athletics Federation.
… Lananna would not reveal the exact details of the bid, including the potential cost to host the event, though he said that, since 1983, successful bids have cost anywhere from $35 million to $100 million.
… A major remodel of the 93-year-old stadium would seem to be implied with a successful bid.
"We've been planning an upgrade to Hayward for a long time," Lananna said. "This is not new. It's something we've been working on for almost three years now. So we've done the necessary steps to begin the project as soon as we get to the day we need to make that decision."
UO is paying Lananna $200K cash ($290K at a 0.69 FTE), plus $234K in some sort of special retirement fund, plus a car. The car is a big deal with the jocks, they all want UO to make their car payments for them. They used to make us pay for their cell phones too, until they realized that meant their call logs were public records. Whoops. Now it's "thanks, but no phone, just a car, really":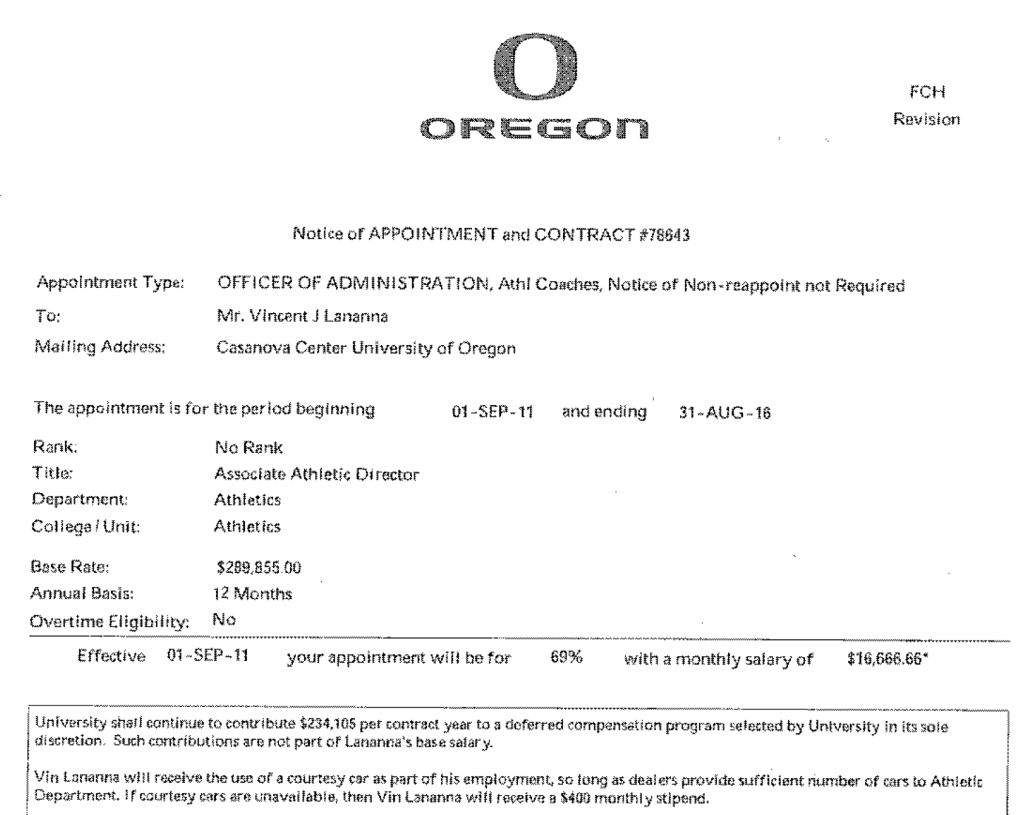 It's not clear how much money Lananna will need for bribes: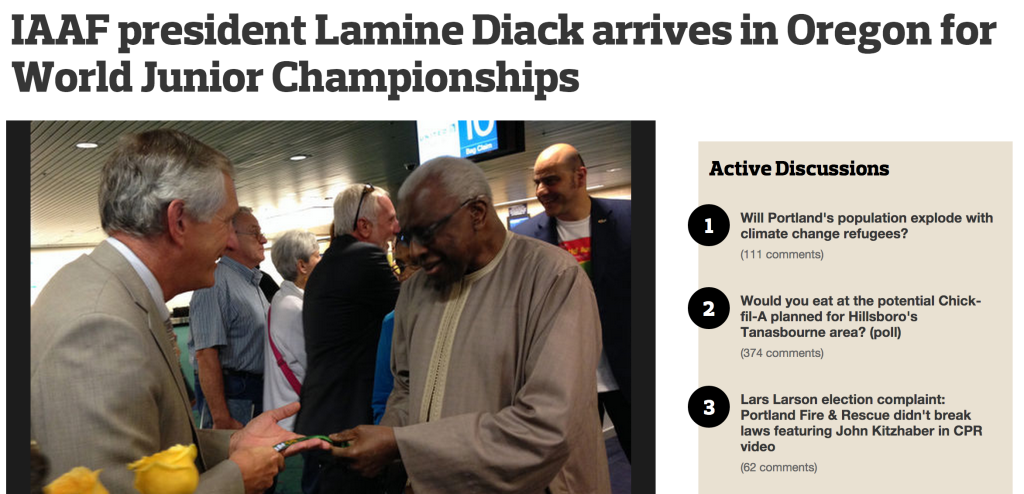 Lamine Diack, the powerful president of the International Association of Athletics Federations (IAAF), is being investigated by the International Olympic Committee's (IOC) ethics commission for allegedly taking bribes from a Swiss company when it had the exclusive marketing contract for the IAAF Championships.
Despite the inquiry, Mr Diack has kept his position with the IAAF, which will announce in Monaco on Friday whether London will be awarded the 2017 World Championships. London's rival is Doha, capital of Qatar.
… Mr Diack, a member of the IOC, did not respond to questions from The Independent on Sunday. When asked on film about the allegations, at a London hotel earlier this year, Mr Diack declined to comment and ran off.
But the fact that Qatar is more transparent than the UO Board of Trustees, which kicked RG reporter Diane Dietz and me out of their secret meeting with Lananna, is noteworthy:
While Lananna was keeping details close to the vest, the Qatar Athletics Association was unveiling part of its plans to win the bidding war.
In a story on SportsBusiness.com, Doha officials announced plans to build a 35-acre mixed-use development known as "Athletics City" that would include 5-star apartments, hotels, retail shops, restaurants and a "full range of luxury leisure and entertainment facilities," located 20 minutes away from Khalifa International Stadium, site of the 2006 Asian Games.
Mr. Diack's term ends next year, when he'll be replaced by Lord Coe, who got the job because he brought in $300M from the Japanese. And you thought the NCAA was a cesspool: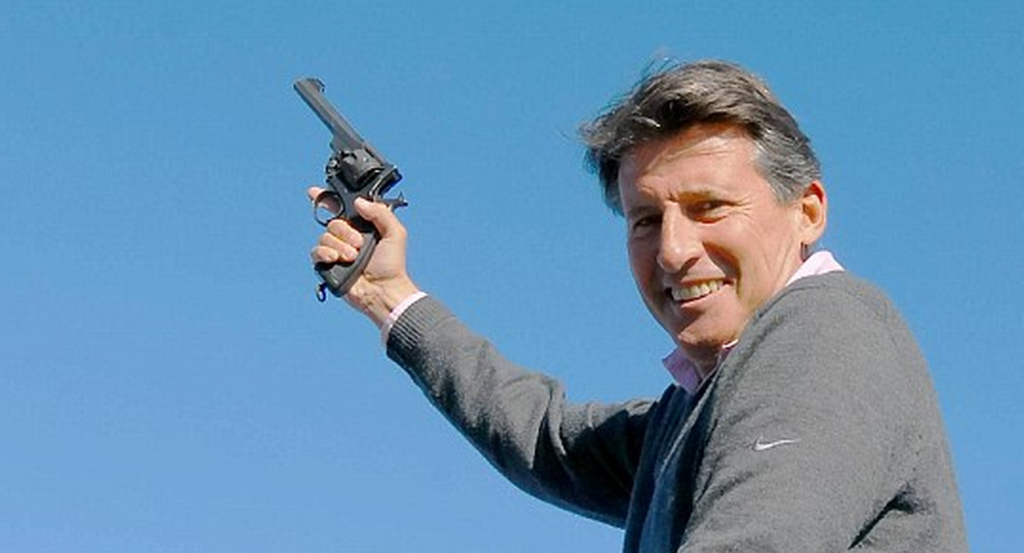 10/26/2014: The RG serves up the sort of boosterish editorial a hometown newspaper has to write over an event like this, here: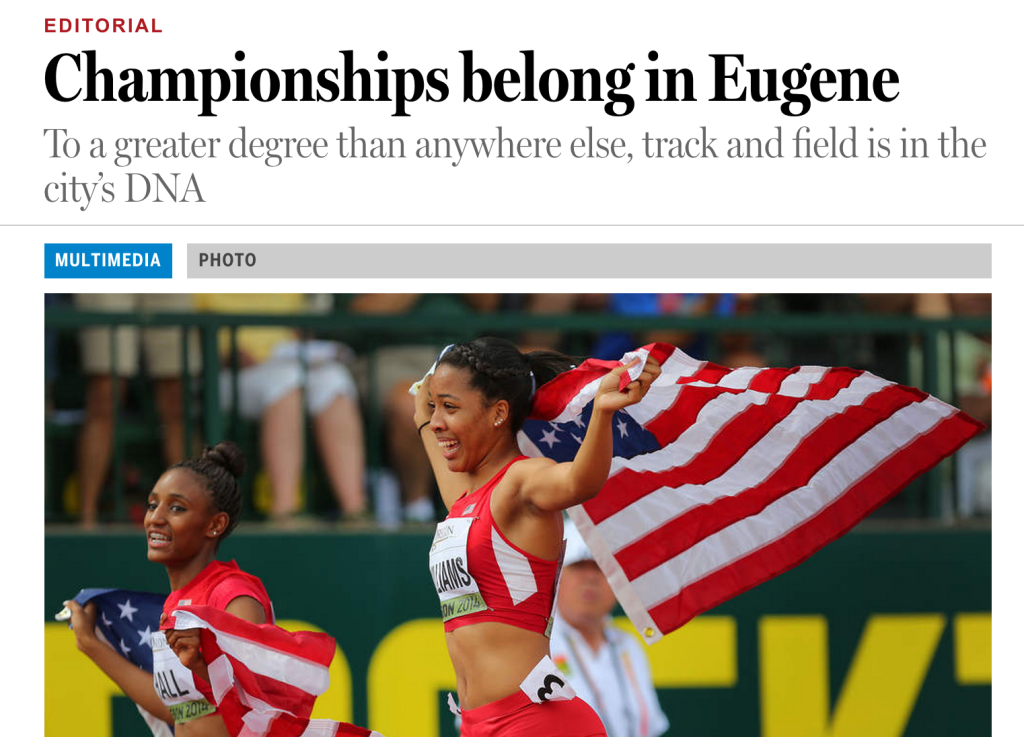 But here's what the Manchester Guardian has to say about Lamine Diack, the guy who will decide between Doha, Barcelona, and Eugene – and who is currently in Eugene for what seem to be totally secret meetings:
Diack, the president of the International Association of Athletics Federations, was given a warning and Hayatou, a Fifa executive committee member and president of the Confederation of African Football, was issued with a reprimand.
Earlier this week the former Fifa president and long-standing IOC member João Havelange resigned before the ethics commission report into claims that he, Diack and Hayatou were among those named on a list of $100m in kickbacks made by the now defunct sports marketing company ISL between 1989 and 1999.
But the NYT report seems to indicate it's a done deal – though it's got nothing on how much tax money UO, Eugene will pay, or how much Knight is prepared to pay for an event that has Adidas not Nike as the main sponsor:
Eugene, a college town with a population of just 160,000, has its drawbacks: a shortage of infrastructure, including hotels, and an intimate but undersized stadium that even when expanded would be small compared with some of the recent venues in major cities like Berlin and Moscow.
But Hayward Field also has its charms and above all its American address. If Eugene is chosen — and both the I.A.A.F. president, Lamine Diack, and the heir apparent, Sebastian Coe, have made it clear in the past that they believe the United States should get an event of this magnitude — the Pacific Northwest will have both the world indoor championships in Portland in 2016 and the world outdoor championships three years later.
Will this be on the up-and-up, or will Phil Knight manipulate Kitty Piercy and Chuck Lillis into paying way more than forecast, as he did to Dave Frohnmayer and the faculty over the Knight Arena scheme? The game is simple: vague promises that you'll pay for everything and fake forecasts that it will rain money, and then when everyone's on board, you say you'll walk away unless the city, UO, and the state legislature pay.
Anyway, what would Saint Prefontaine say? He hated the hypocrisy of amateur athletics, so he'd probably be happy that least these athletes get cash – unlike UO's big-time college sports, where the athletes get paid in concussions and sham classes like FHS 199: