Back in 2009 I was trying to get a pdf copy of the "Oregon Attorney General's Public Records and Meetings Manual" to post online. This is a 362 page book published by the DOJ every few years, explaining how citizens can use Oregon law to get public records, and giving DOJ opinions and court rulings on public records and open meetings. Just the sort of thing people should be able to easily access, in order to improve transparency and increase trust in government. At the time it was only available to the public in law libraries, unless you had the foresight to order a copy from the DOJ's printing office.
In response to my request for a pdf, the Attorney General's office offered to sell me one for $25, but only if I promised not to post it online:
Good afternoon, Professor Harbaugh.
You requested our Public Records Manual in PDF format. I believe that Tony has told you that, pursuant to our administrative rule, the Manual costs $25. OAR 137-008-0010(4)(d). Upon receipt, you can send a check in that amount to
Publications Section
Oregon Department of Justice
1162 Court St NE
Salem OR 97301-4096
Please enclose a copy of this email with your check.
Our IS people require you to follow the instructions below before we send you the PDF. The State, by and through DOJ, owns copyright to the Manual, and it is not to be redistributed without our permission in any format. This measure is to help protect the copyright.
I ignored the implied threat, and the $25 fee. Instead I checked the manual out of the UO Law Library, scanned all 362 pages to pdf (2 pages at a time, painful, and ugly) and posted it all on my UO hosted website. It's still up, here: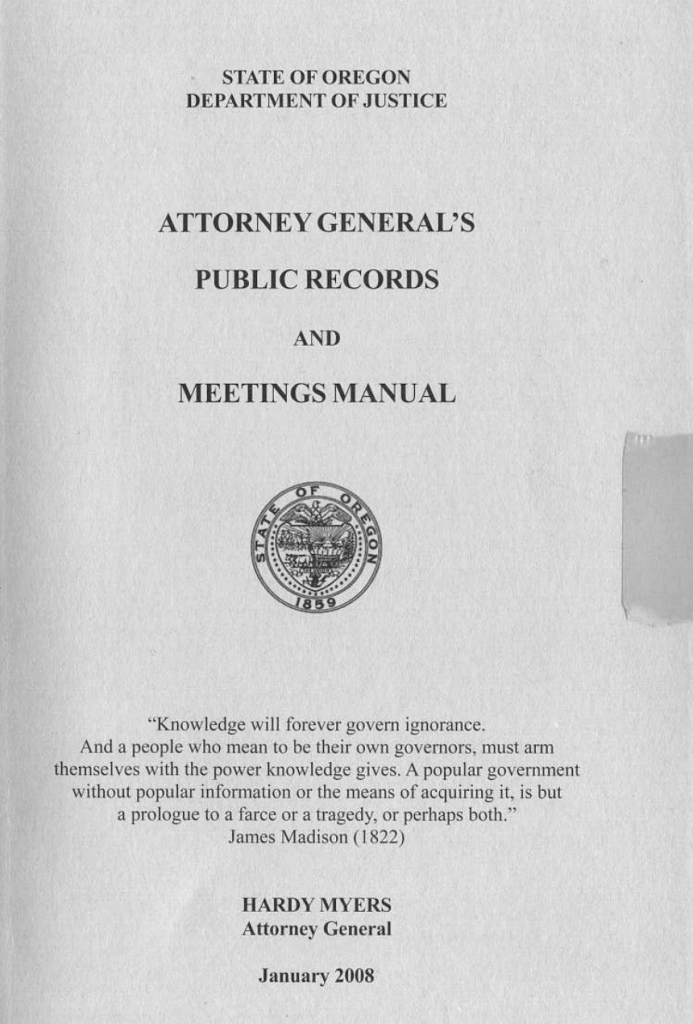 I then sent Attorney General John Kroger (Hardy Myer's replacement as AG), and UO General Counsel Melinda Grier an email, letting them know I had illegally posted a copy of the Oregon AG's copyrighted Public Records and Meetings Manual on my official UO hosted website.
The press had a lot of fun with the absurdity of the Oregon DOJ trying to limit public access to a document about transparency and public access to government records – especially given that it has that famous quote from James Madison, author of the Bill of Rights, on the title page. The RG story by David Steves is here:
Right-to-know advocates are defying Oregon's attorney general by putting a restricted government document on the Web for everyone to see.
But the document at the center of this dispute isn't a sensitive record such as a list of Oregonians' Social Security numbers or names of concealed-handgun-permit holders.
Rather, it's the state's Public Records and Meetings Manual — a bland legal guide updated by the state every two years to help the public and the media gain access to government documents and attend public meetings. The state Justice Department, which publishes the 11/2-inch-thick paperback book, doesn't want it posted on the Internet by others.
Until now, the only way to get the guide has been to buy it from the state for $25.
The right-to-know advocates say they are stunned that the state is trying to stymie its free distribution on the Web.
"I was shocked. Especially given what it says on the cover. It's got this quote from James Madison about the importance of knowledge and a free society," said University of Oregon economics professor Bill Harbaugh, one of those at odds with the state over the issue.
Harbaugh decided to carry out Madison's vision as he sees it by posting a scanned version of the manual online — despite an explicit admonition that copyright law prohibits such an action. Harbaugh's a bit sassy about it, to boot. His Web site, harbaugh.uoregon.edu, says: "Get your free and illegal copy of the Oregon Attorney General's Public Records and Meeting Manual here." …
The blogosphere was even more amused. The Volokh blog (at the time a bit obscure, now the main law commentators for the Washington Post) wrote about it here. Then Carl Malamud got interested. Malamud is the man who worked with Aaron Schwartz to get the federal governments federal court records off their paywalled PACER system, with the help of a cadre of sneaky library patrons, armed with usb keys. (Their free workaround, RECAPTheLaw.org, works beautifully. For example, you can get the court documents for the Cleavenger v. UO bowl of dicks case here.)
Malamud runs Public.Resource.Org, which posts state laws and codes and IRS 990 tax forms for non-profits online, for free and open access. In 2007 he'd persuaded the Oregon Legislature to give up their claims that Oregon Laws are copyrighted. When he heard that the DOJ was now claiming their copyright on the PR Manual meant it couldn't be posted online, he drove up to Salem, paid the AG their $25, took the PR Manual back to California, ground off the binding with a  belt-sander, fed it through a sheet-fed scanner, and posted it on his website. Came out way nicer than mine. I like to think of myself as a handy guy, but I'd never realized the belt-sander was a vital tool for the cause of transparency.
On his way back south Malamud stopped in Eugene and gave a fascinating talk (video here) at the UO Library at the invitation of UO librarian JQ Johnson, pictured here giving the introduction: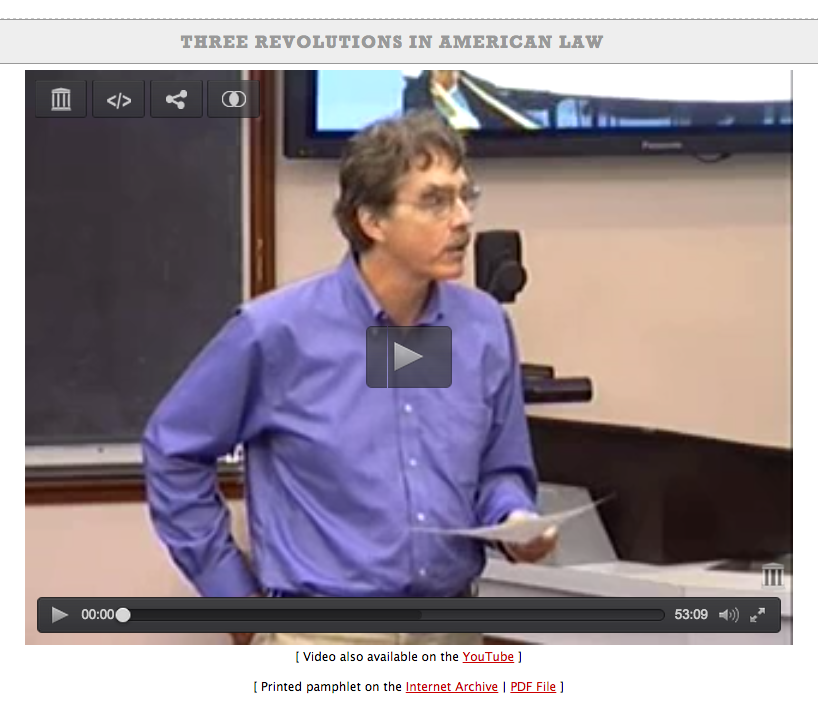 (JQ passed away in 2012, and is very badly missed):
Malamud then wrote AG John Kroger a very polite letter explaining what he'd done, and if I recall correctly, suggesting that Kroger contact the Public Resource attorney – the famous Larry Lessig of Harvard – if he had any questions.
Apparently Kroger didn't. A few months later he gave in completely, and had the 2008 manual posted on the DOJ website under a creative commons copyright. Current AG Ellen Rosenblum now has the 2014 version of the Public Records and Open Meetings Manual proudly posted on the Oregon DOJ's website, here. (The pdf conversion is not as good as Malamud's 2008 one though.)
In 2012 the Oregon Society of Professional Journalists gave me their "First Freedom" award for my contributions to getting the PR Manual online. Former UO Journalism Tim Gleason is still upset that this went to a blogger – and in particular to me – as he made clear during our joint appearance at a 2013 SPJ conference:
Tim Gleason's defense of UO's public records practices falls flat with journalists.