The administration has had these data for weeks, and what with union bargaining restarting Friday at 9AM, I'm sure it's coincidental that Chief Strategic Communicator Tobin Klinger put the numbers up on "Around the 0" on Thursday: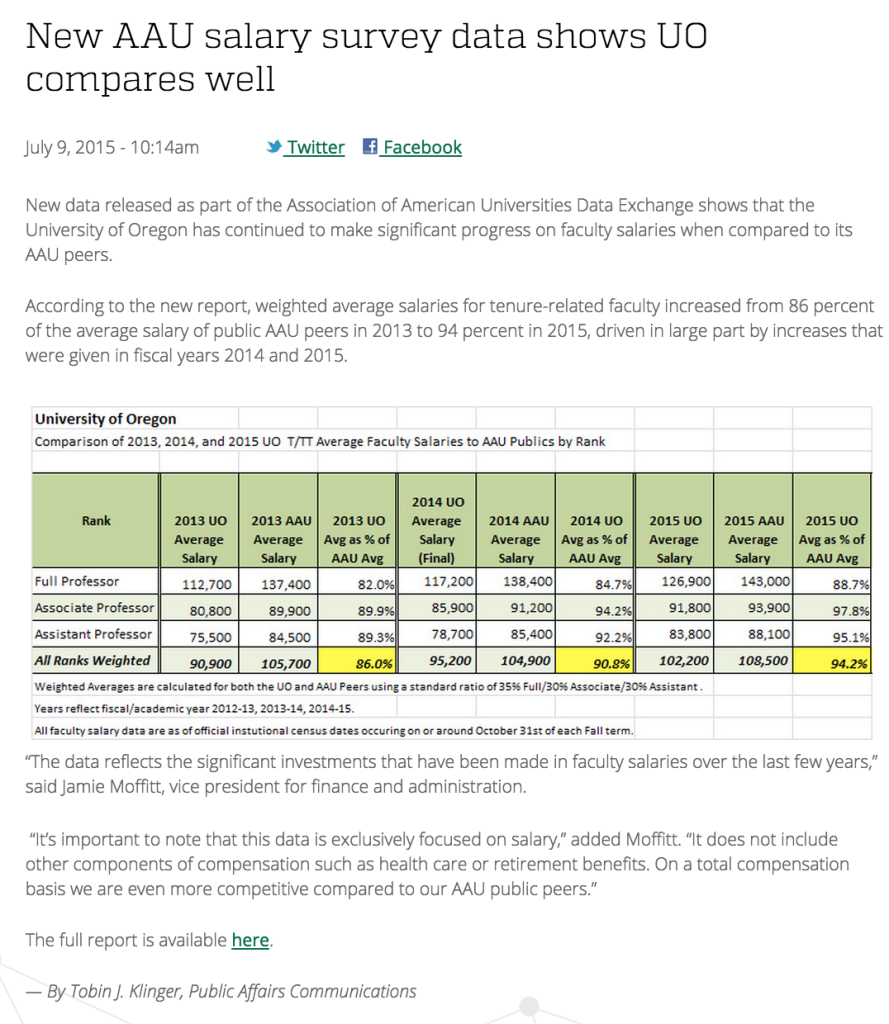 Raises? You call those raises? Check the UO Institutional Research data for what UO's senior admin's get: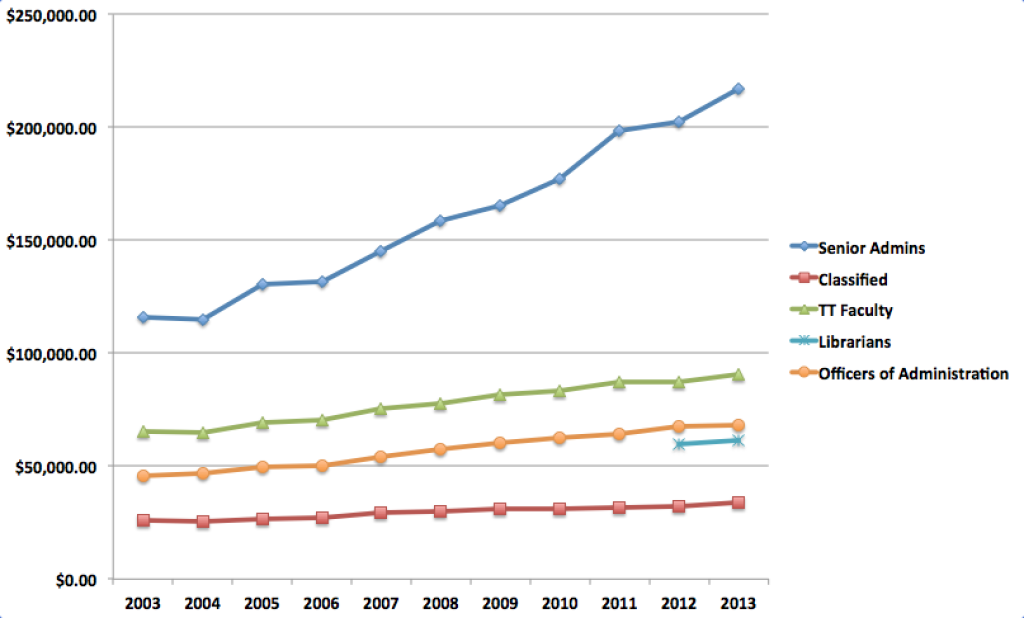 The 2009 Lariviere/Coltrane/Bean plan was to get average UO faculty pay by rank and department to 100% of the AAU averages by "No later than" July 2014:
From: James Bean [mailto:jcbean@uoregon.edu]
Sent: Sunday, June 07, 2009 12:26 PM
To: Deans Working Group
Subject: Faculty Salaries
The Missouri article stating that UO has the lowest salaries in the AAU has caused quite a stir (we have since verified that they were correct). Low salaries were always thought of as just Oregonian. But 34 out of 34 is a whole other thing. We cannot have this. Richard's reaction was "this is job #1." Richard will likely have an announcement on how we are attacking this when politically feasible (after last gavel). Please communicate to your faculty that the Missouri article really got our attention. This may require disruptive solutions.
Thanks, Jim
_______________________________
James C. Bean
Senior Vice President and Provost
Five days later, the Register Guard's Editors essentially endorsed Lariviere's plan to get UO faculty to the AAU averages:
The market for academic talent is national, even global. From a salary standpoint, Oregon has dropped out of the competition. The state is fortunate in having universities that continue to meet high standards, but Oregon's advantages — a relatively low cost of living and a high quality of life — can only be relied upon to make up part of the salary deficit.
Richard Lariviere, who will become president of the UO in July, comes to Eugene from the University of Kansas, an AAU university with an average faculty salary of $91,400 — 25 percent higher than at the UO. He's no doubt aware that higher education claimed 15.1 percent of Oregon's general fund budget in 1987-89, but received only 6.4 percent in 2007-09. One of Lariviere's continuing challenges will be to persuade Oregon's governor and Legislature that underfunding higher education has consequences.
In March 2011 Scott Coltrane, at the time CAS Dean, announced his plans to implement this for CAS faculty: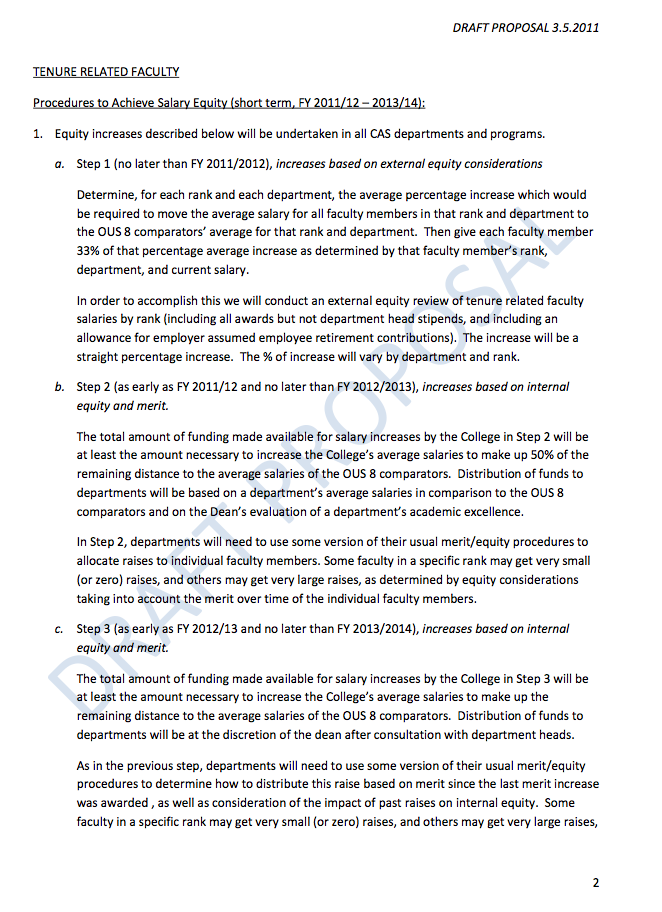 Russ Tomlin, then VP for Academic Affairs, released a detailed spreadsheet showing the plan for the entire UO: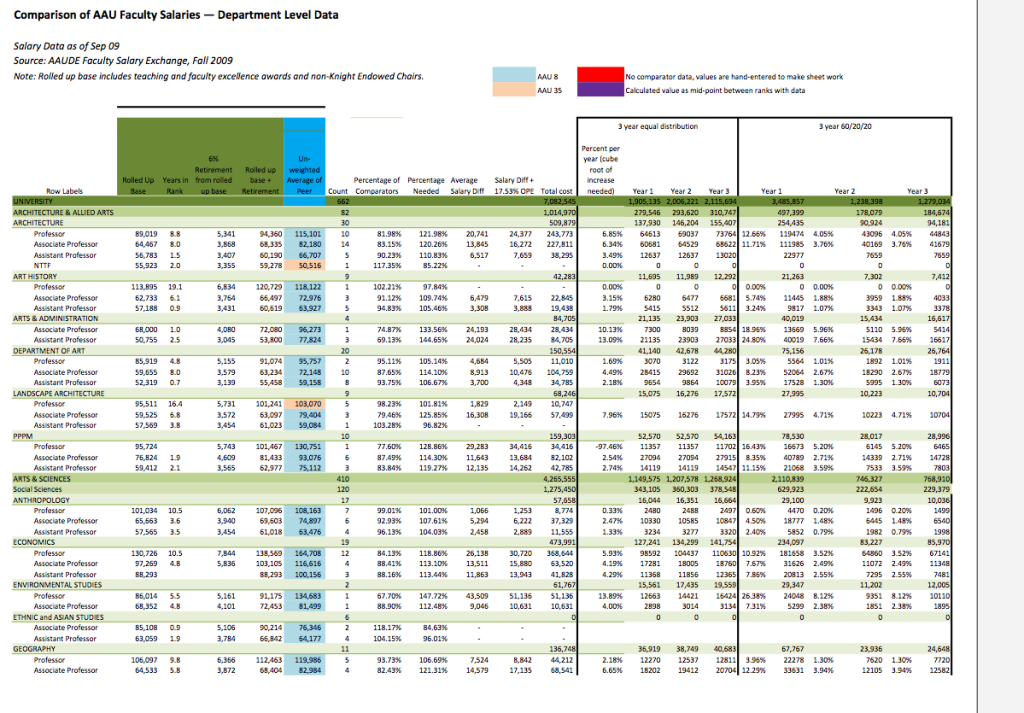 But apparently it only got implemented for the Johnson Hall insiders.