Monday May 9th, 4:30-6:00PM, Room 141 in the UO Journalism School.
Live-blog: Usual disclaimer – my opinion of the gist of what people said. Nothing is quote unless in quotes.
David Force – newspaperman back in 1973 when this law was passed. The Oregon DOJ was once the ally of transparency. Now the DOJ is on the side of state agencies trying to hide records. It would be more accurate to call this the "Oregon Public Official Secrets Act". Calls for an independent advocate outside the DOJ, and taking control away from the DOJ and the County DAs. Gives the RG's long fight to get the Seneca contract from EWEB as an example. It's not just the exemptions, it's the conflict of interest between the DOJ and the agencies trying to hide records.
Dave Bahr – local attorney working for clients trying to get records from Feds and various state records. On National Archives transparency committee.
Many people nationally are advocating for eliminating all fees. These are effectively used to block the public's right of access, but are a trivial part of the budgets of the agencies. The DOJ makes it too easy for state agencies to do this.
Similarly with delays. Washington state allows 5 days – and fines if agencies don't respond.
Also brings up the point that, under Oregon law, requestors who get the AG or the DA to issue a PR Order can then be sued by the agency. No other state allows this.
Bill Harbaugh – Argues that AG Ellen Rosenblum can and should use the DOJ's Public Records Orders process to promote transparency, by putting agencies on notice that the AG will not tolerate use of fees and delays. Asks why she is not doing this.
Here are a few resources:
Oregon DOJ:
The Oregon DOJ's Public Records and Meetings law website.
You can get all the AG's PR Orders (updated quarterly) from the Oregon Law Library, by following this link: http://cdm17027.contentdm.oclc.org/cdm/landingpage/collection/p17027coll2. It's a pretty clunky interface, and it's not indexed by google, or even linked to from the DOJ website, but you can search by full text, etc. (Petitions to require local agencies to comply with the law go to the county DAs. Multnomah county has posted all their DA's PR Orders online. I don't think any other counties do.)
2008 AG's Public Records and Meeting Manual. Former AG John Kroger didn't want it on the web. I posted it illegally in 2009, to much amusement, and Kroger then backed down.
2011 AG's Public Records and Meetings Manual. (AG Kroger, January 2011)
2014 AG's Public Records and Meetings Manual (AG Rosenblum, November 2014)
Some UO links: 
Task Force in Eugene, hearing announcement: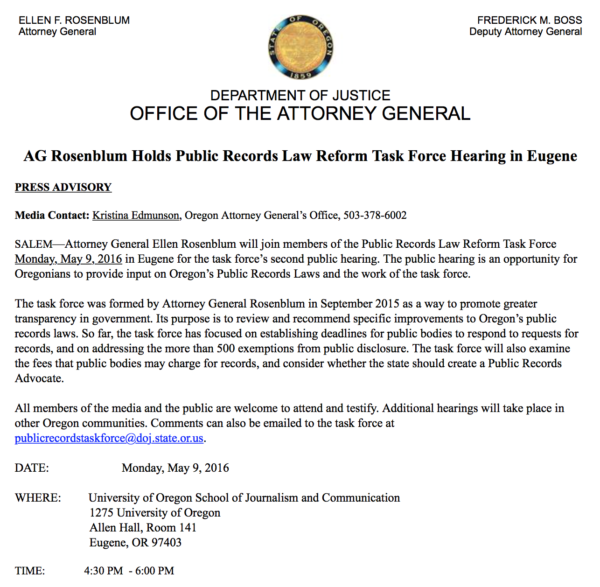 Hard to imagine a more fitting location. Kron's got a hard road ahead of him.