Good speech. Diane Dietz has more here. The UO Channel interface is clunky so I've put the video on youtube, here: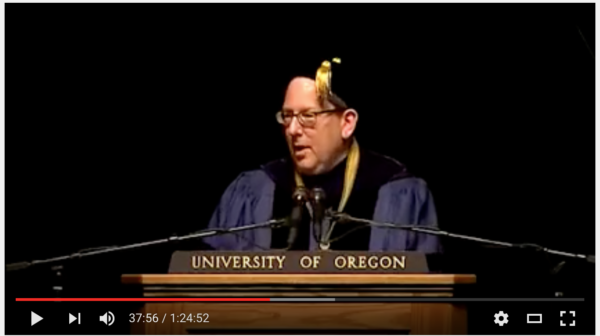 The text of Schill's "Six Myths" speech is here:
… The widening gulf between the wealth of private and public universities mimics the increasing economic polarization of our society outside the walls of the academy. The pressures created by the Great Recession, state disinvestment in higher education, and general cynicism born out of divisive politics have given rise to a set of myths that threaten to undermine the goals and aspirations held by a vast majority of us in this room.
These myths about higher education, six that I will address today, aren't just false—they can be downright dangerous because of their power to influence public opinion.
These myths prevent our students from opening the doors to a lifetime of opportunity.
These myths distract policymakers and divert resources.
These myths curb creative exploration and choke discovery.
These myths discourage our faculty and frustrate our alumni.
If we buy into these myths, we shortchange our students, our state, and our nation, and, if left unchecked, one day we will wake up and these myths will have become reality.
This is not acceptable.
We must challenge these misconceptions—head on—for the sake of our institution and for the future of higher education. The University of Oregon cannot be truly great unless it unshackles itself from these burdens.
The first myth I want to debunk is the notion that a college education is not a good investment. …
I think it's fair to say that the faculty are pretty damn happy with Professor/President Schill: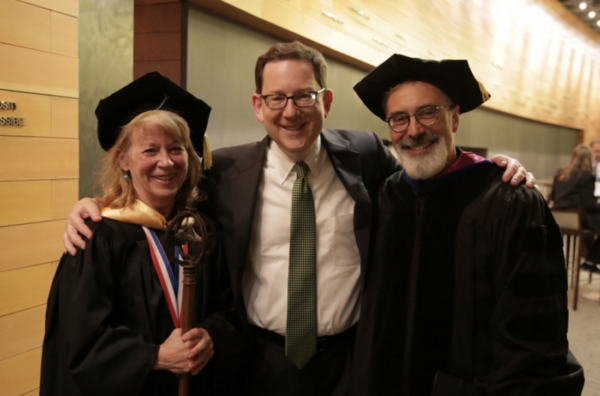 Prof. Paul Peppis (right) cuts to the chase:
"Obviously, Mike Schill is no Greek muscle man," Peppis said. "He prefers working at a desk and eating malted milk balls to performing feats of physical strength. And he certainly hasn't slain the Nemean lion, captured the Cretan bull or corralled the cattle of Geryon – although Hercules' fifth labor, cleaning the Augean stables, does have curious resonance with some of Mike's efforts over the past 12 months." In myth, the Augean stables held 3,000 oxen and had not been cleaned for decades.
To be precise, Schill has cleaned out two of the bullshit filled Johnson Hall stables. He's replaced GC Doug Park with Kevin Reed (but Park is still in the GC's office). There's a newly created VP for Communications job, filled by new hire Kyle Henley, and replacing Tim Clevenger. And we will soon have a new VP for Research to replace Kimberly Espy – but the Senate chased her off before Schill got here, just as we did with Jim Bean. So it's bottom of the first, Senate 2 and Schill 2. Still, it's been a long time since a UO President could tie with the UO Senate for activism on behalf of UO.
Unfortunately most of Johnson Hall is still being run by Mike Gottfredson's Executive Leadership Team: Scott Coltrane, Jamie Moffitt, Brad Shelton, Robin Holmes, Mike Andreasen, Roger Thompson, Rob Mullens, and Yvette Alex-Assensoh. Some of Gottfredson's team is very competent. Schill will presumably buy out the rest soon and find replacements.
Schill should get credit on the academic leadership side: He made the decisions to replace Law School dean Michael Moffitt and Business School dean Kees de Kluyver, he hired new AAA and Journalism deans, and he kept Andrew Marcus on as CAS dean.
In the interest of full disclosure, I'm also linking to Mike Gottfredson's investiture speech. Here's the part where he brags about his first academic publication: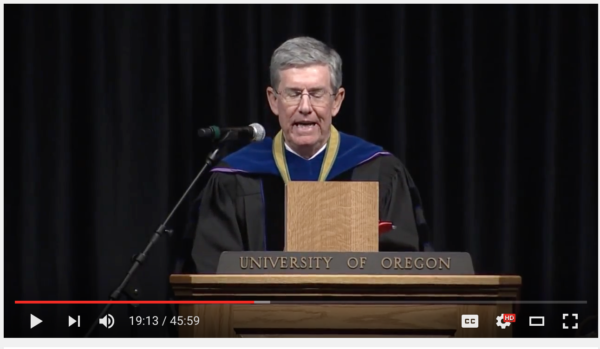 Seminal work, I'm sure. Interim Provost Jim Bean went through some heroic efforts to get faculty turnout for Gott:
5/23/2013: An anonymous source in the Provost's office sends this memo about Gottfredson's investiture ceremony:
Memo: Investiture Contingency Planning
Date: 5/23/2013
From: Provost Jim Bean
To: President Mike Gottfredson
Mike, I'm starting to worry about faculty turnout for your Knight Arena Investiture Ceremony next Thursday. I've warned the department heads that we'll be taking attendance, but they don't seem to care anymore, even when I dropped a hint that those 2% merit raises you put on the table might be at risk. It's a big hall, and we need enough appropriately garbed faculty types in the audience to keep this from turning into another embarrassment for you.
President Lariviere had a huge faculty turnout for his investiture, in no small part because he'd just fired a widely despised General Counsel, and an Athletic Director who was burning through the academic side's money like, well, like it was the academic side's money. Something to think about. But if you're not quite there yet I hope you'll be happy with the ELT's plan B:
VPAA Doug Blandy will grant all Duck student-athletes PhD's and adjunct faculty status. They just need to pass a simple online exam he wrote. The Jock Box advisors say they can help out as usual, since it's not even proctored. Mullens has cleared this with FAR Jim O'Fallon, who says that adjunct status won't affect their NCAA eligibility so long as we don't pay them. As if!  (Say, this gives me a great idea for if the faculty go on strike.)
I got a deal on academic regalia from "Parties R Us". The media will want a few full-professor greybeard types to focus on. I've lined up Frog, the guy who sells joke books on 13th – you've seen him, looks just like a biology professor. And then there's the guy who bikes around campus yelling "Go Ducks, but LTD can kiss my sweaty nut-sack." Turns out you were wrong about him being CAS Dean Scott Coltrane, but no one will know the difference. Best to keep him away from the mic though.
Dave Hubin tells me you've signed off on the heartfelt extemporaneous comments that Ann Wiens and the Gallatin Public Affairs consultants wrote. It took me a while to find a professor willing to deliver these. Tublitz is in Italy, and while Harbaugh was plenty interested after I brought up the stipend, he tends to mumble when he's sober. In the end Frank Stahl agreed to do it. I think you've met him, very distinguished and his voice carries well.
Oh, one last thing – I'm afraid I won't be able to make the ceremony. The Caddis fly hatch is peaking, and I've got a fishing date with John Moseley over at the lodge in Bend.
Good luck though, really.
Your pal Jim.