[Remember the Hat Day is November 21].
Two years ago today, on August 8th 2014, the UO Board of Trustees paid President Mike Gottfredson $940K to leave immediately. In exchange, Gottfredson took responsibility for paying attorney costs and damages for all matters related to his brief and disastrous employment as UO President: Full pdf here:
"In consideration of the promises set forth below, Dr. Gottfredson hereby releases the University and its trustees, officers, employees, affiliates, agents and representatives (collectively, the "Released Parties") from any liability for any claims, losses, damages, liabilities, or other obligations (including attorneys' fees and costs actually incurred) of whatever kind, in law or in equity, statutory or at common law, known or unknown, arising out of or in any way connected to his employment with, or separation from employment with the University."
Rumor has it that HLGR attorney Sharon Rudnick negotiated that clause, on behalf of the Trustees who put up Mike's $940 large. Prescient – or maybe she knew something we still don't.
Tomorrow, August 9th 2016 at 2PM UO's lawyers will appear in Federal Court to attempt to convince the Honorable Judge Michael J. McShane to dismiss the latest and hopefully last lawsuit to result from Gottfredson's brief tenure at UO. Full docket here.
Who is defending Gottfredson et al? Michelle B. Smigel and J. Michael Porter of
Miller Nash Graham & Dunn LLP – the same lawyers who tried to defend UO against Jane Doe's rape allegations by threatening to sue her in federal court, with the OK of former interim President Scott Coltrane, and former interim GC Doug Park. Some history below, full post here.
2/26/2015, 4:20PM: UO drops counter-claim, but still blames survivor for "damage to a good man's reputation", and claims *she* is discouraging rape reporting.
This is a first for Johnson Hall: admitting a mistake. It took "Sven Praoc" and 2100 petition signers to get them to do the right thing.
No news on when Coltrane will apologize for his prejudicial allegation of an "unlawful release" of UO Presidential Archives. Baby steps.
Josephine Woolington has the story in the RG, here. It appears Coltrane got some lousy legal advice, either from UO attorneys Doug Park and Sam Hill, or UO's hired Miller Nash attorneys, Michelle Smigel http://www.millernash.com/michelle-smigel/ and Michael Porterhttp://www.millernash.com/michael-porter/:
Coltrane, however, criticized the online petition that characterized the UO as having filed a lawsuit against the victim, as opposed to responding to a lawsuit. He said he was advised by attorneys that it's routine to counter a suit.
"Their suit would have us pay legal fees, and I was told it's typical when you respond" to also file a counterclaim, he said.
…  The UO's updated response, however, still contends that Jane Doe's attorneys "filed a lawsuit with unfounded allegations that damage a good man's (Altman's) reputation in an attempt to curry favor and gain traction in the media and create pressure for a public university to pay a hefty sum to (Jane Doe) even though it has done nothing wrong."
The university argues that Jane Doe's allegations threaten not only the UO and Altman, "but all sexual assault survivors in Oregon's campus community.
"The publication of false allegations about Oregon's handling of a report of an alleged sexual assault creates a very real risk that other survivors will wrongly be discouraged from reporting sexual assault and sexual harassment to Oregon," which conflicts with the goal of a federal civil rights law, known as Title IX, the response said.
Say what? UO's revised and sanitized response to the lawsuit is less intimidating to victims who might consider exercising their civil rights than was the previous version, though no less offensive: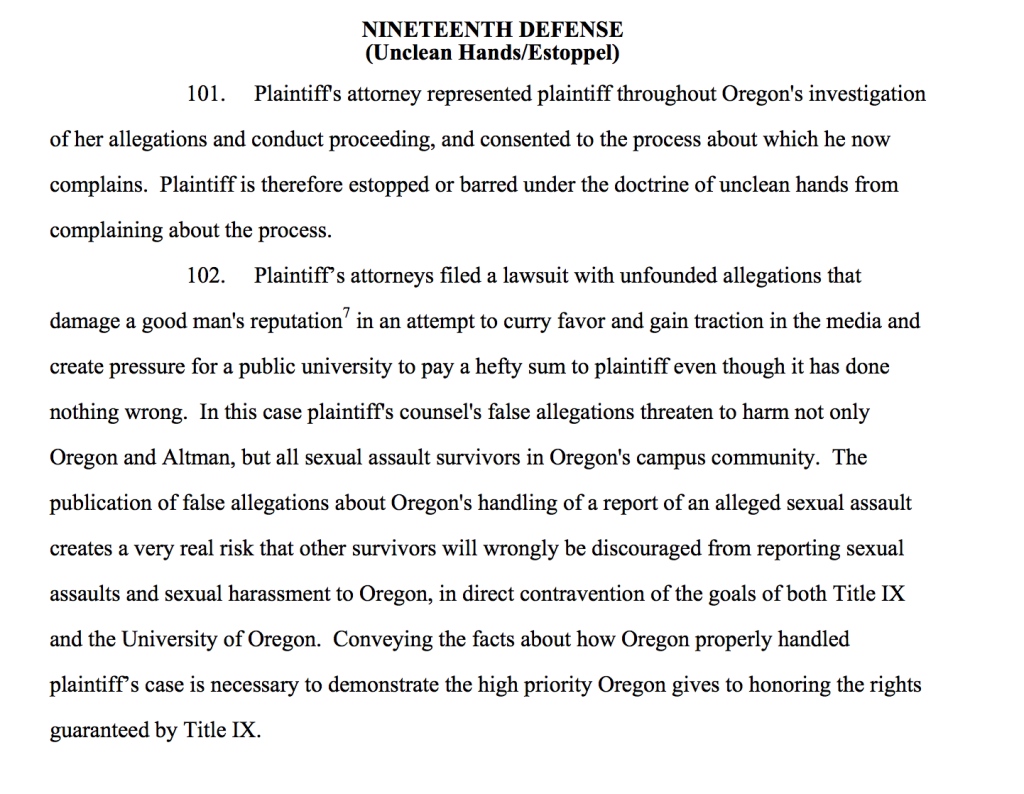 Full docket w/ old and new language here, thanks to recapthelaw.org
Meanwhile, Coltrane and Bronet's Campus Conversation and Progress Report on Addressing Sexual Violence is scheduled for Monday, March 2, from 4 p.m. to 5:30 p.m. at the Ford Alumni Center Giustina Ballroom.
Petition protesting UO decision to sue victim has 550 signatures as of 1:00 PM 2/24 2100 signatures as of 4 PM 2/26. Many powerful statements, read them here.
2/25/2015 update: Did UO Strategic Communicator Tobin Klinger lie to the student newspaper about the counterclaim?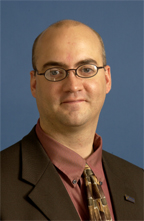 From the comments:
This is from the Emerald story: Toby Klinger said this: ""The university is not seeking court costs or attorney fees from a student." Emerald. http://www.dailyemerald.com/2015/02/23/petition-against-uos-counterclaim-in-recent-sexual-assault-litigation/
Nonsense. From the Answer filed in court by lawyers for the University: "defendants are entitled to recover attorney fees from the plaintiff." Paragraph 102.
And this also: "Oregon is entitled to recover its reasonable attorney fees from plaintiff, or in the alternative, from plaintiff's counsel." Paragraph 106.
Toby Klinger is lying. Why is this tolerated by Coltrane?
I sent Klinger an email yesterday asking him to clarify his statement, and I cced Coltrane's Chief of Staff Greg Rikhoff. No response.