8/31/2016: UO has successfully completed an open external search for police chief by hiring the guy who cleaned up the UC-Davis police department, after the tear-gassing incident that eventually led to the firing of Chancellor Katehi.
… I am currently serving as the police chief at the University of California, Davis. I assumed leadership of our organization in 2011, a time when community/police relations was at an all-time low. In partnership with our community and those individuals that comprise the UC Davis Police Department family, I can now state with great confidence we have become a "Model Law Enforcement Agency". The challenges we faced over the last five years have truly prepared me for taking on the role of police chief at a new organization such as the University of Oregon Police Department. …
3/5/2016: UO paid Chief McDermed 0.056 Gottfredsons to leave immediately
Betsy Hammond has the report in the Oregonian here. As usual it took a public records request to get the truth out of UO's PR flacks, who'd been trying to spin this as a simple retirement:
University spokesman Tobin Klinger declined to say why McDermed's bosses at UO wanted her gone so badly that they asked her to depart and agreed to pay the remaining four months of her contract in exchange for no work. Her total payout, $53,000, included two weeks of accrued vacation, he said.
Klinger disclosed the payment in response to a public records request from The Oregonian/OregonLive.
Both McDermed, 57, and Klinger characterized her departure as a retirement.
I'm wondering when we're going to find out what role Doug Park played in the retaliatory Brady listing. Cleavenger's attorneys claim on their website that Park and HLGR's Andrea Coit were part of it:
Attorneys including Doug Park, University of Oregon's Acting General Counsel, participated in the decision to "Brady List" Mr. Cleavenger. The University of Oregon was represented by Andrea Coit of Harrang Long Gary Rudnick P.C. in Eugene, who participated in the efforts to have Cleavenger "Brady Listed." The decision to "Brady List" Cleavenger came immediately upon the heels of the decision by a neutral arbitrator that Cleavenger's firing was improper and that he was entitled to reinstatement. The arbitrator further rejected all of the department's accusations of dishonesty by Cleavenger. Despite the Arbitrator's decision, UOPD tried to renew these claims of dishonesty by Cleavenger without providing the DA the Arbitrator's actual decision, in a deliberate attempt to try to block Cleavenger's reinstatement and in retaliation for Cleavenger filing his lawsuit.
Park didn't get the promotion to permanent UO GC – but there are no budget constraints for JH insiders, so they let him keep the full salary anyway: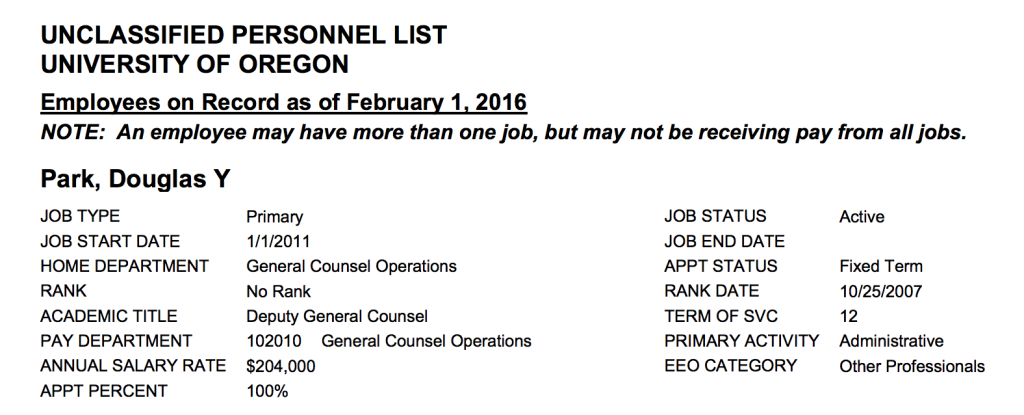 2/29/2016: Deshpande to return to UOPD as Interim Chief, Le Duc to run search
Troy Shinn has the news in the ODE, here.
…. In the meantime, Andre Le Duc, Associate Vice President of Safety and Risk Services, will oversee the search with UOPD management to fill the position permanently. He has met and will continue to meet with UOPD staff this week about the transition. More information about the search for a new chief should come in the next few days.
2/27/2016: UOPD Chief Carolyn McDermed abruptly retires
Diane Dietz has the news in the RG, here:
Carolyn McDermed, eight-year head of the University of Oregon Police Department, left her post abruptly Friday.
Although university officials at the police and central communications office said they couldn't comment on her departure late Friday afternoon, the UO Police Department put out a written statement at 10:39 p.m. Friday saying McDermed had "announced her retirement" on Friday.
"We will have information about the leadership transition process Monday, Feb. 29," Kelly McIver, UO police communications director and public information officer, said in the written statement. …
Reporter Miles Trinidad has more in the Daily Emerald, here:
Carolyn McDermed, Chief of the UOPD, announced her retirement Friday, Feb. 26, according to an email from UOPD Communications Director Kelly McIver.
Andre LeDuc, Executive Director of Enterprise Risk Services, the department that oversees UOPD, sent an email to all UOPD employees at 9:34 p.m. on Friday announcing McDermed's retirement. "Dear UOPD Colleagues," the email read, "Carolyn McDermed, chief of the University of Oregon Police Department, announced her retirement today. We will have information about the leadership transition process Monday."
Normal operations will continue throughout the weekend, McIver said.
McDermed's retirement came with no warning. She had meetings scheduled for every day next week, including three days of Incident Command System advanced training and a meeting about Track Town 2016, McIver said only hours before McDermed announced her retirement.
McDermed has been under fire since the UOPD lost a $755,000 lawsuit last year. James Cleavenger, a former UOPD officer, sued three UOPD members, including McDermed. Cleavenger won the lawsuit, $36,000 of which was in punitive damages against McDermed herself.
I'm expecting that the UO administration will have a complete, credible explanation on Monday, and I won't post comments until then. But if you have solid information on what's going on, feel free to email me at uomatters at gmail.