The AAUP and the Oregon AFT have been working on this organizing drive for a while, now they apparently feel confident enough to go public: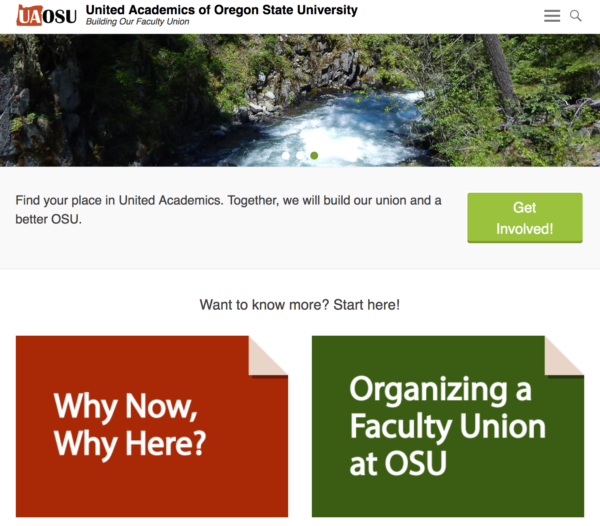 In other OSU news, here's the letter OSU President Ed Ray recently sent out:
Oregon State University community,
Today, the University Board of Trustees voted to approve tuition rates for the 2017-18 academic year that include a 4 percent increase in resident undergraduate tuition and a 2 percent
increase in non-resident undergraduate tuition.
Twenty-five percent of this increase in tuition will be directed to need-based student financial aid.
Tuition for graduate students and students participating in specific academic programs are available 
here
.
Trustees voted on these tuition rates upon my recommendation as part of a comprehensive university strategy to:
·
Manage expenses in a fiscally prudent and sustainable manner including reducing expenses where necessary;
·
Invest in specific priority strategies, including efforts to increase graduation and retention rates through the Student Success Initiative;
·
Recruit and retain quality faculty and staff members;
·
Grow student enrollment in online learning, at OSU-Cascades and in other programs;
·
Develop new revenue streams; and
·
Continue to engage in high quality and impactful teaching, research, and outreach and engagement.
Unfortunately, we will be forced to make hard choices while contending with much higher state-required employee benefit costs and an unacceptable continuing decline in higher education support from the state of Oregon.
I did not propose larger tuition increases despite pending budget shortfalls because I realize that many students are heavily burdened already with student loans and other concerns. Our students should not bear the brunt of covering an anticipated shortfall in state funding for higher education. In fact, students must remain Oregon State's first priority for support so that they can continue to pursue their studies, graduate and prosper in life and career.
As you may know, we have already raised $50 million of a $150 million fund-raising goal to support student financial aid, support services and programs to improve student success. In addition to fund-raising, we must find alternative revenue sources, and we must implement cost reductions to balance the university's budget.
For at least the next two fiscal years, we will have to identify continuing annual cost savings and reallocate existing resources approximating $20 million. This is because state funding for the public universities could remain flat — and at $100 million less than the continuing operating needs of the universities. Nevertheless, we will continue to invest in increased student financial assistance; seek to expand our Student Success Initiative efforts; and provide adequate compensation increases for our faculty and staff.
We have created a new 
budget website
 to keep the OSU community up-to-date on fiscal matters facing the university and to inform you of our efforts to operate Oregon State in the most effective and financially responsible manner possible while serving the university's mission.
Over the past several months, university budget director Sherm Bloomer worked with the university budget committee and a separate student advisory group to consider budget needs and tuition scenarios for next year. Knowing that Oregon State is faced with flat funding from the state for the next two years, both budget groups supported a 4 percent increase for resident undergraduate tuition.
I have taken these recommendations very seriously. I also have listened closely to input provided by our students, faculty and staff to understand their needs and concerns.
I also realize that each of Oregon's seven public universities must determine its own requirements for cost reductions and tuition increases. With no increase in state funding in sight, it has been publicly reported that some of Oregon's universities are considering double-digit tuition increases.
I remain deeply disappointed that state leaders have no meaningful plan to manage the budget challenges we face in Oregon — other than by hunkering down and waiting for better times. I have been in Oregon for 14 years. I note that the absence of a state strategy that provides for investment in a better future for all Oregonians during both good and bad times has persisted for too long. The state's current approach of hoping for better times is not a strategy.
I strongly encourage the governor, legislators and business leaders to make hard decisions to find the funding required to support every level of the Pre-K-20 education continuum. We need a more highly educated workforce to escape these continuing budget problems and power Oregon's 21
st
 century economy. The people of Oregon deserve better than crisis management.
Until we see significant and continuing state investments in higher education, we will do our best at Oregon State University, including engaging in collaborations with other education partners, to pursue an investment strategy that Oregonians need and deserve.
We will continue to do our best to invest in the quality of our core mission of teaching, research, and outreach and engagement. And Oregon State will remain transparent and fiscally prudent while working to keep tuition increases as low as possible.