8/25/2017 update: The popular Above the Law blog has picked up Michael Tobin's Daily Emerald story, here:
… It's easy to see a lower cut score as a win for students — more of them get to easily progress to a profession they've spent three years working to join. But something much deeper than the passing score is wrong in legal education. Academically successful candidates are staying away from getting a J.D., schools are experimenting with accepting the GRE in lieu of the LSAT, and bar passage rates have sunk from coast to coast. Oregon's move only delays getting to the root of the issue.
Meanwhile I'm still waiting to get an explanation from the Oregon Board of Bar Examiners regarding why they held an executive session and a closed vote on this:
From: Bill Harbaugh
Sent: Thursday, August 10, 2017 5:42 PM
To: Kateri Walsh <kwalsh@osbar.org>
Subject: Re: Public Records Request
Hi Kateri – a few followups for when you have time:
1) Do you know what the justification was for the Board of Bar Examiners going into executive session at the meeting on March 20th?
2) Can you send me (or tell me where to find) the bylaws for the Board of Bar Examiners, and the agendas and minutes of their meetings? I'm specifically looking for the last two years of these.
Thanks,
Bill Harbaugh
http://harbaugh.org
More than two weeks, and still no docs. I wonder what they will show? The Oregon DOJ has had to remind the BBX before about their legal obligations:
2014 DOJ Public Meetings Law opinion: http://www.doj.state.or.us/wp-content/uploads/2017/06/op2014-2.pdf
2014 DOJ Public Records Law order: http://cdm17027.contentdm.oclc.org/cdm/singleitem/collection/p17027coll2/id/1761/rec/1
5:15 PM update:
The BBX just sent me some docs. I'll post them tonight.
8/22/2017 update: Michael Tobin reports in the Emerald on lack of transparency in the bar score change, here.
….While there are questions as to how competent future lawyers will be, there are even bigger questions regarding the process that the BBX [Board of Bar Examiners] and the Oregon Supreme Court took to lower the scores.
The Court has released a succinct summary of the public meeting at which they ordered the bar score lowered. Very succinct:

This was one of 30 or so items the Court dealt with in a 70 minute session. Apparently the only document on the pass score was the report from the Board of Bar Examiners. It seems there was no discussion. There must have been a vote, but it was not recorded.
Meanwhile the Board of Bar Examiners still has not responded to my public records request for any explanation of why they went into executive session to discuss and vote on what recommendation to send to the court.
I'm no lawyer, but Oregon's public meetings law seems pretty clear that the BBX should not have done this in secret. It will be interesting to see these new docs, which should come out this week. Back in 2014 the Oregon DOJ ruled that the BBX was subject to Oregon's public records law, and ordered them to turn over minutes of their meetings. Their spokesperson has agreed that they are also covered under the public meetings law. And here's a 2014 ruling from the Oregon DOJ to that effect. Despite this the BBX has no minutes online, and they do not appear to notify the public about their meetings and agendas, as the law requires.
8/10/2017: Oregon Law School Deans failed to convince Supreme Court to increase Bar exam pass rate from 58% to 78%.

For years the cut score has been 284, and in 2016 that produced a pass rate of 58% – the same as the national average.
The Oregon Deans wanted a cut score of 266, which would have produced a pass rate of about 78%. The Oregon Supreme Court gave the Deans a cut score of 274, which should increase the pass rate for the students who just took the July exam to about 68%, making Oregon one of the easier states in which to get a law license. This in turn will boost the law schools' US News rankings a bit, bring in more law students, and perhaps mean that UO won't have to spend quite so much undergrad tuition subsidizing our law school. Just kidding, that last part will never happen.
This post was updated on 8/7/2017, 8/8/2017 and 8/10/2017 below, with info on my efforts to get public records on this order from the Oregon Supreme Court. Given that the Court is ultimately responsible for enforcing Oregon's public records law you'd think they'd work a little harder on their own compliance, if only to set a good example.
Instead, as explained below their website lists a defunct email address for public records requests, they have a pdf form with a submit button that doesn't work, their email responses are incomplete and uncommunicative, and they are either unaware of the law on fee waivers or they hope those asking for public records are. I'm still waiting on them, apparently the only person at the Oregon Supreme Court with the authority to waive a $3 public records fee is out of the office.
So I also asked the Oregon Bar Examiners Board for their public records. In contrast to the Oregon Supreme Court, their response was very professional (although they could use a new scanner). They provided their public records in less than a week, at no charge. Click the link for the full pdfs, I've only posted snippets:
1. Supportive letters to the Court on lowering the cut score from Jeff Howes of the Board of Bar Examiners (274), from Law Deans at UO and Lewis & Clark, and Willamette (266), and from the Oregon Student Bar Associations: http://uomatters.com/wp-content/uploads/2017/08/Official-letters-to-Court-BBX-PubRcrdsReq-Aug-17.pdf: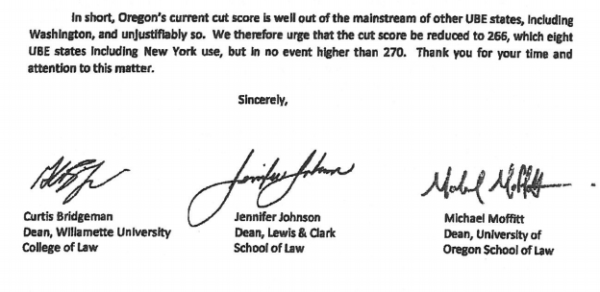 2. Emails between the bar examiners and the various helper deans: http://uomatters.com/wp-content/uploads/2017/08/Bar-examiner-and-Dean-emails-BBX-Records-JH-Aug-17.pdf: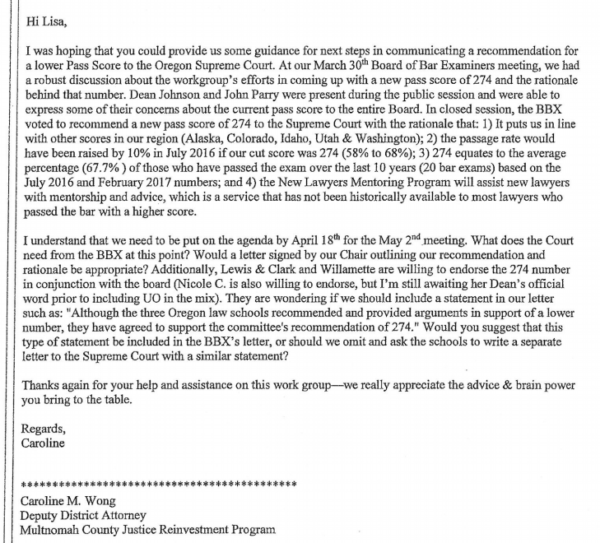 I have no idea why they went into executive session for a vote on something like this. Is that legal?
And while I do not have an informed opinion on what the cut score should be, I was surprised at how superficial the discussion in these documents is, given the obvious disagreement between the Board Examiners and the Deans. Maybe they saved the substance for the executive session? Why did the Deans lose in court?
8/3/2017: Oregon Supreme Court quietly dumbs down Oregon Bar exam requirement:
California is currently engaged in a public debate about doing the same. There are many interesting issues. At the request of 20 California law school deans, the CA Bar commissioned and published a study, and the CA Supreme Court will soon take up the case of what to do. Google "california bar exam cut score" and you can find the study, many news stories, and a lot of blogging on both sides of the issue, including discussions in the American Bar Association journal, etc.
Oregon has already lowered its cut score – i.e. the score needed to pass the exam – and the process was far less transparent. There is this terse announcement on the Oregon State Bar website:

Dig a little deeper and you'll eventually find a study from 2008, and a few brief statements in various committee minutes – but no sign of public discussion. Go to the Oregon Supreme Court website, and you'll find no mention of this order, much less the arguments pro and con.  Keep digging and eventually you'll find an old ABA report showing that Oregon's pass score used to be 284 – from what I can tell that history has been removed from the Oregon Bar's website.
The only evidence I can find of any public discussion is this op-ed in the Daily Emerald, by a UO law student, who is opposed to lowering standards. She reports that the motivation for lowering the cut score was a petition by Oregon law students.
What I've had to do to get the public records on this decision, with regular updates:
8/6/2017: I thought readers might be interested in what information the Oregon Supreme Court used in making this decision. Since nothing is online, I thought I'd make a public records request, and went to their website, here. There is no information about how to get public records, but there is a link to "Public Access & Case Inquiry", which I followed. That takes you a page which has, at the bottom, a link to "Public Records Requests" That page has a link to another page, which has a link to "How to Request Public Records":
For Supreme Court and Court of Appeals records, you must send your request to the Appellate Court Records Section. The request may be emailed to ACRS.records.request@ojd.state.or.us …
That email address doesn't work:

But if you keep searching that page and look under "required information" you'll find a link to what seems to be a fillable pdf form: http://www.courts.oregon.gov/forms/Documents/OSCAPublicRecordsRequest.pdf
Except that form doesn't work either, nor does it give you any hint that it doesn't work. Type away, sucker.
Fortunately I'd saved a screen-shot. I kept searching, and eventually found the general info email address, and submitted my public records request there, along with a note explaining that their public records email address was broken and gave this response, and attaching my PR request: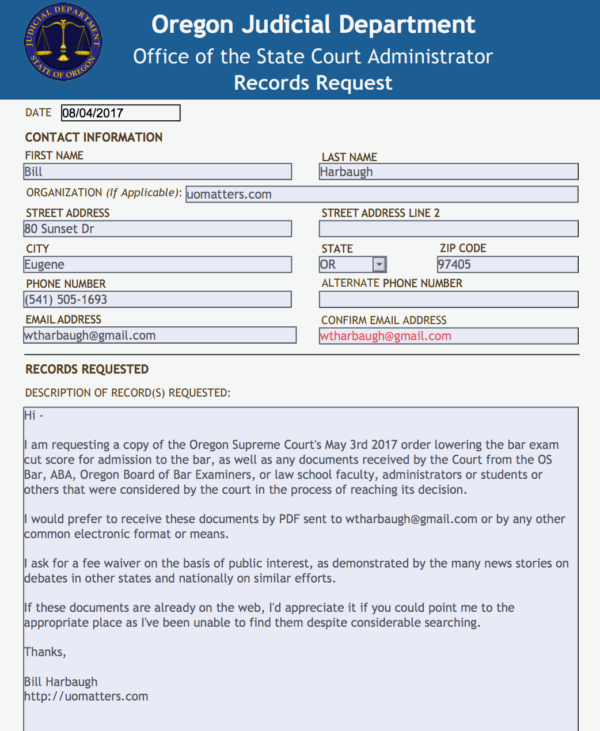 Here's the response so far:
From: OJD.INFO@ojd.state.or.us
Subject: Re: Oregon Supreme Court public records request, bar exam cut score order
Date: August 4, 2017 at 1:56:10 PM PDT
To: Bill Harbaugh <wtharbaugh@gmail.com>
This is an automatic reply feature to let you know your message was received and what to expect:
Thank you for your email to the OJD info mailbox. The in-box is checked regularly during the week, but not daily. We will review and respond, if required, as soon as possible. Also please review the FAQs (http://courts.oregon.gov/OJD/pages/faq.aspx) for information that may be of help to you.
If you are writing to comment on a recent court opinion, we will pass on the comments as appropriate about the court and its work.
Sincerely,
Oregon Judicial Department
That FAQ link eventually takes you back to the broken email address and pdf form.
8/7/2017 update:  Today someone from the Supreme Court forwarded me the order, but they ignored the rest of my request:
On MondayAug 7, 2017, at 11:02 AM, …. wrote:
Mr. Harbaugh,
Attached is a copy of the Order lowering the pass score for the Oregon Bar examination.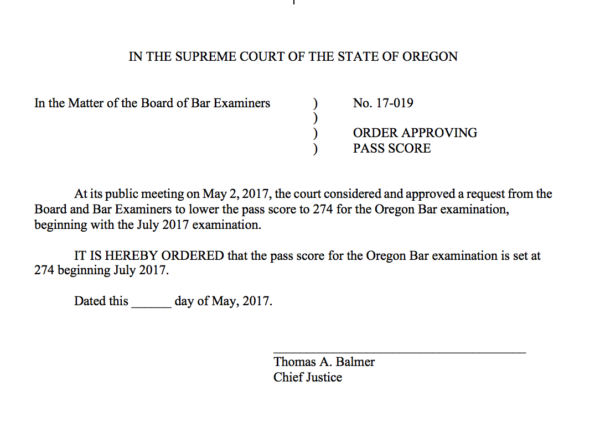 Since this response was less than complete, I replied:
Thanks … , when do you expect the court will provide the other documents listed in my public records request?
Bill Harbaugh
They replied:
Mr. Harbaugh,
Would you mind sending me a list of the documents you requested. It is very difficult to read the screen shot of your public records request. Thank you.
I replied:
Hi – I requested
A copy of the order as well as "any documents received by the Court from the OS Bar, ABA, Oregon Board of Bar Examiners, or law school faculty administrators or students or others that were considered by the court in reaching its decision."
Thanks,
Bill Harbaugh
8/8/2017 update: Monday afternoon I got a response from the Court, asking for $3. Their email and the subsequent back and forth, culminating in my proposal that they waive the fee and fix their public records compliance problems:
On MondayAug 7, 2017, at 2:27 PM, Appeals.docrequests@ojd.state.or.us wrote:
Good morning, the documents you're requesting are in electronic format. There is a flat $3.00 document charge that will need to be paid before I can send the documents.
We accept VISA or MasterCard, you can contact me at the number below to process the payment.
If you prefer to send a check or money order, please make it payable to STATE COURT ADMINISTRATOR,
and send the payment to:
Appellate Records Office
1163 State St
Salem OR 97301-2563
I asked what had happened to my fee waiver request, and got this response:
On MondayAug 7, 2017, at 2:55 PM, Appeals.docrequests@ojd.state.or.us wrote:
Mr. Harbaugh, we have a Chief Justice Order dated November 17, 2014, setting Appellate Court and Administrative fees. I'm attaching a copy for your use.
(See attached file: CJO 14-067.pdf)
Your waiver request has been reviewed, and I'm sorry I have not been given the authority to waive the fees for this request.
My response:
Hi –
$3 is a small fee, I'm willing to pay it and I will call with my cc#, if after reading the explanation below (which I'd appreciate it if you would pass on to the responsible persons) the Court still insists on collecting this fee.
My understanding of Oregon's Public Records law is that while state agencies can create fee schedules for public records, doing so does not release them of their responsibility to evaluate requests for public-interest fee waivers such as the one I made, on a case by case basis.
I'm basing this on the language in the DOJ's Public Records and Meetings Manual at https://www.doj.state.or.us/wp-content/uploads/2017/06/public_records_and_meetings_manual.pdf. See page 16 for the section on fees, and page 18 for fee schedules, and then page 19 for the section on fee waivers, which notes:
The law requires a multi-part analysis to evaluate fee waiver or reduction requests.61 Under this analysis, a public body determines (a) whether the "public interest" test is satisfied, and (b) whether to grant a fee waiver or reduction.
(a) Public Interest Test Under ORS 192.440(5), a public body may reduce or waive fees if it determines that doing so is in "the public interest because making the record available primarily benefits the general public." The Oregon Court of Appeals construed the public interest requirement for granting a fee waiver or reduction in a 2005 decision.62 It concluded that "[a] matter or action is commonly understood to be 'in the public interest' when it affects the community or society as a whole, in contrast to a concern or interest of a private individual or entity."63 In addition, it stated that "a matter or action 'primarily benefits the public,' * * * when its most important or significant utility or advantage accrues to the public."64 Therefore, the public interest test is satisfied "when the furnishing of the record has utility – indeed, its greatest utility – to the community or society as a whole."65 etc.
Additionally, I'm concerned that:
a) the email address that the Oregon Supreme Court lists on its website for public records requests does not work.
b) the pdf form that the Court uses for public records requests does not work, and there is no indication of this fact after filling it out and hitting submit. This means that the court does not know who is submitting records requests, and those submitting them do not know that the court does not know that they've made a request. This could lead to all kinds of confusion.
c) Court employees responding to public records requests do not seem to follow common procedures for responding to public records requests. For example, aside from the fee waiver issue, the first response I received from the court to this request was partial and made no mention of how the rest of the request would be filled. It took several follow-ups to get an answer.
Given all these irregularities in the Court's public records compliance, and the time I've been forced to spend on this matter so far in order to try and make documents public which really should have been posted by the Supreme Court on their website in the first place, I'd appreciate it if the Court would fix the email and website form issues and either post these documents or send them to me without charge so that I may do so.
Thanks for considering this proposal,
Bill Harbaugh
I suppose I should have asked how it was that they couldn't read enough of the screen-shot to figure out what records I wanted, but could read enough to figure out my fee-waiver request should be denied.
8/10/2017: A promising response from the Supremes, except the person with the "administrative authority" to waive a $3 fee is out of the office til Monday:
Mr. Harbaugh, your fee waiver request is being routed to another administrative authority.  However that person is out of the office, and will be back next Monday.  I'm not sure how soon a decision will be made on your fee waiver.
… Paralegal
Appellate Records Office
Meanwhile I've also been trying to get related public records from the Oregon Bar Association's "Board of Bar Examiners". They don't have much of a web presence, or give contact info for their 2 public members, but it wasn't too hard to find the chair:
Sent: Friday, August 04, 2017 10:58 AM
To: HOWES Jeffrey <Jeffrey.HOWES@mcda.us>
Subject: oregon bar exam cut score change
Dear Mr. Howes –
I'm writing to you in your capacity as Board of Bar Examiners chair. I'm trying to get a copy of any comments submitted to the Board related to the Oregon Supreme Court's decision to lower the Bar exam cut score, as well as any materials the Board submitted to the Supreme Court.
Any help you can provide would be appreciated.
Bill Harbaugh,
Editor and Blogger
http://www.uomatters.com
http://www.openuporegon.com
He sent a prompt acknowledgement:
From: HOWES Jeffrey <Jeffrey.HOWES@mcda.us>
Subject: RE: oregon bar exam cut score change
Date: August 7, 2017 at 11:33:27 AM PDT
To: UO Matters <uomatters@gmail.com>
Mr. Harbaugh –
I have received this request. I have forwarded this request to OSB Director of Regulatory Services Dawn Evans and to OSB Admissions Director Troy Wood. You should anticipate that Ms. Evans, Mr. Wood, or OSB General Counsel Amber Hollister will respond to you shortly.
Thank you very much –
JEFF HOWES
Jeffrey A. Howes
First Assistant to the District Attorney
Multnomah County, OR
Jeffrey.howes@mcda.us
503-988-5260
and then
On Monday Aug 7, 2017, at 2:59 PM, OSB Regulatory Services <RegSvcs@osbar.org> wrote:
Dear Mr. Harbaugh:
In accordance with ORS 192.440(2), this is to acknowledge our receipt on August 4, 2017 of your request for the following record[s]:
Copy of any comments submitted to the Board related to the Oregon Supreme Court's decision to lower the Bar exam cut score, as well as any materials the Board submitted to the Supreme Court.
Having reviewed your request, we are able to inform you that:
The Oregon State Bar may be the custodian of at least some of the requested public records. We will provide an estimate of the time and fees for disclosure of the public records within a reasonable time.
For more information on the Public Records Request Procedure, please visit our website at http://www.osbar.org/public/pubrecfees.html.
Thank you,
Sergio Hernandez
Public Records Coordinator
503-431-6330
shernandez@osbar.org
I sent a follow-up last night (Aug 9) and this morning I received this helpful update:
Hi there, Mr. Harbaugh. I'm the primary person pulling together response to your request. We expect to have materials later today, I believe. Feel free to call me if you have any questions.
Kateri Walsh, Media Relations
Oregon State Bar
503-431-6406
kwalsh@osbar.org
8/10/2017: This afternoon Ms Walsh sent me the documents that I've now put at the top of this post, along with an offer to look for anything else I thought was relevant. Very helpful. Meanwhile I'm still waiting on the Supreme Court.