8/14/2016 update: Great rally at UO, passionate and short speeches from the organizers, maybe 800 people counting children in strollers. Peaceful march downtown. A particular shout-out to the chant leaders, who were stationed along the route and mixed it up nicely. Good organizing! Only one dude who thought we needed to hear him beat his drum, and no Nazi's. Ample presence from police, greeted happily by the people I saw including some high-fives. After Charlottesville I have no problem seeing a line of cars stopped behind an expensive UOPD black SUV, waiting for the crowd to pass.
Full disclosure: I went home before the politicians started their speeches at the Park Blocks.
You can pitch in towards the speakers' expenses here: https://www.gofundme.com/hate-is-not-welcome-speaker-fund
8/13/2016: More info from the organizers on Facebook here:
Lane County is paying attention to the events unfolding in Charlottesville, Virginia. We will be sending a message that hate is not welcome in our community. What we have seen in Virginia will not be tolerated. Join us in solidarity so that we can prevent these ideas from becoming normalized in any way, shape, or form. Spread the word! All are welcome- families, friends, kids! This affects us all. We're calling on everyone to come together to say that white supremacy has no place in Lane County.
We will be starting the march from the University of Oregon 'Free Speech Amphitheater' in front of the EMU (1228 University St, Eugene, OR 97403).
For those who cannot march because of accessibility/mobility issues: Please come meet at our march destination, Lane County courthouse (125 E 8th Ave, Eugene, OR 97401). The rally speakers will begin around 6:30pm. We will have dedicated space for people with disabilities.
Police institutions have historically and continue to this day to be a danger to marginalized communities. So for that reason we will absolutely NOT be working with any police institution for this action. …
FWIW I disagree with the last bit, about the organizers' decision not to work with the EPD and UOPD on coordinating this march. All of the police I have met – including the ones in Charlottesville where I grew up – passionately believe that their job includes protecting the peace and people's right to protest. Frankly it seems a bit hateful to tar them all for the evils done by a few. And yes, I say that despite not understanding why they didn't do more to stop the violence in C'ville.
In other news, the free-market has spoken, and they're betting against the Nazis: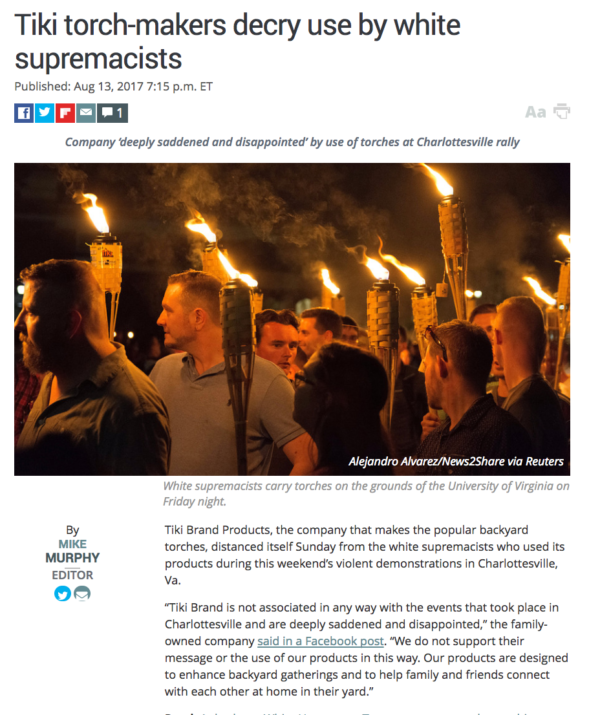 Which is good, because they obviously don't keep insects away.
I'm not sure why Amazon doesn't have a rainbow colored set available already, but the Nerds are on it:
8/12/2016: President condemns Nazis, calls for minute of silence for the dead
That would be President Vladimir Putin:
"It was the Nazis who unleashed this war," Putin told lawmakers, after asking them to stand for a minute's silence in honour of the dead. "Their ideology of hatred, blind faith in their own exceptional nature and infallibility, and desire for world domination led to the 20th century's greatest tragedy."
Meanwhile President Donald Trump is still playing both sides, waiting to see how it shakes out this time.