9/8/2017: Some light live-blog below on Friday's Board meeting. Page down for Th committee meetings. Live video here. Some highlights from today:
– President Schill gives his definition of excellence in his remarks below.
– Biology Prof Karen Guillemin gives a fascinating talk on the importance of bacterial diversity. My takeaway is the same as Ginevra Ralph's: Mom was wrong when she told my little brother to stop eating dirt, but the research is still inconclusive on whether he should start again at age 53.
BOARD MEETING FRIDAY, SEPTEMBER 8 – 8:30 a.m. Link to materials.
0. Public comment:
– Mr. Tindahl(sp? a community member?) calls out the UO for excessive political correctness and for student discipline policies on sexual assaults that he believes encourage false claims, and challenging the claim that 20% of women students will be sexually assaulted on campus. [Personally, I believe the data. I also believe that UO is now ahead of other institutions in its response.]
1. Reports
–ASUO President Amy Schenk: Wants to focus on affordability, social justice, and a collaborative process for tuition increases. [Me: Don't worry about the level, focus on increasing the money available for income related tuition discounts.]
–University Senate President Chris Sinclair: Focuses on the Senate agenda for this year: Repeal and replace course evaluations, start fixing Gen Ed and multicultural, work to extend the principles of the new sexual assault and harassment policy to racial harassment and discrimination, all underway with the cooperation of JH.
–Provost Jayanth Banavar: Gives a shout out to the UO staff and OA's, without whom "there would be no show." Advocates for transparency, when possible, a nimble flexible administration, and shared governance where everyone can be proud of the UO. Calls for "selective excellence" (hey, at least that's got a little more substance than "excellence"). Warns about the difficulty of retaining top faculty. Argues for a balanced curriculum of sciences, arts, and social sciences, to teach the knowledge people need to be good citizens, productive, and understand the world and ourselves. Gives as examples of selective excellence the hiring of Nobel Laureate David Weinstein, the efforts of Doneka Scott and Ron Bramhall on UO student success, etc. Goals for the Provost: Institutional Hiring Plan – open and objective process for faculty searches. 62 faculty searches this year. We need to know what is excellence to do this well. Plans to learn this from talking to the current faculty. Students are paramount and their success is a priority.
Q from Ann Curry – what is UO doing to improve teaching in large intro classes? Passes to Bramhall: Lots. TEP has a new teaching academy, science classes now using many new evidence based teaching methods, Senate effort to repeal and replace broken teaching evaluation system will give faculty an incentive to teach to students, not pander to them. [OK, I added the last phrase, sorry]
Q from Schill on ALT meeting. Banavar notes he invited Senate leadership to this, a first. Lots of talk on academic entreprenurship.
–President Michael Schill: It's been a good two years for UO, but no time to be complacent. Sees Banavar, who directs academics, as the antidote to complacency – continual questions us. Gives the board his definition of excellence [Sorry, I spaced out during this. Something about pushing our students.]
Excited about working with the Senate on academic matters as generally understood, and also Economic Diversity. Fundraising update to be announced later. [Obviously with Phil Knight's gift it will be a lot.] UO has strongly supported DACA/Dreamers, calls notion that we would send these students back "crazy". Notes that he rarely gives his political views and thinks statements on politics can violate the rights of the individuals who comprise it – but notes DACA is an academic matter. He's been harassing Roger Thompson with texts about enrollment, and thinks we'll have about 4K freshman plus 1.2K transfer students. Talks about new data science initiative.
2. Seconded Motions and Resolutions from Committee (pending Sept. 7 committee action)
–Seconded Motion from FFC: FY18 Operating and Capital Expenditure Authorizations
–Seconded Motion from FFC: Naming of New Residence Hall
–Seconded Motion from FFC: Bond Sale Authorization
–Seconded Motion from FFC: Presidential Retirement Plan Amendment (elimination of outdated
program)
All approved, discussion was in committees yesterday.
3. Research Area in Focus – META Center for Systems Biology: Karen Guillemin, Professor of Biology and META Center Director
Sorry, this is really interesting. I'm listening not blogging.
4. The Size (Population) of Campus – Considerations and Analyses: Jamie Moffitt, Vice President for Finance and Administration; Brad Shelton, Executive Vice Provost; and Roger Thompson, Vice President for Student Services and Enrollment Management
Don't expect any informed discussion. Here's the material our board has been given to prep for this: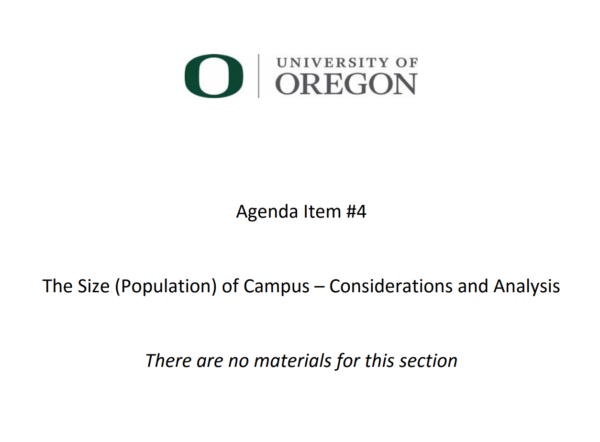 In all fairness this looks to be a rehash of a discussion held back when Gottfredson was president, and presumably was just added for padding.
Update: The board material has now been updated with some slides on this, here.
From yesterday, 9/7/2017: Some light live-blog below on Thursday's committee meetings. Live video here. Some highlights:
– UO Tribal Liaison Jason Younkers gives an understated and moving explanation for why UO's newest dorm will be named Kalapuya Ilihi, or "The place of the Kalapuya", in recognition of the people whose land it sits on. If I understand it right they had no name for themselves except "the people". The other tribes called them the Kalapuya.
Here's hoping he can also turn around the enrollment numbers:

– Nothing on the agenda about UO's extreme lack of Economic Diversity, although trustees Ann Curry and Ginevra Ralph allude to it in some questions, and Connie Ballmer has donated a large amount of money to PathwayOregon to attempt to address it. See links to research, data, and NYT story here: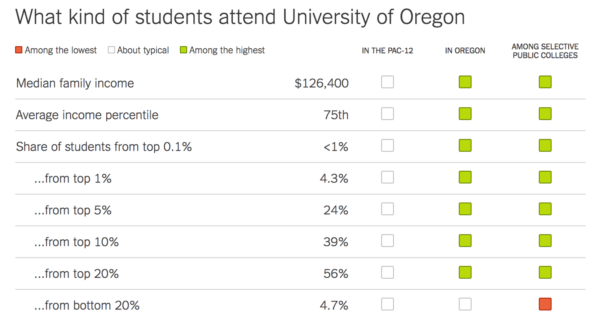 – Two and a half hours on Academic and Student Affairs, and they didn't hear from a single professor or student. Fortunately the UO administrators in this area are now very good.
– An astonishingly brief report from Internal Audit, with no materials distributed in advance, and no significant questions. This is not due diligence. The report is now posted here, towards the end. The gist is that they've spent the last year working on their strategic plan, mission statement, and a vision.
– Knight Campus seems on track and well managed.
– UO Foundation CIO Jay Namyet may occasionally write some nasty emails, but he, VPFA Moffitt, and Treasurer Karen Lavear do their homework and present it well. Yes I know I'll regret writing this next time we do union bargaining.
9/6/2017: There will be a lot going on at UO this year – some of it key to our survival as a public R1 university – but apparently our administration doesn't think the UO trustees need to hear about it, much less discuss or vote on it. Judging by the nonsense I've heard from this board, they may have a point.
While board members say that they want to meet with students and faculty to learn about higher ed, this meeting as many others will be held while classes are not in session and many faculty are not on campus. But of course there will be football.
Board Chair Chuck Lillis has scheduled a few hours of committee meetings Thursday, then a brief board meeting Friday AM. Saturday will be tailgating and the Nebraska game from the President's $350K Autzen Skybox – still paid for with student tuition and state funds?
I'm no economist, but I think the Generalized Axiom of Revealed Preference is about what people do, not about what they say. The public meetings will be in the Ford Alumni Center Giustina Ballroom. This post will be updated on the off chance anything happens to justify the cost of this meeting.
Academic and Student Affairs Committee, 10:00 a.m. – Thursday, September 7, 2017. Link to materials.
New Provost Jayanth Banavar opens with a good speech about making UO even more excellent than it currently is.
The Board is letting presumptive Faculty Trustee and Gottfredson supporter Laura Lee McIntyre sit in until she is confirmed. Her research is financially supported by a donation from at least one of the trustees, which may present some interesting potential conflicts of interest.[9/21/2017 correction: I've been informed by a generally reliable source that McIntyre's research is not supported by donations from trustees.] She has of course agreed to follow Oregon law on conflicts of interest, which is not particularly strong.
1. Live on Requirement Implementation: Roger Thompson, Vice President, Student Services and Enrollment Management; Michael Griffel, Director, University Housing
This is sold as a retention measure, despite the endogeneity problem. The % of freshman on-campus will rise from 80% to 90%. There are a number of exemptions – notably including some athletes. Thompson and Griffel are very aware of the cost issue, and have addressed it with a budget meal plan. UO's students – not known for economic diversity – want the fancier dorm rooms.
2. Division of Student Life Annual Report: Kevin Marbury, Interim Vice President, Student Life
From what I've seen Marbury, who was promoted after the abrupt departure of VP Robin Holmes, is a significant step up and seems to have cleaned up the DSL quite a bit over the past year. Good presentation.
An interesting graphic from his presentation: UO undergrads "feel comfortable" in the EMU, rec center, and Library. PLC and the Jock Box, not so much: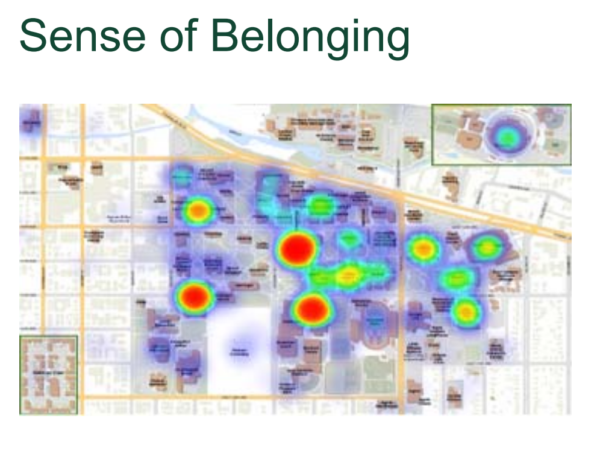 3. Fraternity and Sorority Life Update: Kris Winter, Dean of Students; Marcus Langford, Assistant Dean of Students
It won't be a surprise to learn that UO's frats are a cesspool of sexual harassment and assaults and low academic achievement (adjusting for parent SES). The DSL has had some consultants in, and has just hired Marcus Langford to clean it up and hire a new Director of FSL.
Langford argues that minority fraternities and sororities can improve retention and outcomes and wants to increase their number at UO. Notes that most fraternities and sororities at UO currently are "historically white".
Notes that are "challenges". Currently 4 suspended frats at UO. Talks a little about hazing. Wants to expand the office. At least some of these costs are paid by taxing the frats and sororities. Doesn't mention the assaults.
Q from Ginevra Ralph: I haven't heard justification for this. It's too much about how pretty you are or what color your skin. She knows girls who've dropped out of college because a sorority wouldn't let them in. Why not have affinity houses instead, based on areas of shared interests? Kris Winter responds with some pablum. Schill notes that the greeks are good alumni. Langford says greeks have slightly better grades, slightly worse retention. Lillis asks about Academic Residential Communities in the dorms. UO has a small ARC program, which indeed should be grown.
No one here has the guts to bring up the link between frats and sexual assaults, well documented in Jennifer Freyd's UO campus climate survey, and many others.
For an amazing story about how sororities are run and what they do to their members, see this NYT story:
Imagine finding a bill for $200 in your mailbox because your daughter was late to a couple of sorority events. Imagine, too, that those who snitched were her new best friends. This is one of the unwelcome surprises of sorority membership.
Depending on the generosity of the vice president of standards, a fine can be reversed with proof of a qualifying reason, such as a funeral, doctor's appointment or medical emergency, so long as a doctor's note is forthcoming. A paper due or a test the next day? No excuse. (Fraternities, by the way, rarely impose even nominal fines to enforce punctuality.)
Now imagine attending mandatory weekend retreats, throwing yourself into charitable work, making gifts for your sisters and, at tradition-thick schools like the University of Alabama and University of Missouri, investing 30 to 40 hours pomping — threading tissue paper through chicken wire to create elaborate homecoming decorations or parade floats that outdo rivals'.
Trustee Ginevra Ralph has it right: repeal and replace greek life. Unfortunately UO can't afford to do that.
4. Annual Title IX Report and New UO Reporting Policy: Darci Heroy, AVP and Title IX Coordinator
A few hours ago Betsy DeVos announced that she was re-evaluating the Obama administration's OCR guidance on how to deal with campus sexual assaults. If anyone sees a good analysis, please send me a link.
Fortunately Darci Heroy has done an amazing job at UO since Title IX was split of from our dysfunctional AAEO office, and there's no sign UO is going to back off its commitment to deal with the widespread problem of campus sexual assaults. She explains UO's new student-directed reporting policy, tells the board that they are "designated reporters", i.e. mandatory reporters for disclosures by students, while faculty and others can now have confidential discussions with (adult) students without having to tell the administration against their will.
Trustees seem impressed too, Schill heaps praise on her, notes the collaboration between JH and the Senate, and say "most of us believe this is a good policy" and we should celebrate it and the shared governance process.
5. Student Success Goals and Initiatives – Annual Update: Doneka Scott, Assistant Vice Provost for Student Success; Ron Bramhall, Associate Vice Provost for Academic Excellence
The board only scheduled two hours for this entire committee meeting, so Scott and Bramhall are a bit rushed. The upshot is that they are in the process of trying a bunch of pilot programs and evaluating them. Improving advising is one key, collaborating on "finish in 4" program. [Full disclosure: It took me 3 universities, 4 majors, and 3.5 years to graduate, not including two years in the oil fields to earn the money to pay for it.]
Bramhall presents info on high DFW science courses and their impact on retention, explains plans to give more intensive advising to students in trouble. Cautions we don't yet have the resources to do that.
Q from Connie Ballmer: Remembers some courses as "weeder courses" that students would switch majors after failing. We've still got them too many students don't switch, they drop out. College is a great investment, but only if you graduate.
Lillis asks about parents' role, Scott talks about programs she and Introduktion are cooperating on. Bramhall explains we're also working to keep faculty in the loop.
Ann Curry asks about problem of students no getting into classes they need. Bramhall notes we've done a lot to fix sequencing issues in key courses (Math's done this well).
Allyn Ford asks about tension between wanting more low SES first gen students and wanting high retention stats. [Pathways has excellent retention numbers, but it's notable that so many Pathway students are from the higher end of the income distribution for Pell eligibility, which can go up to $70K.)
Scott and Bramhall note that UO has a variety of programs to target these students.
Laura Lee McIntyre asks about how cuts to NTTF will affect advising. Scott: We need to impact advising with what we have, will also need new resources.
William Paustian asks about registration holds for students who are behind on payments. It turns out the hold is released when they meet with an advisor.
Executive and Audit Committee, 1:30 pm – Thursday, September 7, 2017. Link to materials.
30 minutes is enough for due diligence on all this?
1. Quarterly Audit Report: Trisha Burnett, Chief Auditor
As has been customary with the UO Board of Trustees, the audit report is not available in advance. Wouldn't want the Trustees to be informed enough to ask good questions: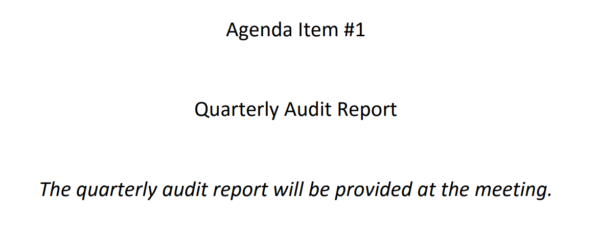 And there aren't.
Update: the report is now posted here: https://trustees.uoregon.edu/sites/trustees2.uoregon.edu/files/eac_meeting_notice_agenda_and_materials_090717_w_supp.pdf, towards the end. The gist is that they've spent the last year working on a strategic plan, a mission statement, and a vision.
SUMMARY OF ACTIVITIES
During fiscal year 17 ("FY17"), the Office of Internal Audit ("Internal Audit") achieved many goals. These included the hiring of two internal auditors; the selection of a partner for the co-source support model; the procurement and implementation of audit management software, including coordination and collaboration with peer institutions using the same software; and evaluation of audit office policies and procedures to ensure compliance with industry standards. We continue to review the audit policies and procedures as the Institute of Internal Auditors ("IIA") updated its International Professional Practices Framework with new, updated standards effective January 1, 2017. Most significant for the office, a strategic plan was adopted to formally outline steps that will ensure goals are obtained. During this process, the mission statement was updated, and a vision was adopted.
2. FY17 Expenditure Re-Authorization (Action): Jamie Moffitt, Vice President for Finance and Administration and CFO
VPFA Moffitt: This past year we had some unusual expenditures and accounting adjustments: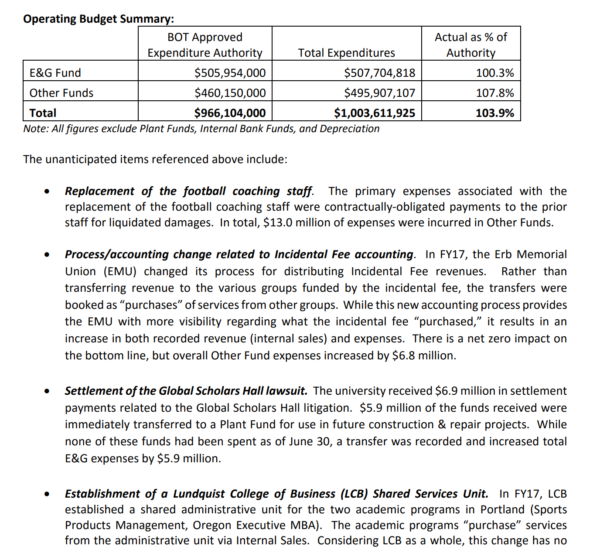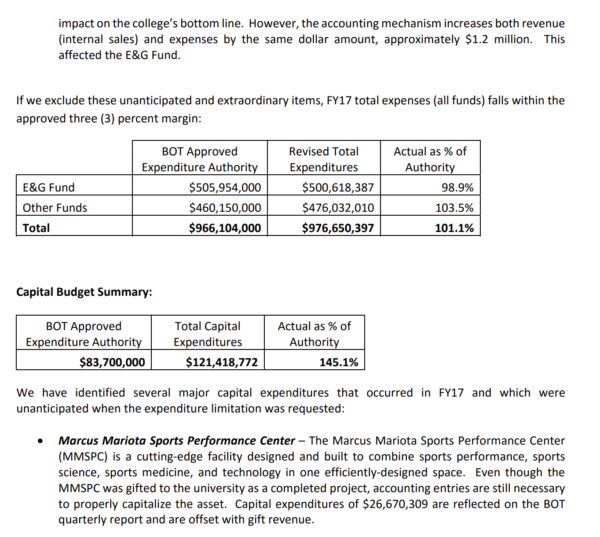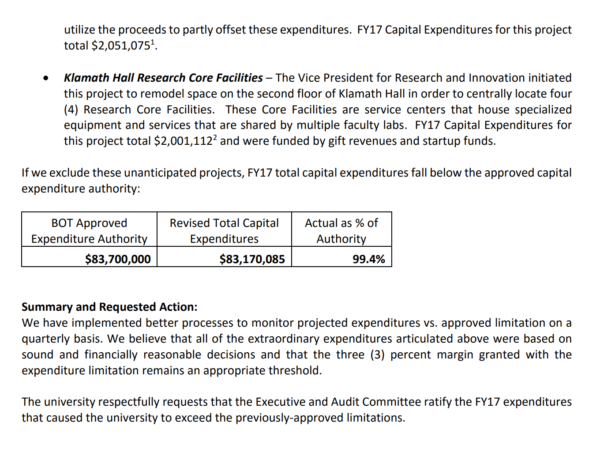 3. President's Annual Evaluation – Report: Chuck Lillis, Chair; Ginevra Ralph, Vice Chair
President Schill is outstanding – maybe even excellent. What would really be useful would be a 360 degree evaluation of the UO Board, as the OSU Board does.
Finance and Facilities Committee 2:00 p.m. – Thursday, September 7, 2017. Link to materials.
1. Knight Campus – Update on Capital Project Phase I: Moira Kiltie, Associate Vice President and Chief of Staff
Everything seems on track and well managed.
2. Quarterly Financial Reports: Jamie Moffitt, Vice President for Finance and Administration; Jay Namyet, Chief Investment Officer, UO Foundation
3. FY18 Expenditure Authorizations (Action): Jamie Moffitt
Tuition revenue fell about $8M (international students), salary expenditures also fell about $8M, partly due to NTTF layoffs, partly due to delayed hiring. $4.5M in other cuts, so basically "run rate even". Projections for enrollment look good.
4. Bond Sale Authorization (Action): Jamie Moffitt; Karen Levear, Director, Treasury Operations
5. Presidential Retirement Plan Policy Amendment (elimination of outdated program) (Action):
Jamie Moffitt
6. Auxiliary Budget Review – University Housing: Michael Griffel, Director, University Housing; Allen Gidley, Sr. Associate Director, University Housing
7. Residence Hall Name – Kalapuya Ilihi Hall (Action): Michael Griffel; Jason Younker, Assistant Vice President and Advisor to the President on Sovereignty and Government to Government Relations