Every fall Oregon runs a Charitable Fund Drive for state employees. Everyone on the state payroll gets a few emails asking them to donate to local and state charities. You know the drill. You can give lump sum or sign up for convenient monthly payroll deductions. (I reccomend lump-sum, given what Trump is about to do to the tax code.)
You pick which charities you want to give your money to, and you can opt out of receiving junk mail requests for more money. Sensible and efficient. UO employees usually give about $300K in total. Sign up here.
The librarians are usually big givers. I'm no expert on charitable giving, but I'm guessing this isn't because of their high salaries. The B-School is also very generous.
As in years past, the Duck Athletic department is the outlier on the low side, despite the fact that the Ducks have many employees bringing in considerably more than the average UO librarian. So far Rob Mullens, Dana Altman, Willie Taggart, and the athletic department as a whole have given $0, or 0% of their pay and bonuses: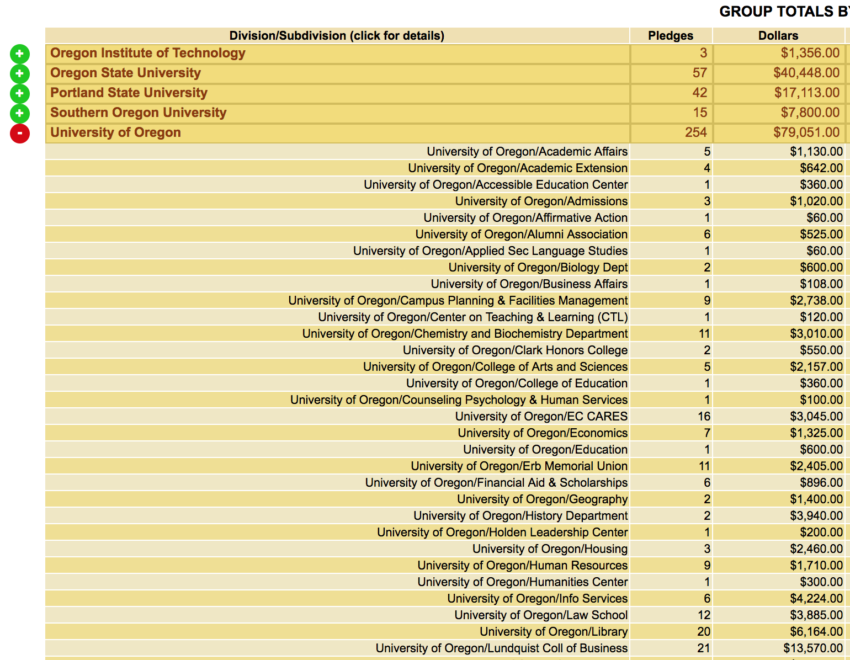 …