I received this email last night – cleverly sent out just after Bob Keefer's EW deadline:
From: Oregon Bach Festival <bachfest@uoregon.edu>
Subject: Announcing OBF 2018
Date: January 17, 2018 at 7:45:05 PM PST
Reply-To: bachfest@uoregon.edu
OBF is pleased to announce the 2018 lineup of concerts, community programs, and social events! This summer, you can experience an all-Bach opening concert in Silva Concert Hall, three Bach cantatas, five Brandenburg concertos, an all-Mozart concert, the world premiere of The Passion of Yeshua from Grammy-nominated composer Richard Danielpour, a new piano concerto by Philip Glass, The Rodney Marsalis Philadelphia Big Brass, and so much more. Plus, due to last year's overwhelming popularity, we will once again present our "Inside the Music" insight brunch — focused on Mendelssohn's Elijah — and the "Serenade" wine excursion — a celebratory interweaving of regional wines and kindred music featuring Iris Vineyards. We hope you'll join us for a spectacular 2018.
Premier Tickets On Sale: February 1
Friends of the Festival Exclusive Presale: March 21 – April 27
Public On Sale: May 3
Apparently someone in Strategic Communications has finally learned something about manipulating the press. And sure enough, the RG had a puff piece posted 90 minutes before the email went out, headlined "Oregon Bach Festival announces its 2018 lineup, featuring premieres, classics and renowned musicians".
More details on the 2018 schedule are here.
It's unclear if this means the festival has resolved the longstanding financial issues which apparently precipitated the events leading to the firing of Matthew Halls, but a quick glance at the budget suggests that it has not, and that UO's academic side will continue to fork over $600K or so per year in subsidies to indulge those with a particular preference for the music of Mr. Bach and his ilk: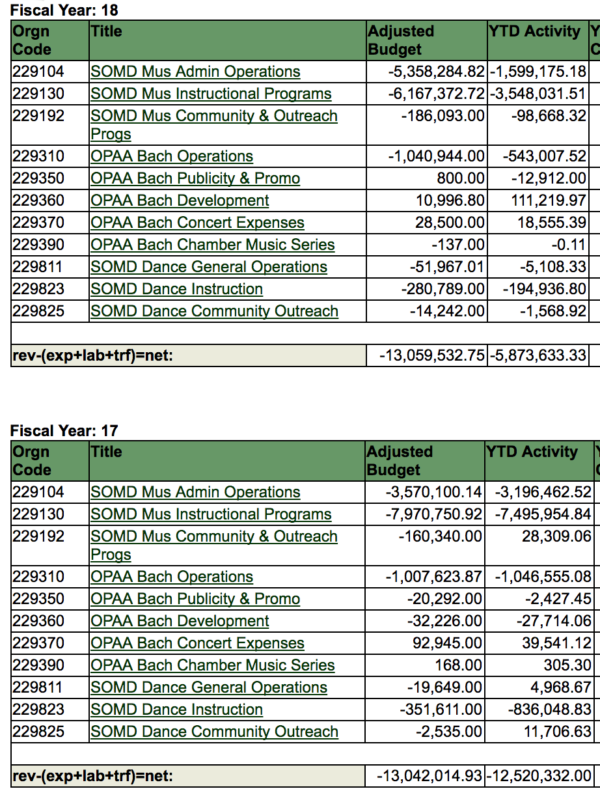 Cheap in comparison to what we have to pay for Rob Mullens' Ducks – but then the OBF sells even fewer tickets than Dana Altman.