Update: 
The event was pretty well attended, with about 30 CoD faculty and 5 or so union reps. There was a full and frank discussion that went on til 5:30, and continued in small groups afterwards.
I helped bring in extra chairs, one of which was then taken by a gentleman who unobtrusively started taking cell phone pictures. A union rep saw this and asked him to leave, which he did. He came back a few minutes later, and since I was lounging by the door he asked me why he'd been asked to leave and what the rules were for union meetings.
Full disclosure: I have no idea. So I told him that people wanted to have an open discussion and he was making them nervous since they didn't know who he was. I asked him who he was. He said he was the director of development for design. I asked him why he was there. He said because he was worried about what they were talking about and wanted to know what was going on. I asked him why he was taking pictures. He said because he didn't know many faculty by name and wanted to know who was there.
It seems a bit sad that the director of development would need to photograph a faculty/union meeting to figure out who the faculty are, but maybe he's new. In any case turnabout is fair play, and so here's his photo: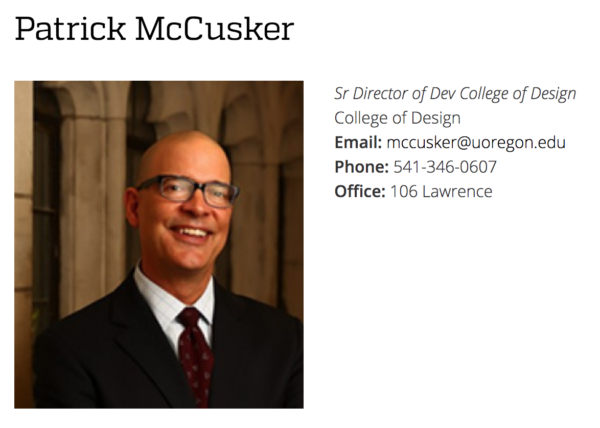 2/22/2018: College of Design faculty to hold Town Hall:
This Thursday at 4PM in Lawrence 230. Issues include:
The fate of AAD and the process used to terminate that program
The cutting of the summer Architecture program for high school students
The Portland Faculty Assignment Criteria & Process
The lack of Post-Tenure Review criteria
The management of the Ross Fund
De-emphasis on professional work and emphasis on peer-reviewed publications in reviews
The restructuring causing administrative bloat