4/10/2019: Results from today's Senate meeting:
After a presentation by Sierra Dawson (OtP), Lee Rumbarger (TEP), and a discussion with participation ranging from student senators on down to several unit heads responsible for instructor evaluation, and responses from the CIET committee members, and an amendment to require that the CIET report back on potential biases (w.r.s.t to women and minority instructors) after the  new Student Experience Survey is in place, the Senate voted unanimously for the legislation below. It will end UO's collection of numerical student evaluations starting in Fall, and in any case no later than next spring. So many people have worked so hard on this for so long. Thanks.
In regard to the Academic Continuity Plan / Emergency Grades legislation, the vote was postponed for at least two weeks, in light of late breaking news that raised the possibility that the President might be legally entitled to overrule an Academic Council decision on emergency grades. Given this, President Schill suggested, and the Senate Pres (me) agreed that it would be best to give the GCO time to form an informed opinion on this, and then time for the Senate and its constituencies time to digest that opinion before a vote. Perhaps the policy will be amended, perhaps that will not be necessary. I hope that this will be accomplished in time for a vote a the 4/24 meeting.
The Senate then adjourned, and VP Skowron and Melanie Muenzer (OtP) explained to the senators how they could contact key state legislators regarding key legislation that will affect UO's budget, and tuition. Needs to be done by tomorrow.
See here for more info. A snippet: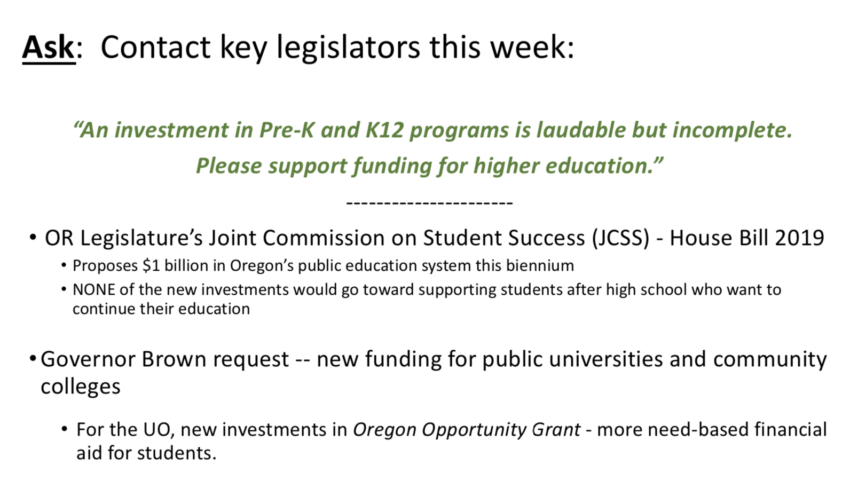 Senate meets 4/10/2019, 3-5PM, EMU Crater Lake
Location: EMU 145 & 146 (Crater Lake rooms)
3:00 – 5:00 P.M.
3:00 P.M.   Call to order
Remarks: President Schill
Introductory Remarks. To include budget crisis, our regional accreditor's proposed changes to standards, University nominations survey, Dean's nights at Faculty Club; Senate Pres Bill Harbaugh
3:30 PM   Approval of Minutes

3:30 PM     Business/ Reports:
4:50 PM   Open Discussion
4:51 PM   Reports
Legislative update, Melanie Muenzer (OtP)
4:58 PM   Notice(s) of Motion
4:59 PM   Other Business
5:00 PM   Adjourn to Faculty Club, all invited!