For years the cut score has been 284, and in 2016 that produced a pass rate of 58% – the same as the national average.
The Oregon Deans wanted a cut score of 266, which would have produced a pass rate of about 78%. The Oregon Supreme Court gave the Deans a cut score of 274, which should increase the pass rate for the students who just took the July exam to about 68%, making Oregon one of the easier states in which to get a law license. This in turn will boost the law schools' US News rankings a bit, bring in more law students, and perhaps mean that UO won't have to spend quite so much undergrad tuition subsidizing our law school. Just kidding, that last part will never happen.
This post was updated on 8/7/2017, 8/8/2017 and 8/10/2017 below, with info on my efforts to get public records on this order from the Oregon Supreme Court. Given that the Court is ultimately responsible for enforcing Oregon's public records law you'd think they'd work a little harder on their own compliance, if only to set a good example.
Instead, as explained below their website lists a defunct email address for public records requests, they have a pdf form with a submit button that doesn't work, their email responses are incomplete and uncommunicative, and they are either unaware of the law on fee waivers or they hope those asking for public records are. I'm still waiting on them, apparently the only person at the Oregon Supreme Court with the authority to waive a $3 public records fee is out of the office.
So I also asked the Oregon Bar Examiners Board for their public records. In contrast to the Oregon Supreme Court, their response was very professional (although they could use a new scanner). They provided their public records in less than a week, at no charge. Click the link for the full pdfs, I've only posted snippets:
1. Supportive letters to the Court on lowering the cut score from Jeff Howes of the Board of Bar Examiners (274), from Law Deans at UO and Lewis & Clark, and Willamette (266), and from the Oregon Student Bar Associations: http://uomatters.com/wp-content/uploads/2017/08/Official-letters-to-Court-BBX-PubRcrdsReq-Aug-17.pdf: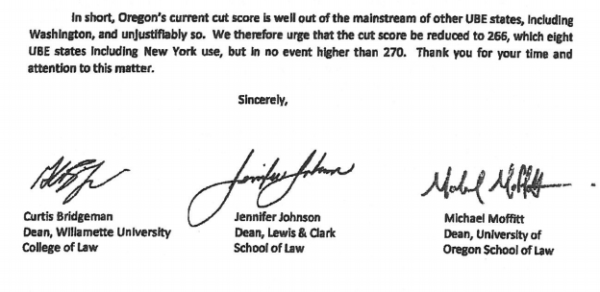 2. Emails between the bar examiners and the various helper deans: http://uomatters.com/wp-content/uploads/2017/08/Bar-examiner-and-Dean-emails-BBX-Records-JH-Aug-17.pdf: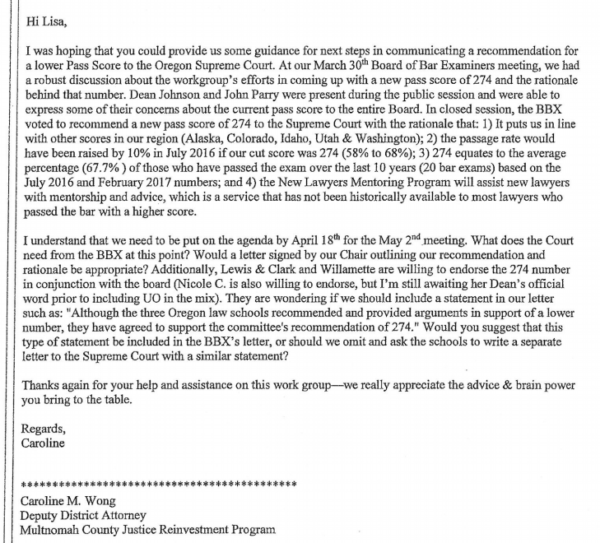 I have no idea why they went into executive session for a vote on something like this. Is that legal?
And while I do not have an informed opinion on what the cut score should be, I was surprised at how superficial the discussion in these documents is, given the obvious disagreement between the Board Examiners and the Deans. Maybe they saved the substance for the executive session? Why did the Deans lose in court?
8/3/2017: Oregon Supreme Court quietly dumbs down Oregon Bar exam requirement: