10/12/2017 update:
Just kidding. Tobin Klinger is UO's chief PR flack, not a Student Conduct Judge. He is not responsible for enforcing the student conduct code, nor has anyone at UO conducted any sort of investigation as to whether or not the student conduct code was violated, or whether any such violation was significant enough to supersede the UO policies on freedom of speech and academic freedom.
So what in the world was Klinger doing, in his official capacity as UO spokesperson, telling an Oregonian reporter 5 minutes after the administration suspended President Schill's speech, that
".. the demonstration actually violated university policy…"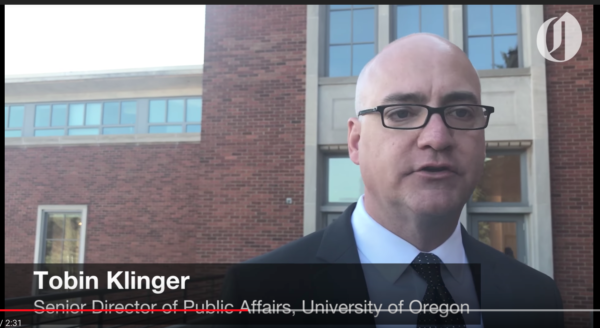 Speaking in my private capacity as a blogger, I think the administration can make a plausible case that it did violate the code (and the Freedom of Inquiry and Speech policy). If that case succeeds they can then discipline the students accordingly.
But that case is going to be harder to make given this official statement from Klinger, which the students can argue is prejudicial.
10/9/2017 update: Small, ineffective, and reflects poorly on the student body
The Oregon Daily Emerald editorial board rarely posts editorials. They have written a good one on Friday's protest: