It's official:
Dear University of Oregon community members,
Today the Higher Education Coordinating Commission reconsidered and approved the University of Oregon's resident undergraduate tuition plan for the 2017-18 academic year. This decision allows the university to move forward with certainty and a well-thought-out plan for managing our finances.
I am extremely grateful to the commissioners for reversing their initial decision on our tuition plan. We appreciate that they were willing to reassess information about our tuition-setting process, our engagement with students and other campus stakeholders, and the untenable cuts to programs and student services we would have had to make without this source of funding. I am already actively working to improve these outreach and collaboration processes with various campus constituencies for next year, although we hope not to be faced with the same financial choices as this year.
As I have said many times, no one wants to increase tuition. The unfortunate fact is that decades of declining state support, coupled with increased expenses, has left us with very little choice. Even with the HECC's approval of our plan, we have many difficult decisions ahead. The university has already identified $4.5 million in cuts, and an ad hoc advisory budget committee will be identifying another approximately $4 million in reductions or new revenue sources to close our funding gap.
I want to thank the many people who participated in this tuition setting process. These are challenging financial times for the university and the state. But we cannot be deterred. These constraints challenge us to find better ways to meet our educational mission and deliver outstanding student experiences. We must focus and think strategically about our priorities, and ensure that we efficiently and carefully spend every precious dollar we receive from students and their families, tax payers, and our donors.
We are up to the challenge, and I remain ever focused on making the University of Oregon the very best it can be.
Sincerely,
Michael Schill
President and Professor of Law
May 25 update: From the RG's facebook page: https://www.facebook.com/registerguard
I think PSU passed unanimously, and UO was 7-1. The opposing HECC member seemed to be concerned about a perceived lack of racial and ethnic diversity at UO.
May 15 2017: OSU reveals UO's next steps on OSA/HECC's rejection of tuition increase
Here's the latest from UO's government and community relation's office, courtesy of "Around the O":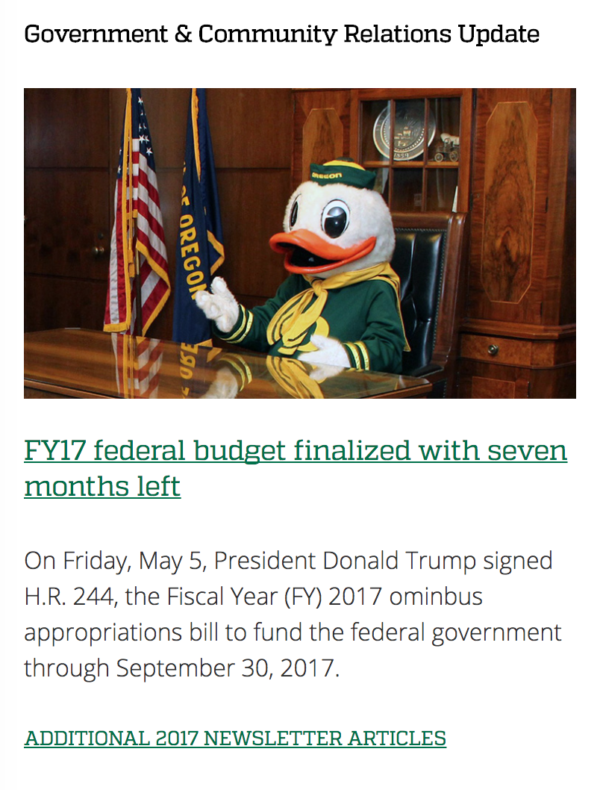 Cute, but not very informative and way out-of-date. If you're looking for substance on what UO will do next, try OSU:
From: "Mills, Jock" <Jock.Mills@oregonstate.edu>
Subject: [Government_Relations_Update] May Salem Update
Date: May 15, 2017 at 4:28:05 PM PDT
To: "'government_relations_update@lists.oregonstate.edu'" <government_relations_update@lists.oregonstate.edu>
… Last week, the Higher Education Coordinating Commission (HECC) approved requests for resident, undergraduate tuition increases above 5% for Western Oregon University, Oregon Tech, and Southern Oregon University. HECC did not approve requests from Portland State University and the University of Oregon. Those universities are in conversation with HECC staff and the Commission about reconsidering the votes by which HECC denied those requests. If at least five of the voting Commissioners agree to provide approval, the HECC will convene a meeting within the next two weeks to reconsider the votes. The Oregon Student Association (OSA) had a strong presence at the HECC meeting and disrupted the meeting briefly during Commission deliberations. OSA has signaled that it would continue to oppose requests for tuition increases but that their focus will generally shift to the Legislature and the need for increased revenue. To that end, OSA is planning on phone banking on May 17 and holding lobby days on May 24 and June 6 with SEIU and other partners. …
Full report below the break: