Diane Dietz is here, so expect some good RG reporting. I'll blog what I can.
9AM: Finance and Facilities Committee — March 3, 2016 [Materials]
1PM: Academic and Student Affairs Committee — March 3, 2016 [Materials] (Page way down).
Tomorrow: Meeting of the Board — March 4, 2016 [Materials]
FFC: 
Convene – Call to order and roll call – Approval of December 2015 FFC minutes (Action) – Public comment  
No public comments –
1. Quarterly Treasury Report, Director of Treasury Operations Karen Levear
All is well, no questions.
2. Bond Issuance Authorization, Vice President for Finance and Administration/CFO Jamie Moffitt and Director of Treasury Operations Karen Levear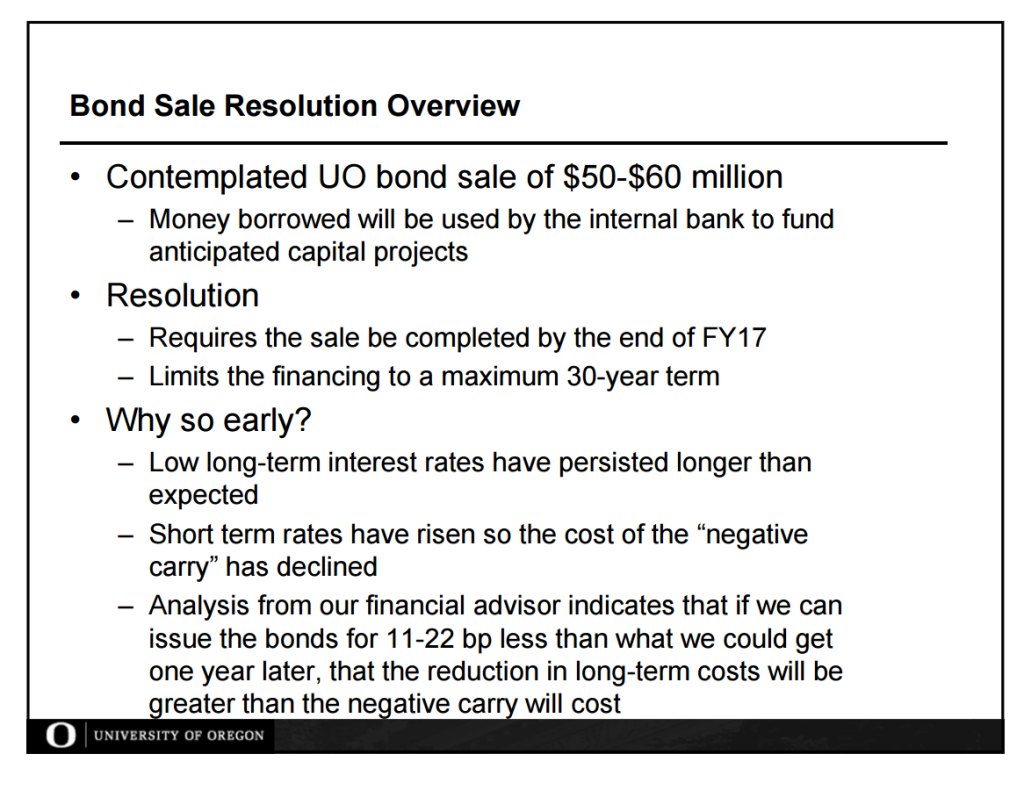 Ms Lavear is great. Asserts economists don't know what will happen to rates – true enough! $50M 30 year debt, to pay for …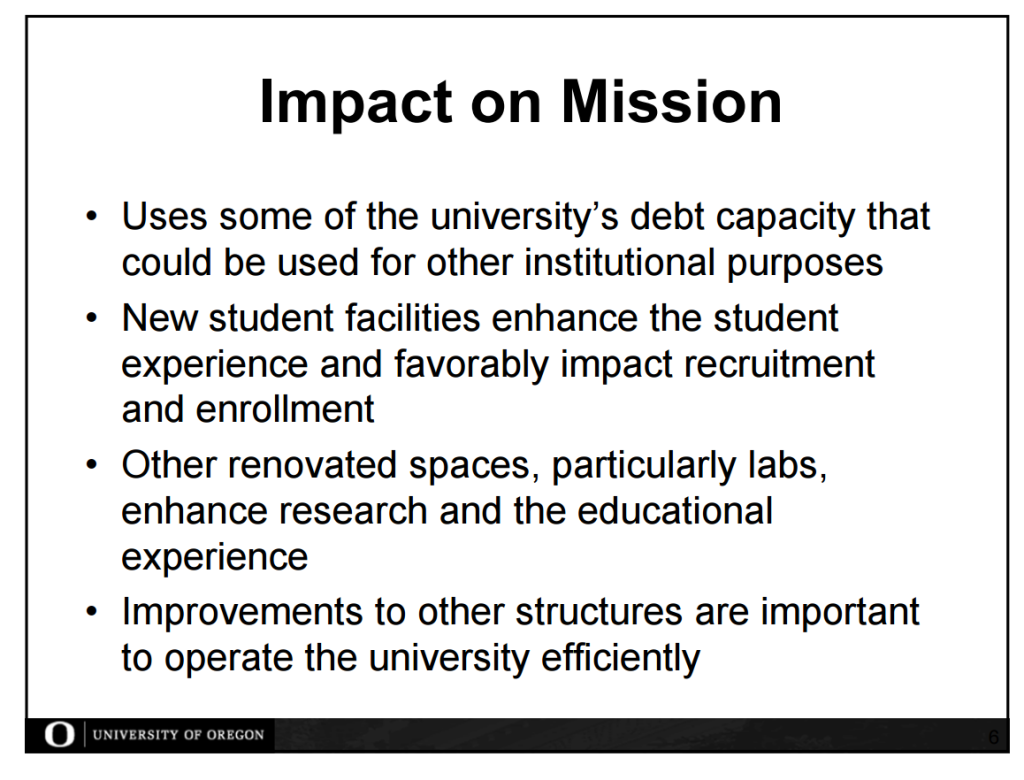 Well, honestly this is a little vague, but sounds very plausible. I woder how much will go to the Jocks?
If you want more info on UO's basic financial position, check out the report from AAUP forensic accountant Howard Bunsis, here. Plenty of water in the well, given the years of drought.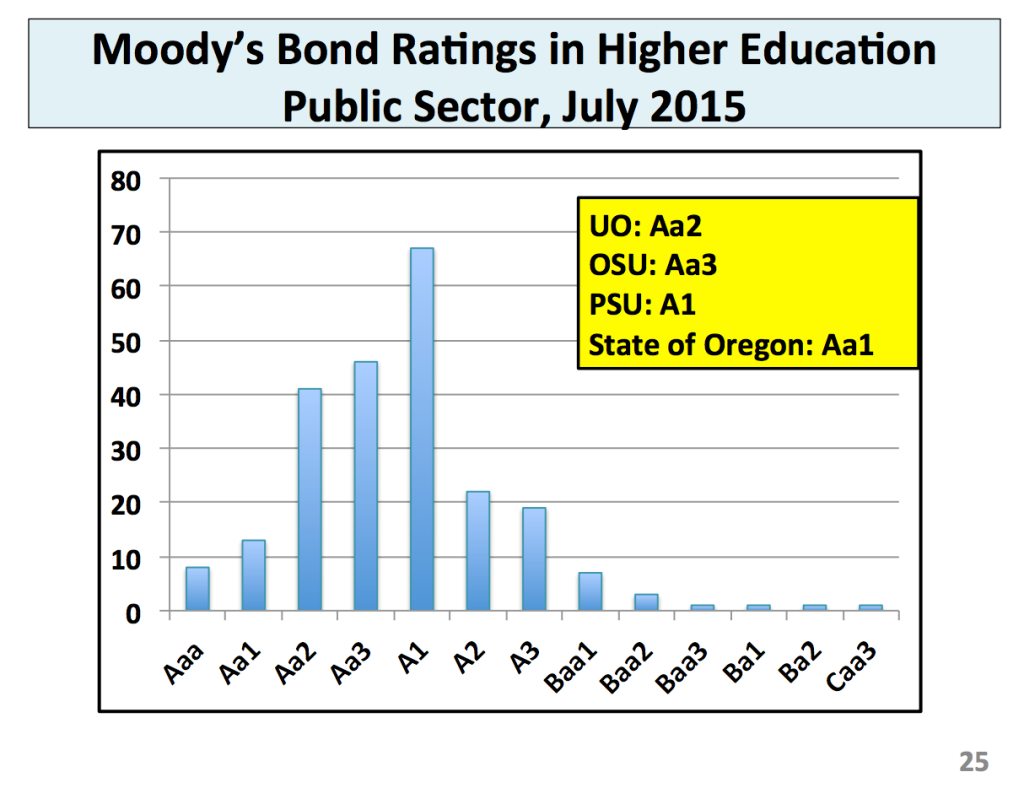 3. Quarterly Financial Report and Update on State Budget Workgroup, Vice President for Finance and Administration/CFO Jamie Moffitt
Jamie gives her usual presentation: We're "run-rate even" but face future challenges from increasing wages to the faculty peons and PERS.
Again Bunsis has much more interesting info, here. The faculty union has had Bunsis out a few times to explain the UO budget – maybe the board should invite him next time. Bunsis: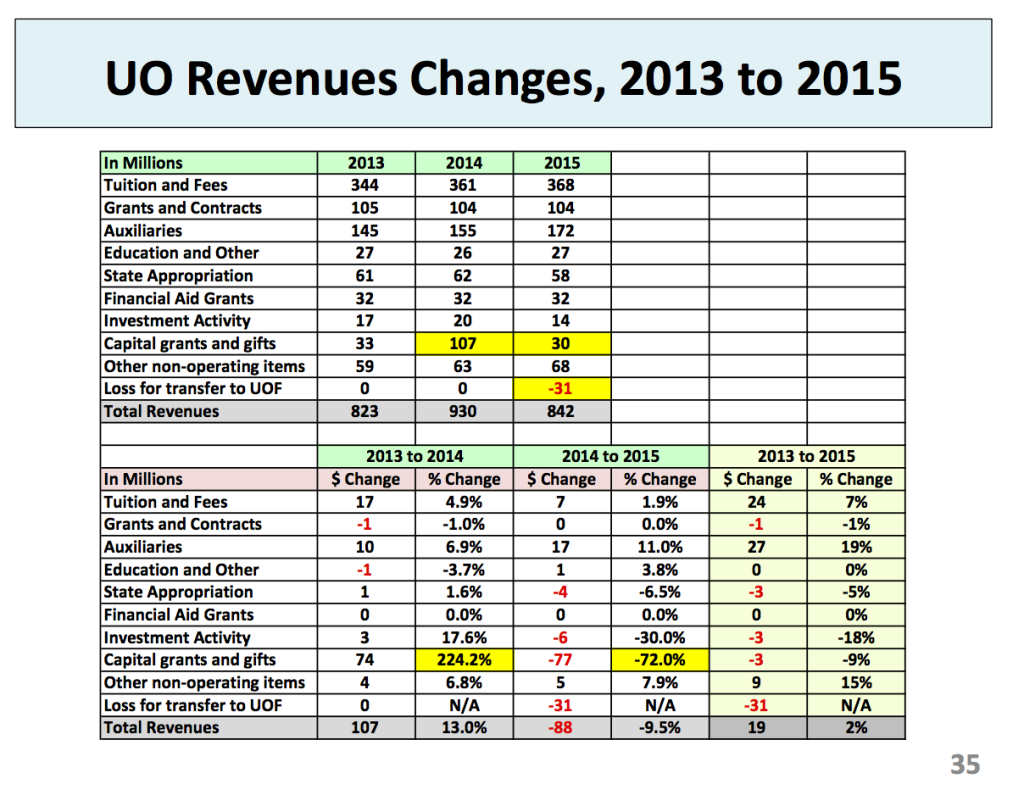 Kurt Wilcox asks where the $20M in reserves spent last year went. Moffitt says to recognize increased future PERS liabilities, and to labor and benefit costs.
And here's a Bunsis graph that you will never see the UO administration put up in a meeting: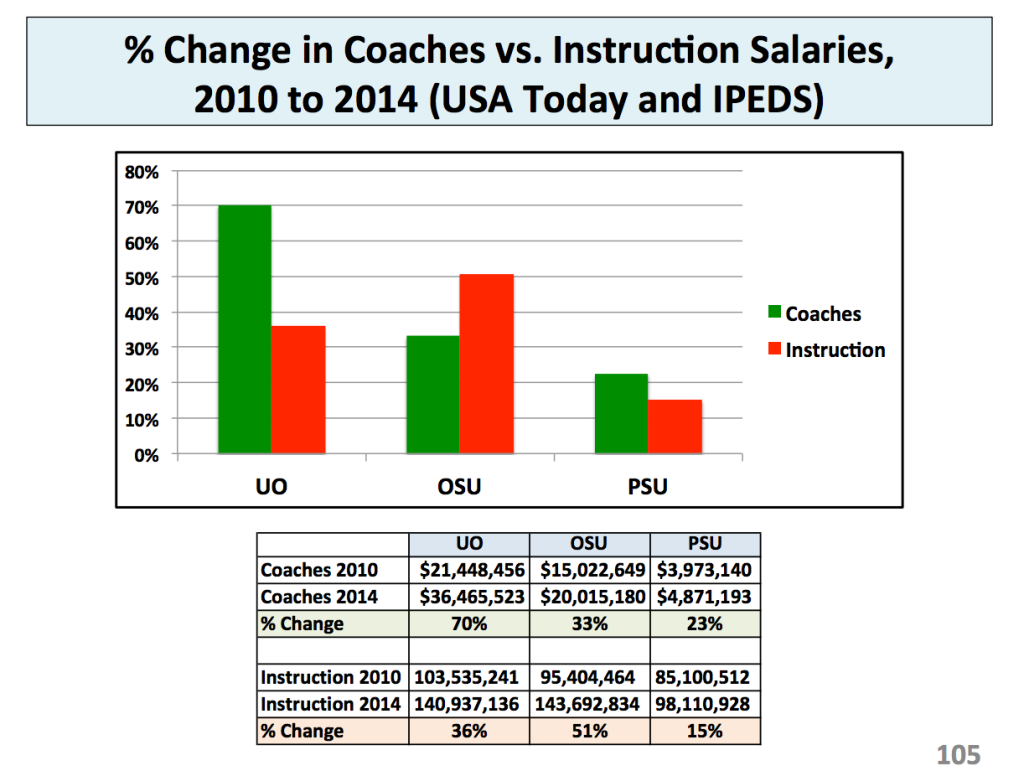 4. Framework Vision Project Overview and Capital Planning Update, Consultant Robert Sabbatini AICP FASLA and Vice President for Finance and Administration/CFO Jamie Moffitt
Lots of consultants, pretty presentation, totally illegible even on the screens.
Current UO land could support $34K students. (Undergrads? PhD students with associated labs?)
Here's the meat – a new classroom/office building, and a new science lab building:
Plus a lot of parking garages. Sabbatini has a plan for removing Collier House. Yippee!
The faculty member on the board, Susan Gary, who is always careful to explain that she doesn't really speak as a faculty member, goes off for a while on the fact that Sabbatini hadn't looked at how expansion would impact the local neighborhood, by increasing the number of student who "frolic" at night, and drive down property values. Is she speaking as a property owner?
1:00PM Academic and Student Affairs Committee. Materials here.
Board of Trustees of the University of Oregon Academic and Student Affairs Committee   Public Meeting 1:00 pm – March 3, 2016 Ford Alumni Center, Giustina Ballroom    Convene – Call to order and roll call –
Introductory comments and agenda review –
Approval of December 2015 ASAC minutes (Action)   – Public comment
1. Update on Vice President for Research and Dean Searches, Provost and Senior Vice President Scott Coltrane
Links here.
Vice President for Research and Innovation – Finalists campus visit schedule and information
Dean of the College of Arts and Sciences
Dean of the Lundquist College of Business
Dean of the School of Architecture and Allied Arts
Dean of the School of Journalism and Communication
Coltrane says the usual things. Using search firms, talks, lots of Dean finalists will be out in early April
2. Program Development and Approval (Action), Provost and Senior Vice President Scott Coltrane and Assistant Vice Provost Ron Bramhall
– Approval for New Master's Degree in Sports Product Design  
Ron Bramhall makes the pitch. Details here.
Allyn Ford asks what we're going to trim to pay for this. What a great question. Read more on the dubious funding and Lillis's past public statements here. Coltrane evades.
Ann Curry follows up about how this will be funded. Chuck Lillis doesn't look like he likes this question. Coltrane evades.
– Approval for New Bachelor of Arts and Bachelor of Science in Arts Management
The Arts Management major is controversial given VPAA Blandy's use of online AAD 250-252 courses to take gen ed credits away from CAS humanities and finance AAA. These generally online courses have no proctored exams and give as many as 2/3 of their students A's:

Read more about Blandy's $1M student credit hour heist here: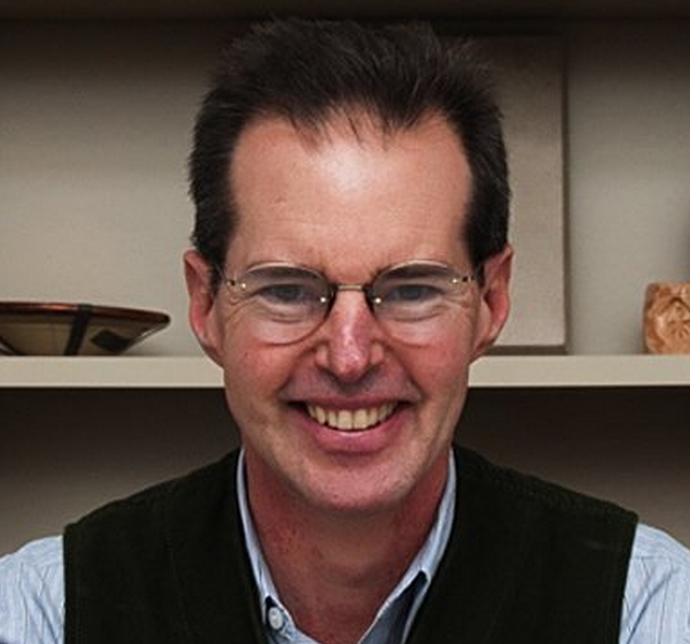 He's gotten even bolder:

Isn't this the sort of thing that Trustee Susan Gary (Law) should be paying attention too?
She's not. no questions from Gary, everything passes unanimously. Maybe she's worried people might start asking about law's $10M deal.
3. Resource Alignment Initiative, President Michael Schill, Provost and Senior Vice President Scott Coltrane, and Interim Dean of the College of Arts and Sciences Andrew Marcus
Schill: Every unit is being asked to make a 2% cut, to contribute to our larger academic strategic objectives. 3% next year.
Does "every unit" include athletics? Make Rob Mullens start paying the $2.4M Jock Box costs? Of course not. Perhaps one of the trustees will ask? Of course not.
Coltrane: We're using the savings to grow the tenure track faculty. Some CoE hires, some cluster hire offers going out.
Marcus does a very good job with the nuts and bolts, sorry I've heard this before and won't blog much.
He also gives a very nice shout-out to the faculty union. Careful to say they don't endorse this, but credits them with helping him mitigate the impact – at least to some extent.
Then puts up this figure: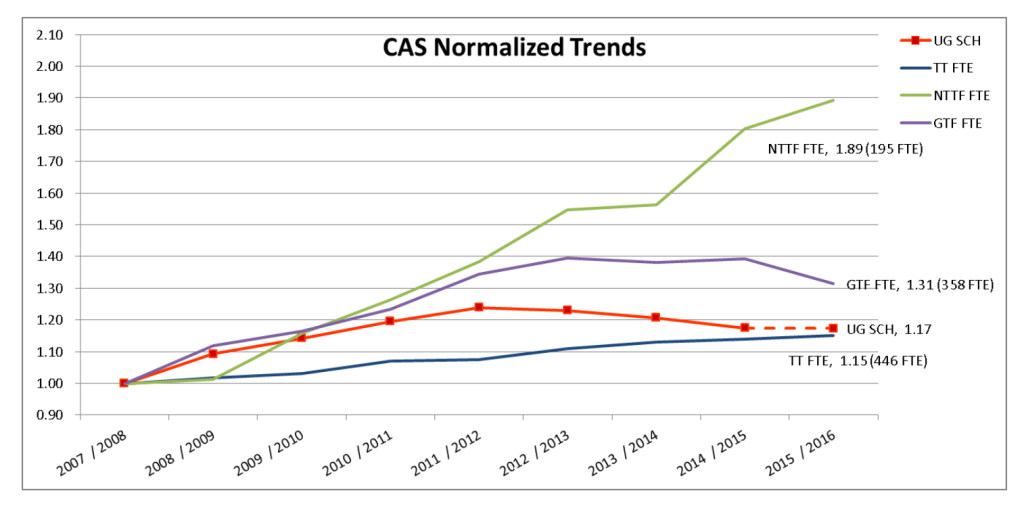 Which is useful, but note that the base for NTTF is about 100 – so all that green growth is not very much in numbers. But check this:
Marcus's predecessors spent all the science start up money on other things. Like the $2.4M a year for the Jock Box. Or the $467,538 a year the academic side is still paying Rob Mullens for the right to use Mac Court for academic purposes:
Painful cuts. If Coltrane had had the guts to make tough choices as CAS Dean, Marcus would have been in much better place.
Notes that CAS has actually authorized 13 new career-track NTTF hires.
Curry: Why the 2012 drop in credit hours per students in Humanities?
Marcus: Children of the recession – all wanted to go to business school.
Curry: What about UO taking core classes at other universities to save money?
Marcus: We've heard that, don't have good data yet.
Coltrane: We're trying to figure this out. Students are *not* taking enough UO credits. [Sorry, *not* was missing in original.]
Curry: Could it be cost per credit?
Schill nods.
Lillis: "There's an issue with tenure protecting some non-productive faculty".
Schill: As a tenured professor, let me answer that. I'm a defender of tenure. Important for academic freedom. Bedrock of the universities ability to encourage faculty to ask unpopular questions. Protects faculty from retaliation.
Schill goes on: "Faculty do this job, often at financial cost, because they love it."
Lillis: "I agree with everything Mike said."
Schill asks Coltrane to explain the evaluation / promotion / referee incentives UO uses.
Rudy Chapas: It's easy to see how hard these cuts have been for Marcus – you can see it on his face. The board knows this was necessary and thanks you.
Curry: Pretty clear that business, journalism, maybe AAA have a strong student advising system. I understand that is not true of the 40+ CAS departments. Is this fixable?
[Me: I went through 5 or so majors. Very bad advising. Not that I would have listened. I learned a lot dropping courses. Students try things, change their minds, try something new, it's great.]
Coltrane: We got some state money for improving advising, Lisa Freinkel is in charge.
Susan Gary (Law) goes back to the tenure thing, says something about push for stronger tenure standards from Coltrane? Hard to hear her, sorry.
Paustian: Back to advising, problem with students filling up courses they don't really need.
Kurt Wilcox: Steps in and does Susan Gary's job for her. Not advocating for the faculty, but explaining to the trustees that there are legitimate questions about how the realignment is being handled in terms of timing, course coverage. Does Gary not know this? Is she afraid to explain it? Probably a bit of both.
Ginevra Ralph: Would like to hear more about the history of the budget model. Can we have a tutoring session on that? [She should talk to former CA Joe Stone or former CAS finance dean Marianne Nicols].
4. University Libraries, Dean of Libraries Adriene Lim Meeting Adjourns Following adjournment, trustees will do a site visit of the Knight Library with Dean of Libraries Adriene Lim.
Reads from slides. Come on.
Very proud of the university archives: Le Guin, Kesey, that zip drive she told Doug Park that Harbaugh had stolen, …
Banner year for fundraising. First unit to reach our $36M target. Still need science library etc.
Does a good job answering questions.
Meeting adjourns for a visit to the library.