Executive and Audit Committee —1:15 pm – September 8, 2016 Ford Alumni Center, Giustina Ballroom [Materials]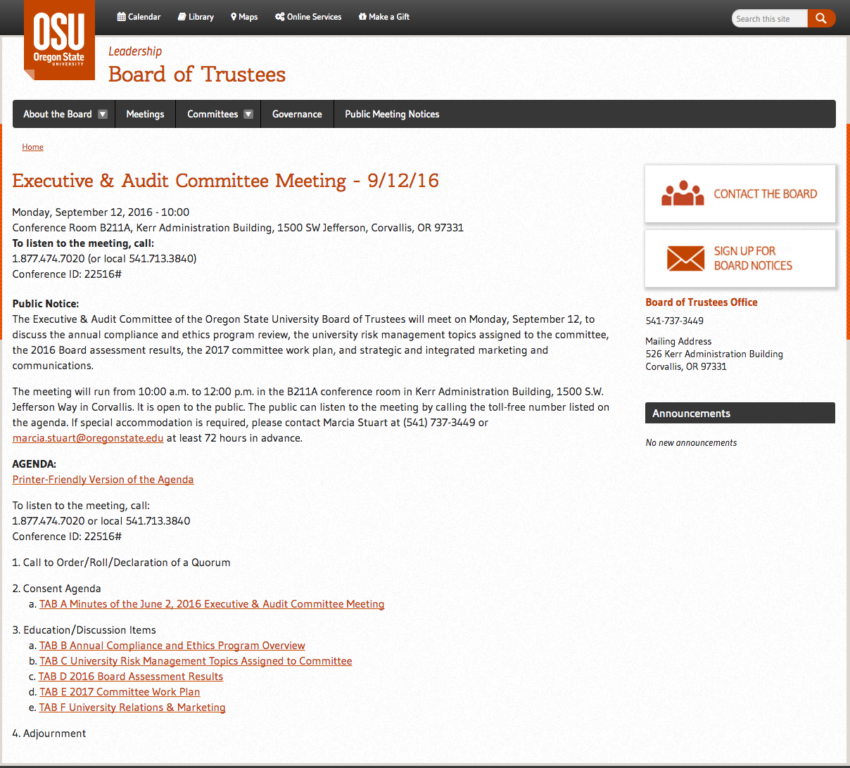 Whoops, that's from OSU. Also see their detailed work plan posted by their Board's Executive and Audit Committee. Compare with the minimalist info the UO Board is willing to share:
UO: Convene – Call to order, roll call – Approval of June 2016 EAC minutes (Action) 
1. Quarterly Audit Report and Amendment to Internal Audit Charter (Action): Trisha Burnett, Chief Auditor
There is no Quarterly Audit Report in the materials. Perhaps they will have copies at the meeting? [Yes, and the Board Secretary was kind enough to provide a pdf, here. Not much has been done.]
For some history on the sudden departure of Brenda Muirhead, UO's previous Chief Auditor, see here. The rumors are that she left because of a lack of cooperation from the VPFA's office. For last quarter's uninformative report to the Board from the Audit Office see here.
The main item on the UO agenda is this, which a skeptic might say is aimed at weakening the need to document the independence or lack of independence of UO's Internal Audit Office, and at buying another 2 years before peer review is required: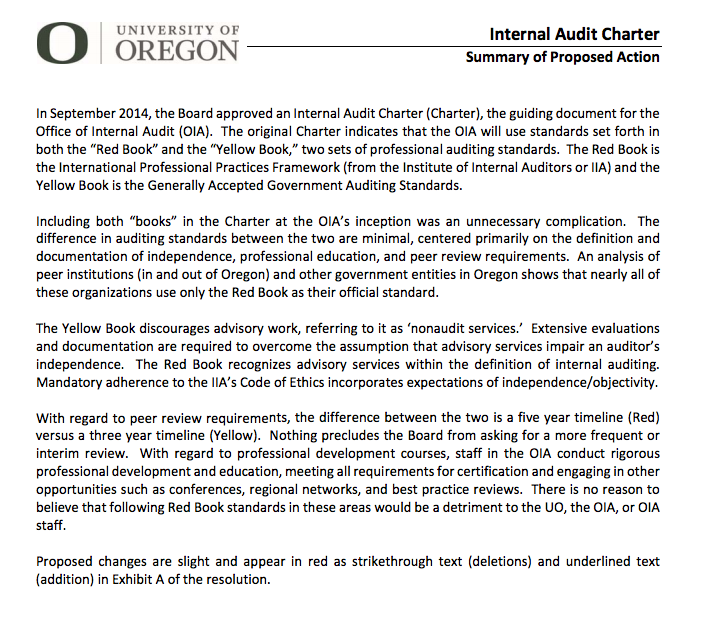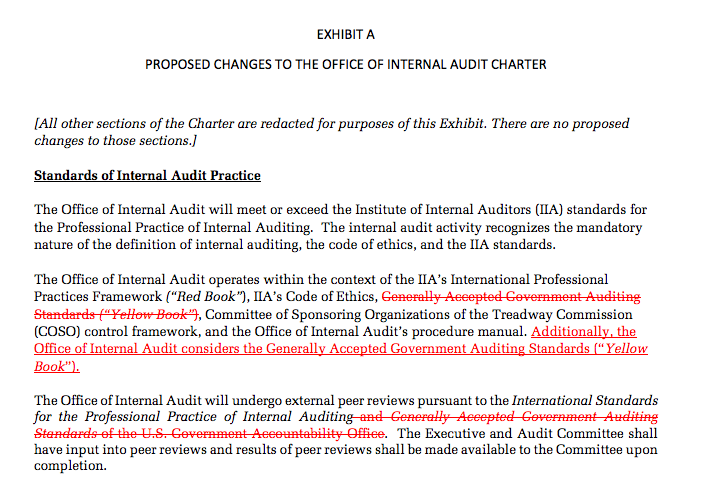 For some background on what university Audit Committees are supposed to do, see the AGB on "Assessing the Quality of Internal Audit"
Trisha Burnett, Chief Auditor: Not much has been done, because of turnover in the office. Expect to make offers to tw new auditors shortly. We've been brainstorming with other ex-OUS schools. Making sure our salaries are competitive. Bought some software, get our policies and procedures set up. Identifying a closed-source provider to help out when things get busy. Brainstorm with the ACUA. Joined the Oregon chief auditors council.
A few softballs from the committee, Lillis asks for a voice vote, passes. Then on to:
2. University IT and Computing Priorities Update: Scott Coltrane, Senior Vice President and Provost; Chris Krabiel, Interim CIO; Adriene Lim, Dean of Libraries
The Blustain report has been out for several months now and it's a done deal. Link to full text and some skeptical comments here. All that remains is implementation, which is not the Board's area of comparative advantage or their fiduciary responsibility. So why are they spending more time on it, instead of new things?
Meeting Adjourns