3/19/2019: 
Maybe 1/2 the task force shows up. Elliot Berkman (Psychology) delivers the Research Subcommittee report. They are skeptical about the possibility that devolution would improve research activities, and see many possibly negatives. Kudos to Elliot for slipping "orthogonal" into an official report:
"Most research activities are orthogonal to the organization of CAS."
He goes on to demonstrate that his committee has learned many things about problems with the organization and administration of research support at UO that can potentially be improved. None of these seem to require CAS reorganization. Here's hoping JH will ask this subcommittee to refocus its energies from devolution to making positive recommendations focused on improving research administration and support at UO.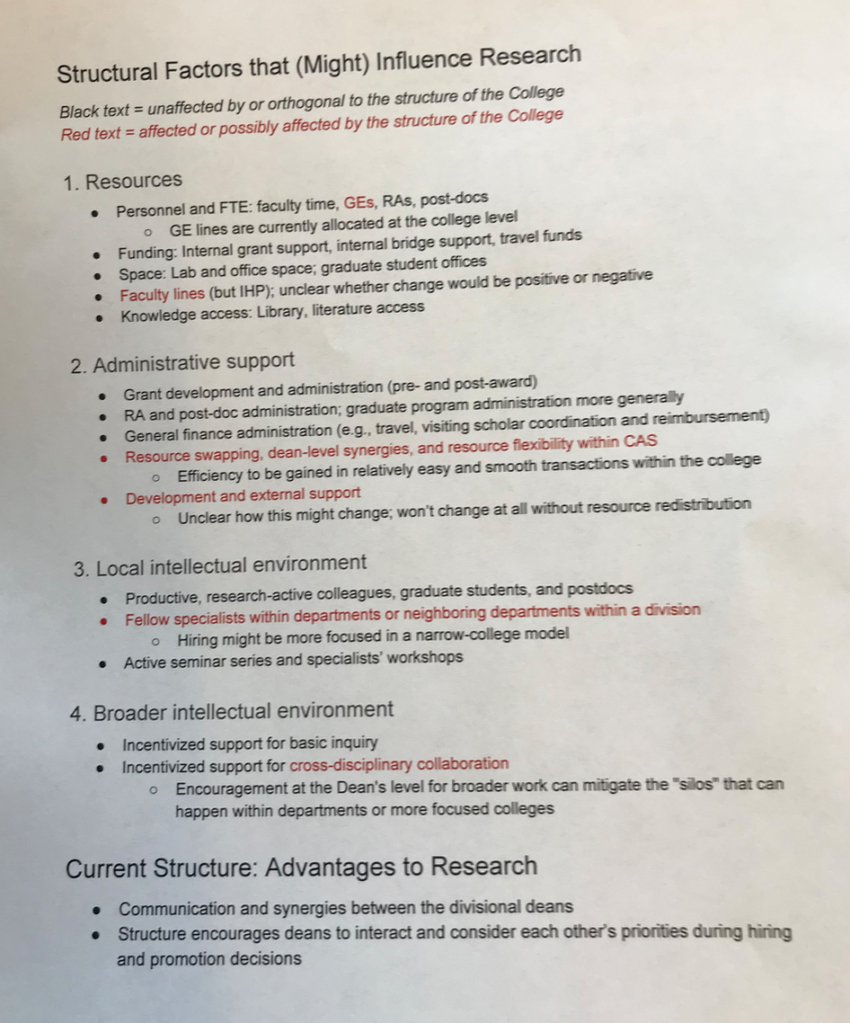 3/12/2019 update: Brad Shelton makes it through a ¿CAS? task force meeting
I missed today's task force meeting because I had an important previously scheduled event forgot that this group of honest and hardworking faculty and OAs were still being forced to go through the motions.
Fortunately an always reliable source updated me on the proceedings. They agreed that my summary below of what Brad claimed about the Knight Campus in the previous meeting was accurate. They then said that this was not the first task force meeting that Brad had walked out off, for slights real or imagined. This was news to me, but not surprising news, and it explains the task force's non-chalant reaction to Brad's de-zooming of their last meeting.
As for today's meeting, the elevator version is that the task force brought in a panel of deans from the various UO colleges for advice. The first question the task force put to them was something like "What improvements do you think a college reorganization might create?" This was also the second question. And the third, etc. They kept asking because no one had an answer. Which I guess is an answer.
The task force meets again Tuesday, March 19 from 1:00 to 3:00 p.m. in the Miller Room, EMU 107. I apologize for missing today's meeting, and I will try and do better in the future.
2/26/2019 update. Brad Shelton tells ¿CAS? task force that Knight Campus was his and Jim Bean's idea
This news does not seem to increase the task force's confidence. Meeting live on zoom, here: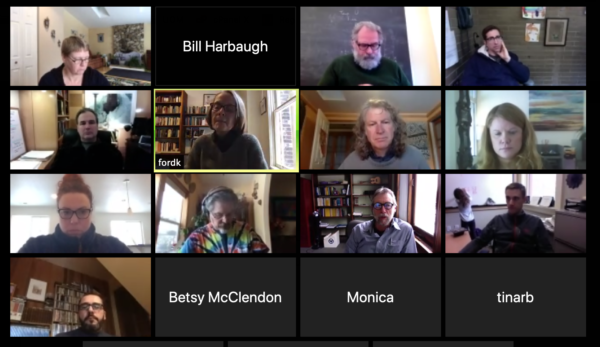 He goes on to claim that the proposal was "further developed by the faculty". Someone points out that he means "some faculty".
I zoomed in late, so I don't know what prompted Brad to go off about this, but he goes on to claim it's not taking resources from the rest of UO. Brad is ignoring the fact that UO made $100M in matching funds its #1 priority for legislative capital funding last biennium (and got $70M) rather than asking for money for other priorities.
This is water under the bridge, but it would be nice to have some honesty about it, as well as to see a copy of the gift letter, which Pres Schill has repeatedly refused to show.
~2:30 – Brad announces to the task force that he takes umbrage about something in my comments above, that he will have words with me later, and that he is leaving the call. The task force's discussion of the various reorganization possibilities and their costs and benefits moves on unimpeded.
~2:55 – Karen Ford explains that, while there were some initial claims that CAS reorganization would not add to administrative bloat, Brad has since said that there would be transition costs, at least.
One NS member sums up by noting that if the task force accomplishes nothing else it has at least brought the sciences, social sciences, and humanities faculty closer together and increased their shared empathy and understanding of the issues they face.
~3:00 Ford orders the band to play La Marseillaise, meeting concludes.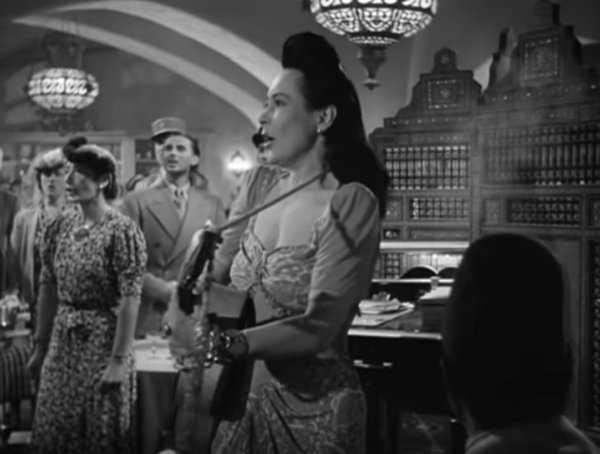 2/12/2019 update: ¿CAS? task force to briefly discuss President's assertions, consultants
The Jan 22 meeting of this shambolic process is described below the break. They will try again this Tuesday Feb 12, the birthday of Abraham Lincoln and Charles Darwin,  from 1:00 to 3:00 p.m. in the Diamond Lake Room, EMU 119.
At this point I'm guessing that Johnson Hall has decided that the opportunity cost of this is too damn high and they're just going through the motions. But then that's what I thought they thought about Brad's metrics scheme, and look what that's going to cost us in real money. So I'll try and do some live-blogging, on the off chance they raise a quorum.
Agenda from the official website. My comments in italics.
About half the members are present. Some have to leave early.
CAS Task Force on the Structure of the College Agenda for February 12, 2019
Angela Wilhelms reports that Pres Schill is willing to pay a modest amount for a consultant, and that the deadline will be extended. The committee is now expected to report in "early May" but there will no decisions until Fall, after opportunities for input from the Senate, etc. This will still allow for starting a search for new dean(s) in late fall.
1. Senate Meeting 2/13; please attend if able
Chair Ford will present something to the Senate and there will be time for Q&A. 
2. Discuss briefly President's Strategic framework assertions
Apparently there's an old strategic framework, from before Pres Schill, with something about the liberal arts and the sciences. Discussion about ensuring that the report articulates the importance of thinking of these holistically rather than doing a slice and dice. Discussion about that the names of new colleges. "Liberal Arts" and "Sciences"? This decision will take years. 
Long discussion ensues. Multiple members report back that their colleagues don't see what problems a reorganization is supposed to fix, have noted that the source of current problems is lack of money, not a lack of organization. Ford explains out that the current CAS divisional deans are voting members of the deans council, do fundraising, etc. 
My impression of the sentiment of the task force is that they are still wondering what the point of this task force is. 
3. Survey question 1 responses
On the survey someone asked about how a reorg would affect unit's definitions of teaching excellence. Answer is not clear since it's not clear what the def of teaching excellence currently is.
Conversation moves on to the possibility that a complete reorganization of CAS might make it easier for instructors to get white board markers. I'm not kidding.
Members note that the survey collected many cuss words but not much deep thought or coherence. Suggestion is made that was to be expected, given the vague nature of the questions. Discussion of potential new questions, e.g.
"Can you thing of a more politic name for a new college than The College of Liberal Arts?"
"Since we can't figure it out, what's your guess on why the President created our task force?"
Discussion of whether to post the current survey responses, with or without redacting answers like "this is a shit show".  
Discussion of Brad Shelton's comment from last time that the point of a reorg is to "produce the right kind of leaders". The Chair says she thought that was sinister, and asked if anyone had a more innocent interpretation of it.  
4. Discussion and feedback on Working Group & Meeting Plan
Five working groups. The whiteboard marker is running out of ink, but I think they are Research, Teaching, Inside (organization & operations), Outside (donors & PR), Structure/$, Writing. Those present are volunteering for these. To start meeting tomorrow.
5. Develop format for future meetings; i.e. what the report of each meeting will look like
6. Update on Consultant
7. Update on extending calendar for our TF process
8. Groups
Jan 22 update on CAS Structure Task Force meeting – cue the consultants
For the record I'm neutral on a split up, it seems like a crap-shoot. But I'd say the main takeaway from yesterday is that whatever happens, the decision process is going to burn through a lot of time, energy, and money that probably has better uses.
I went to the second of the two meetings. The first hour was devoted to an unsuccessful attempt to get an answer from Board Secretary Angela Wilhelms to the question (paraphrasing) of "what problem with CAS is this committee supposed to be concerned about?"
Guesses from the members included "the vision thing" and "JH just wants to control everything". There was little detectable enthusiasm for a breakup among the committee and plenty of scepticism. One member reported that the science heads were opposed to a split. I've heard similar reports from one of the science institutes. Another talked about how many years (4-8) their previous university had taken to recover from a reorganization effort. One member talked about the potential fundraising benefits of a tripartite split. They also discussed a proposal from the last meeting on forming subcommittees. That went nowhere since no one could figure out what the subcommittees would do.
Finally, someone suggested hiring consultants – at least to research what had worked and not worked at other universities. Another pointed out that a consultant could take the heat if things turned out badly. Wilhelms liked the idea of consultants, but worried that faculty would complain about the money. Apparently she's not worried about the money, just about the complaining.
Email from the Task Master:
There are TWO meetings on 1/22.
The morning meeting 10-noon, 260 Condon Hall, is not a typical Task Force meeting. This was scheduled based on questions that arose at the December meeting regarding budget, structure and organizational decision making. We felt it was important to hold this session prior to our regular Task Force meeting.
Angela Wilhelms and Brad Shelton will lead this session.  The agenda is:
Welcome and introductions – Karen
University structure overview – Angela
Academic structure and budgeting overview – Brad
Q & A
This, as with all meetings, is open to the public.  Please forward to your colleagues with an invitation to attend.
Our regularly scheduled Task Force meeting is 1:00-3:00 Miller Room EMU. You will find documents and minutes from the Dec meeting on this webpage:
https://provost.uoregon.edu/task-force-structure-college-arts-and-sciences
Along with the meeting schedule.  We will post additional documents to this page following our regular TF meetings.
The meetings are 2 hours in length.  We recognize not everyone will be available to attend full meetings.  Whether you need to arrive late or leave early, please join for whatever period of time you do have available.