Just kidding, the meetings Provost Coltrane announces below are about a new UO mission statement – basically a PR fluff piece of one or two paragraphs. All unnecessary, I've simply run President Gottfredson's first speech to the Senate through an algorithm, and here's our new mission statement: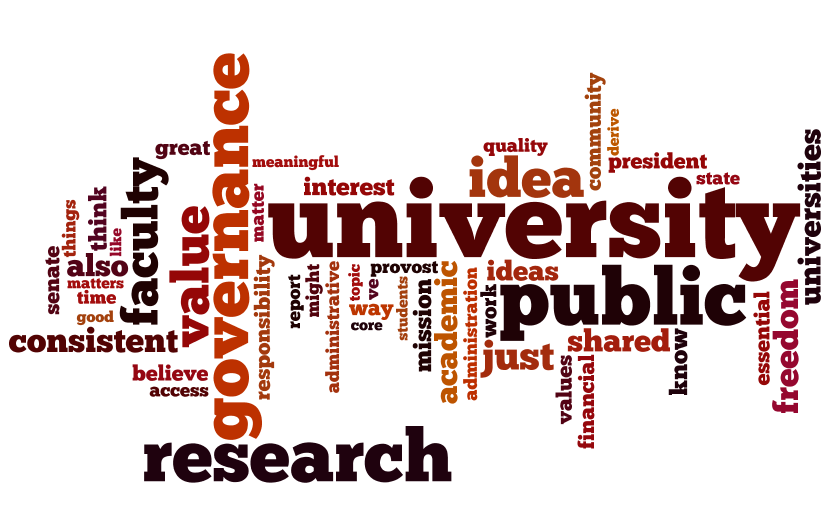 So how about it Scott – let's use these meetings for presentations from VPFA Jamie Moffitt about UO's financial situation. Show us the budget forecasts:
Then lets have a real talk about the administration's peculiar spending priorities. You know you can't put this off forever.
Dear Campus Community,
The Provost's Office will continue its series of academic planning discussions during spring term, with a focus on reviewing and revising the University of Oregon mission statement. Each discussion will include a short presentation on mission statements in general and will be structured to allow ample time for questions, comments and dialog about the process for making any changes to our own.
Background materials for these discussions will include the UO Mission Statement, mission statements of other Oregon public universities, and mission statements of the AAU public universities. These will be available on a website next week, with a link on the Provost's Office website.
Three opportunities for your participation are provided on the dates and times listed below. All discussions will be held in the Browsing Room of the Knight Library.
April 23, 12:00 – 1:00 pm Topic: Mission Statement Revision
May 6, 2:00 – 3:00 pm Topic: Mission Statement Revision
May 20, 10:00 – 11:00 am Topic: Mission Statement Revision
I look forward to seeing you there.
Respectfully,
Scott Coltrane
Senior Vice President and Provost