1/29/2015 update: Rich Read of the Oregonian reports on Wednesday's UO Senate meeting, here:
… Harbaugh sees both farce and tragedy in his latest episode, LibraryGate. He called Coltrane's email alleging unlawful release of records "outrageously premature judgment on his part, and I'm assuming Tobin Klinger wrote it – but I can't be sure until I get the next set of presidential archives."
Klinger is the UO's senior director of public affairs communications. He has fielded many of the media's questions concerning the wayward presidential archives.
"There are always embarrassing things in archives," Harbaugh said. "That's why historians love them."
"I can guarantee I'm a better muckraker than I would be a university president," said Harbaugh, granting that administrators have difficult jobs. "I think there's a role to play for people to point out what's wrong with how things are being managed."
As a search committee seeks the UO's next president, Harbaugh said the next leader must be able to raise money, to talk to the faculty — which must maintain the university's status as a top research institution.
"If we get a person who doesn't know how to do that," Harbaugh said, "it'll be the end of this place."
For the record, I can't imagine many jobs that are more difficult than running a public university like UO. I've got plenty of respect for those who do it well. I think UO could do worse than keeping Interim President Scott Coltrane and Interim Provost Frances Bronet. In fact, from my brief and now prematurely terminated look at the uncensored presidential archives covering the period from Dave Frohnmayer and his provost John Moseley to Mike Gottfredson and his provost Jim Bean, mostly we have. A lot worse.
I've posted plenty of negative stuff about Coltrane's decisions. There's more in the comments. If you want the happy-face PR fluff, ask Klinger or one of the other Duck flacks. But on balance, I'll be surprised if Chuck Lillis and Connie Ballmer can find a better candidate for the permanent job. Very surprised.
Diane Dietz of the RegisterGuard reports, here.
… The UO's new dean of libraries, Adriene Lim, told the gathered faculty on Wednesday that she considers an individual's right to privacy to be a universal human right.
But she also said that Oregon public records laws "spell out types of records that should be public and available for scrutiny. I'd be the first one to advocate for that openness and ­transparency."
Coltrane and Lim said the issue of transparency will be reviewed by university officials after Hershner Hunter completes its investigation. [UO M: I've made a public records request to Dave Hubin's Public Records Office for the contract showing what UO's Interim General Counsel Doug Park has asked HH to do. No response yet.]
The university will "try to increase openness and transparency as much as we can," Lim said. Coltrane said he'd bring the university's Office of Public Records to the table.
Harbaugh said Wednesday that that's what he had in mind when he sought the presidential documents at the archive — after being thwarted by the public records office.
He said he had no intention of violating student privacy laws or damaging the university.
"I'm trying to make a point about the university's obsessive secrecy, about how it functions, makes decisions and operates as a public agency," Harbaugh said.
And the Eugene Weekly has this:
Public records are for the public and archivists should not be punished for doing what archivists do — making archives open to the public. The next chapter will appear in The New York Times. Josh Hunt from the Times has been in Eugene this month digging through redacted documents, interviewing the players and weaving his story on the UO in Eugene.
1/29/2015 update: UO is no longer claiming there was anything unlawful or immoral about the release of presidential archives to a library patron – which would be me. Now it's just "improper".
Google Tim Clevenger and Tobin Klinger's official UO "Around the 0" blog for the post. Strange, but none of our well paid strategic communicators would sign their name to it.
Where will this backtracking on prior claims of illegal and immoral archive release end? I'll go out on a limb and predict that it will turn out that at least one previous UO president kept documents out of the official archives that, legally and morally, should have been preserved for the historical record and made available to the public.
1/28/2015 5:00 PM update: Coltrane and Library Dean Lim commit to public review of UO's public records transparency problems
That's my takeaway from their generally positive and constructive statements and the Q&A at today's Senate meeting. (Archives too). A review of Dave Hubin's Public records office and its use of fees and delays to hide public records from the public and the press offers the potential for some improvement in trust and transparency at UO, and would make Coltrane a candidate for the Senate's new "Shared Governance, Trust, and Transparency Award", which would certainly be a positive outcome from LibraryGate.
Trust, but verify.
Update: Interim President Coltrane gives UO Matters "get out of jail free" card
Also at today's Senate meeting, after John Bonine (Law) noted that it might actually be possible to construct a (tortured) argument that parts of the "ATTORNEY-CLIENT COMMUNICATION CONFIDENTIAL AND PRIVILEGED" memo from Randy Geller to Bob Berdahl and Dave Hubin recommending dissolving the UO Senate, really do involve attorney-client privilege:
Q: Harbaugh to Coltrane: "Bonine has me worried. Will you waive your attorney-client privilege on this one memo, which I've posted on the internet, and help this professor get some sleep tonight?"
A: Coltrane: "Yes. I waive the privilege. You've got a get out of jail free card on this one."
[Not exact quotes, but close.] Now how about cards for the UO archivists?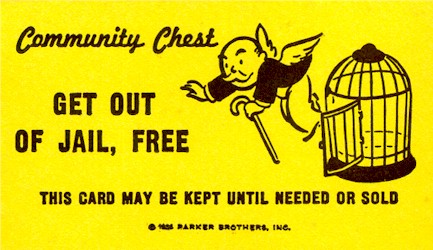 1/28/2015 update: Release of Presidential Archives no longer unlawful. Now it's immoral?
Interim Provost Frances Bronet releases statement. Apparently Scott Coltrane is no longer saying these archives were "unlawfully released". (Page down for that email). Now it's Frances Bronet, saying UO has "a moral obligation" to keep documents out of the Presidential Archives. Presumably that's why UO's Public Records Office delays and frustrates requests from reporters too.
Presumably whole chapters of the history of the University of Oregon are now going to be deleted from the Presidential Archives, because it would be immoral to leave them there and maybe embarrass someone. I'm no history professor, but this is nuts:
From: Provost Office [mailto:[email protected]]
Sent: Wednesday, January 28, 2015 1:12 PM
To: Tobin Klinger
Subject: Documents returned; review continues
Friends and colleagues,
Many of you are following with interest the recent release of electronic documents, which bypassed archival processing procedures, and the university's efforts to get those documents back.
I am pleased to inform you that the documents have been returned.
Our separate policy and personnel review of this situation will continue. We hired an independent law firm, Hershner Hunter, to complete this inquiry so that we can identify how and why confidential documents were disclosed, and take steps to ensure that something like this never happens again.
What was at stake went beyond a concern that confidential information was shared before being appropriately processed. Of greater concern is that the release violated the trust of the students, parents, faculty members and others who saw the Office of the President as a safe place to share concerns or seek assistance.
We have a moral obligation to maintain the confidentiality ! [sic] of those who see the Office of the President as a point of last resort. This includes those who chose to outline personal struggles in their academic pursuits or parents who might write to seek support for their child during times of personal challenge. Students, parents, faculty and staff need to have confidence that we will follow appropriate procedures to ensure their right to privacy.
One of my greatest concerns throughout this situation has been the way that it has impacted the talented team in our university library. The faculty and staff in UO Libraries are among the most committed and entrusted to carrying out our mission. Their commitment to the ethical standards and values of their professions should stand as a model for us all. They deal with these kinds of complex privacy rights issues on a daily basis and balance them with their advocacy for openness and transparency. They do so with passion and integrity.
Thank you for your understanding of this im! portant [sic] issue.
Sincerely,
Frances Bronet
Acting Senior Vice President and Provost
1/26/2015: Oregonian, RG, WWeek post Blandy and Altmann's demand for takedown of UO Presidential Archives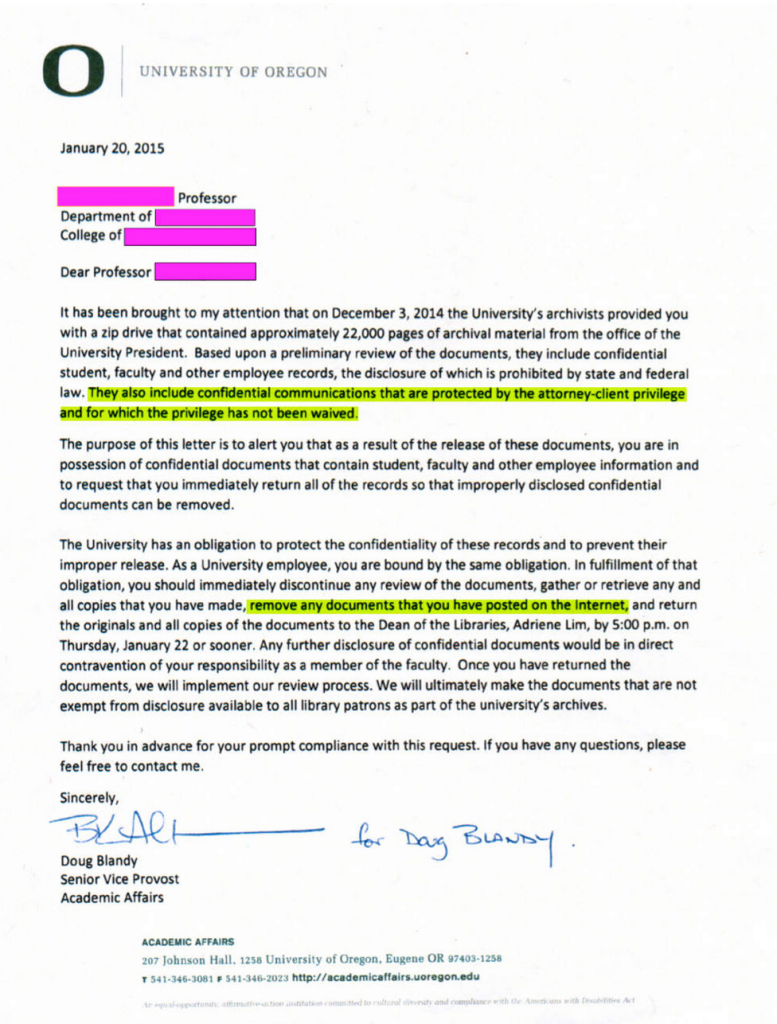 "Zip drive"? I had one of those – back in 1994.
"Remove any documents you have posted on the internet"? You mean the confidential Geller/Berdahl/Hubin legal opinion about dissolving the UO Senate? Sorry guys, that's not how the internet works. The RG, Oregonian and Internet Archive have already, uh, archived it.
The Diane Dietz report in the RG is here:
The letter to the unnamed professor warned "any further disclosure of confidential documents would be in direct contravention of your responsibility as a member of the faculty."
The letter was signed by Barbara Altmann, vice provost for Academic Affairs. The professor got the documents from the UO library archives on Dec. 3.
The unnamed professor has not returned documents — which were delivered to the professor electronically — to the university. Two archivists are on leave pending an investigation on how the documents were released.
To date, one document and a set of emails appeared on the UO insider blog uomatters.com published by UO economics professor Bill Harbaugh. The single 14-page document suggested dissolving the University Senate in the wake of the faculty's vote to form a union in 2012.
The other was a series of emails regarding the drafting of a column that appeared on the editorial page of The Register-Guard on July 14, 2014, and attributed to Robin Holmes, vice president for student life.
The emails suggest that the opinion piece that defended the UO's handling of a rape allegation was actually drafted by a UO public relations employee.
Can anyone point me to the part of UO's Faculty Handbook that says professors can be disciplined for refusing to take Randy Geller's legal opinions off the internet?
The report from Rich Read (two Pulitzers) in the Oregonian is here:
Whatever the case, Coltrane and members of his administration seem desperate to get the material back. They say that release of the confidential information, which Blandy said was "improperly disclosed," violated a state privacy law and the federal Family Educational Rights and Privacy Act.
Another official signed Blandy's letter for him in barely legible handwriting, appearing to be that of Barbara Altmann. She holds the identical title of senior vice provost for academic affairs.
The letter says that once the professor returns the electronic documents, officials will review them. "We will ultimately make the documents that are not exempt from disclosure available to all library patrons as part of the university's archives," Blandy wrote.
"Ultimately"? Is that sort of promise legally binding? I didn't think so.
The Nigel Jaquiss (one Pulitzer) report in Willamette Week is here: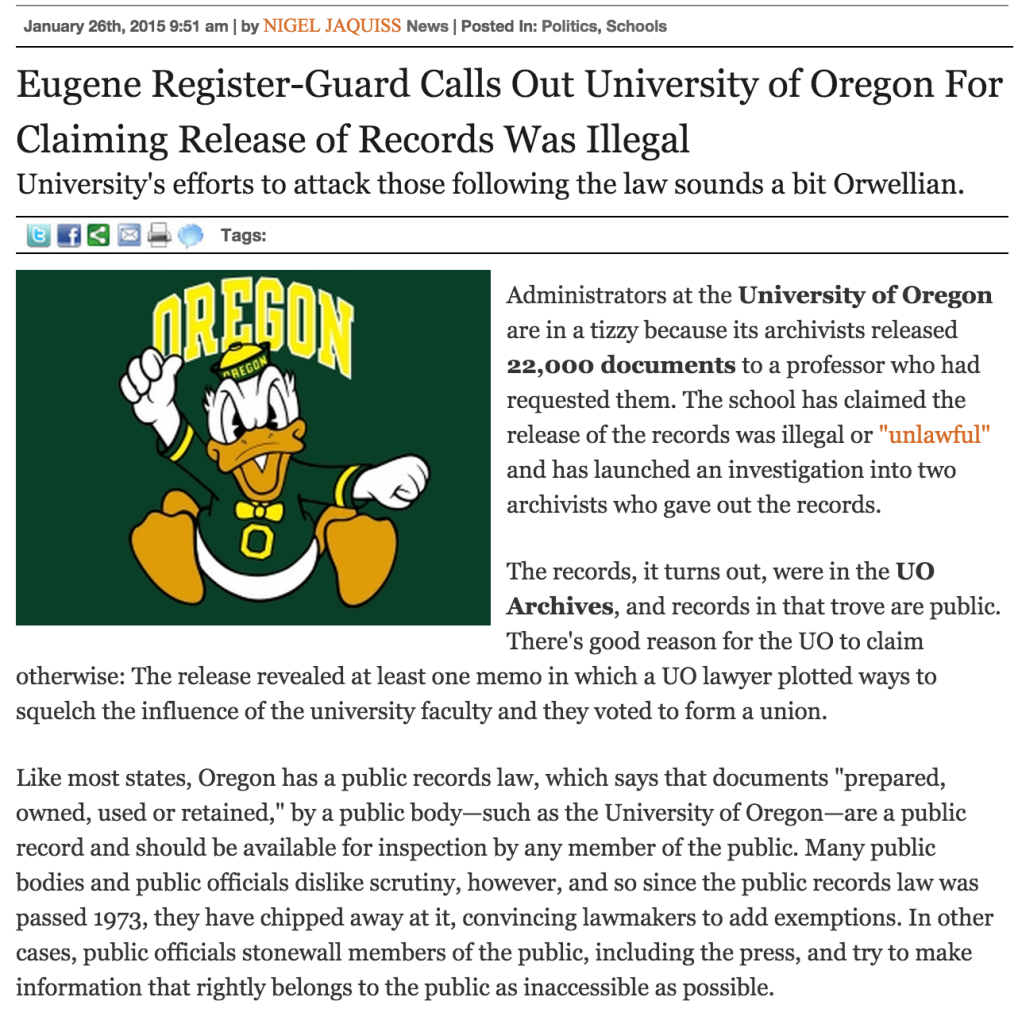 I'm surprised Doug Park hasn't sent Jaquiss a takedown notice over that Duck © image. FWIW, here's Scott Coltrane's "unlawfully released" email again:
Date: January 20, 2015 at 7:39:38 PM PST
From: "President's Office" <[email protected]> Reply-To: [email protected]
Subject: Archive release investigation
Dear Colleagues,
We have recently learned that a significant number of archived records from the President's Office have been unlawfully released. These records contain confidential information about faculty, staff and students, but our current understanding is that no social security numbers, financial information or medical records were shared.
We have launched an investigation of the incident, and we have put staff members on administrative leave, pending that investigation. The information was sent to a university professor, and we have already requested that the professor return the information and refrain from any public release of confidential information. To our knowledge, only one record has been shared externally at this point.
We are committed to taking steps to mitigate the potential injury associated with this situation.
Sincerely,
Scott Coltrane, Interim President
Our President really needs a competent lawyer, or at least a strategic communicator who can backward induct.