4/9/2015 update: All the Tim Clevengers and Tobin Klingers in the world can't put the UO administration's broken credibility with the press back together again. Apparently Scott Coltrane can't either. The Oregonian editorial board's stinging rebuke to Johnson Hall on their counseling confidentiality debacle is here. Read it all.
4/8/2015: Doug Park and Shelly Kerr dismantle Provost Bronet's counseling confidentiality promises
Who's in charge? The Senate voted a month ago to make Park give back the records. Bronet then promised in an email to campus that:
In order to emphasize the university's commitment to the confidentiality of students' records I am announcing the following actions:
OGC has returned all records at issue so that they may be preserved and secured by the UCTC.
I am instructing all UO employees that they must rigorously respect the confidentiality obligations of therapists in UO clinics and counseling centers.
The university promises each student who comes to UO clinics and counseling centers that, consistent with law and ethics codes, in the future no records will be accessed by anyone not involved in their care, unless:
the student signs a written release,
a court orders release,
the therapist needs to coordinate treatment with others,
the therapist needs to prevent harm to the student or others,
the therapist needs to provide anonymous, aggregate information to the Director of Affirmative Action to compile statistics regarding sexual assaults.
I urge UO students to use our counseling and mental health services without fear that their counseling records will be disclosed to other parties or UO departments.
But today Rich Read is reporting in the Oregonian that this is not what's actually happening:
University of Oregon Provost Frances Bronet acted decisively last month after the school received nationwide criticism for accessing a rape survivor's therapy records for a lawsuit.
Bronet assured students in a March 20 memo that UO's counseling center would keep records confidential barring extraordinary circumstances. She urged them to use university mental-health services without fear.
Meanwhile, The Oregonian/OregonLive has learned, the head of the University Counseling and Testing Center significantly weakened confidentiality safeguards in a policy statement she wrote with UO's legal department.
Director Shelly Kerr wrote in an internal April 3 email obtained by the news organization that she worked with university attorneys to draft the new confidentiality policy. "I want to be sure that the information on our web and printed materials are as clear and accurate as possible," she wrote.
But the new policy, already in effect, contradicts promises Bronet made and greatly expands the number of exceptions that could be cited as justification to break confidentiality. Multiple changes to the former policy include elimination of a requirement for written permission from a student to release information, a step that Bronet described as mandatory….
Here's that new policy. Complete with a typo: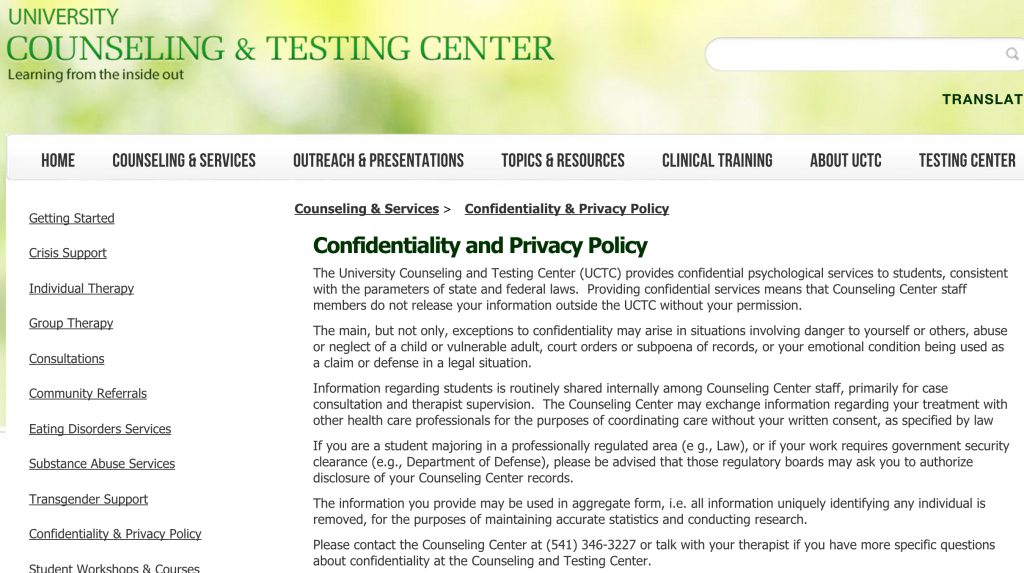 This substantially weakens privacy pledges, in these ways:
Requirement that client permission for disclosure be "written" is deleted
Promise that no information will be released is change to no release "outside the UCTC," allowing unlimited access to confidential therapy files within the UCTC (which is what happened when Shelly Kerr accessed the files on Dec. 8)
Specific promise not to release counseling information to "parents, roommate, spouse/partner, and university personnel" is deleted.
Instead of a confined list of exceptions, new policy says the "main, but not only" exceptions are listed – providing an open-ended possibility of disclosure and sharing of private information.
Instead of listing specific, limited exceptions, the "main, but not only" phrase is followed by examples that "may arise in situations involving" – a much looser formulation of language.
The previous policy provided that a written release would cover only "specific information" identified in the release. The new policy deletes that limitation to release of only "specific information" (and deletes that written process that would have assured that limitation).
Instead of "imminent danger" to self or others justifying release of confidential information, the new policy only requires "danger." "Imminent" has been deleted.
Instead of just "court order" as a ground for breaking confidentiality, the new policy also provides that any "subpoena" can be such a ground – which means subpoenas written by a lawyer without court supervision. This means that the client may never have the chance to challenge the subpoena in court before the UCTC has already released the files to the lawyer who wrote the subpoena.
There is a completely new ground for release, namely whenever a patient has filed a suit or is defending one and "emotional condition" is used "in a legal situation." This creates two enormous loopholes:

Any time a person's "emotional condition" is a legal issue – even if it does not involve the counseling center causing the emotional condition – the student's records can be released. This is contrary to normal court practice.
The release can occur even before a suit has been filed. This would justify what was done on Dec. 8 – release of records before the suit was filed in January. So this is an after-the-fact policy seeking to cover somebody's ass.

A new provision allows routine sharing within UCTC and not only for case consultation or supervision of staff; those are given only as examples, with the word "primarily" justifying other, unstated sharing within all staff of UCTC.       This, of course, is another after-the-fact exception that will help cover somebody's ass, since Shelly Kerr's decision to gain access to the student's records was not done for case consultation or supervision of staff.
The requirement that sharing information with others be only done "in accordance with Oregon law" is changed. Those words are deleted, allowing wider sharing.