After yesterday's Senate meeting I thought maybe Johnson Hall would open up a little. So I decided to go to this meeting, announced on Interim President Coltrane's website:
Members
Faculty:
Professor Kim Sheehan, School of Journalism and Communications, Chair
Professor Jenifer Craig, School of Music and Dance
Professor David Frank, Clark Honors College
Professor James Isenberg, Mathematics
Professor Lynn Kahle, Lindquist School of Business
One yet to be appointed
Students:
Jillian Alleyne, Communication Disorders and Science major, Basketball
David Spencer, Accounting major
Administrators:
Roger Thompson, Vice President for Enrollment Management
Lisa Freinkel, Vice Provost for Undergraduate Studies
Paul Shang, Dean of Students
Ex-Officio Members
Intercollegiate Athletic Director, Rob Mullens
Senior Associate Athletic Director, Senior Women's Administrator, Lisa Peterson
Faculty Athletics Representative, Jim O'Fallon
FAR Designee, Tim Gleason
Staff Advisors
Jody Sykes, Senior Associate Athletic Director Compliance Officer
Sue Eveland, University Registrar
Steven Stolp, Executive Director, Services for Student Athletes
The PAGIA is the group Gottfredson set up to replace the Senate IAC, the day after he got the report on the basketball rape allegations. Kim Sheehan is a UO professor of advertising and the PAGIA Chair. Tim Gleason is the former Journalism Dean whom Gottfredson appointed to be the new Faculty Athletics Representative, after a secret search.
So I walked into the Johnson Hall conference room, and took a seat. Most of the committee was there. AD people. Powerpoint set up. Conference phone blinking. Something important is going down. Should be interesting! Mullens wants to add some more sports? Build that golf course? Expand Autzen?
But Gleason didn't look happy to see me. He went and got Sheehan. They told me this was a "private meeting" and that I couldn't attend. I asked for a copy of the agenda. Sheehan said no, it's a private meeting.
Back in February I made a public records request for PAGIA documents. I got this response:
Dear Mr. Harbaugh: 
The University of Oregon, Office of Public Records has received your public records request for "any documents sent or received by the President's Office relating to former President Gottfredson's decision to establish the "President's Advisory Group on Intercollegiate Athletics", the determination of its membership, and its activities since".  The office is now providing an estimate to respond to your request.
The office estimates the actual cost of responding to your request to be $732.92.
I finally got one document from public records, sent last night immediately after I told Coltrane in the Senate that he wasn't going to get much trust until he fixed the transparency problems. Here's the PAGIA charge:
The President's Advisory Group on Intercollegiate Athletics advises the president on University of Oregon Athletics Department policies and practices as they affect the academic progress, the academic performance, and the well-being of student athletes. The group will provide guidance and make recommendations to help ensure athletic department programs and practices operate consistent with the university's academic mission and comply with NCAA and Pac-12 rules and expectations.
The PAGIA will meet regularly twice per term. The group will assemble for additional sessions at the request of the president. Membership will consist of six faculty members, two students, three administrators, three staff advisors as well as the athletic director, senior associate athletic director and faculty athletic representative.
They've been at work for nearly a year. Here's the only public record that PAGIA Chair Kim Sheehan will share about her committee's work: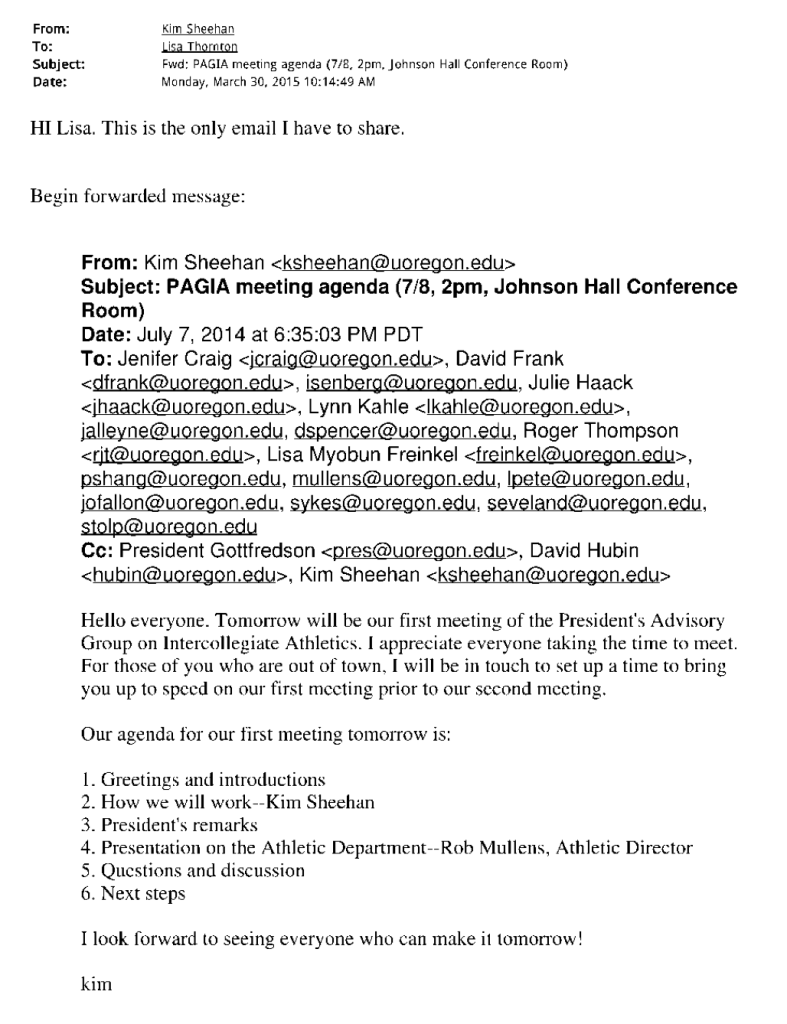 So what was today's meeting about? I don't know. Let's find out, and also test Coltrane's promise to the Senate that he was going to improve public records access:
Subject: Public Records request, PAGIA documents
Date: April 9, 2015 at 10:13:04 AM PDT
To: Lisa Thornton <[email protected]>, Kim Sheehan <[email protected]>, Gregory Rikhoff <[email protected]>
Cc: Kim Sheehan <[email protected]>, Timothy Gleason <[email protected]>
Dear Ms Thornton
this is a public records request for documents regarding today's PAGIA meeting. Specifically, I'd like a copy of the agenda, any handouts, and any powerpoint presentations. If minutes were taken, I would also like a copy of those, but please to not delay the rest of the request if they are not yet available.
I'm ccing PAGIA Chair Kim Sheehan as she should have these documents and be able to easily and promptly produce them. If not, I ask for a fee waiver on the basis of public interest.