From Ryan Thorburg in the RG, here:
Helfrich would like to see more elite prospects on campus for summer camps, but last month he said Oregon is not going to pay large sums of money to high school coaches just to attract talent.
"We didn't get some kids on campus this summer because we didn't pay their coaches," Helfrich said of the practice, which is commonplace for some power programs.
"That's a fact."
Yes, paying those HS coaches would certainly mean a hit to Helfrich's $3.5M annual take. I can see why he'd take a strong stand against this pernicious practice. And lets not even talk about paying the players.
For a good overall introduction to the workings of the NCAA's hiring cartel and some of the economics of big-time college sports, see "The Case for Paying College Athletes." Sanderson, Allen R., and John J. Siegfried. 2015. Journal of Economic Perspectives, 29(1): 115-38.
And for an understanding of just how flush the Ducks are, here's the contract showing the $450K Mullens is paying Eastern Washington to take a Sept 5 beating at Autzen. Courtesy of the very efficient and friendly EWU Public Records office.
That $450K is for EWU's coaches of course – the players just get a bus trip and brain damage: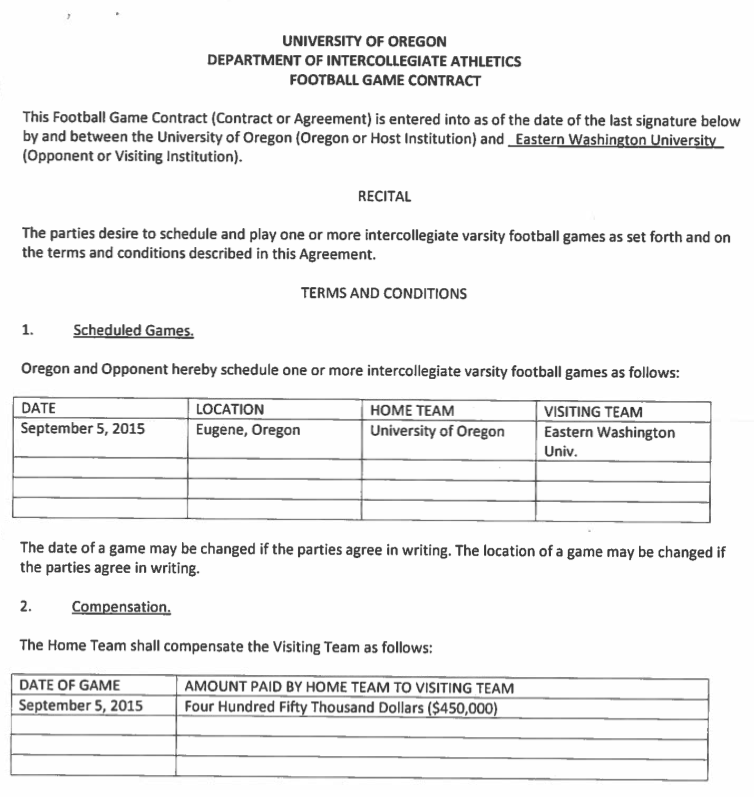 Wait a minute – this game is Sept 5, and classes don't start til September 28. How much is Eric Roedl going to charge the UO students for this one?