For the details on why the AAU conducted their survey, why AAU President Hunter Rawlings the III intentionally crippled its usefulness by not releasing the data with institutional identifiers, why less than half the AAU schools participated, and how UO VPSL Robin Holmes tried and failed to discredit UO Professor Jennifer Freyd and the multi-university open source alternative she and colleagues developed, see the post and links here.
The AAU has now posted aggregate data from the 27 schools that eventually paid the AAU its $85K each, here. My quick first take, which I'll update, is that the AAU results on the frequency of campus rape and assault corroborate Professor Freyd's, here, even though the question wording rate and survey response rate differs. (Freyd's response rate is higher.)
Of the 27 schools, UO is in the bottom 3 in terms of the proportion of students who "perceive it is very or extremely likely that university will take a report of sexual assault or misconduct seriously" and also in terms of answers to whether or not students believed the university would conduct a fair investigation.  
It's hard to say if this is the result of the years of neglect of campus sexual assault issues by Robin Holmes's Student Life office, the long history of botched investigations by Penny Daugherty's AAEO office, or UO's inept response to the Jane Doe basketball gang-rape allegations.
AAU: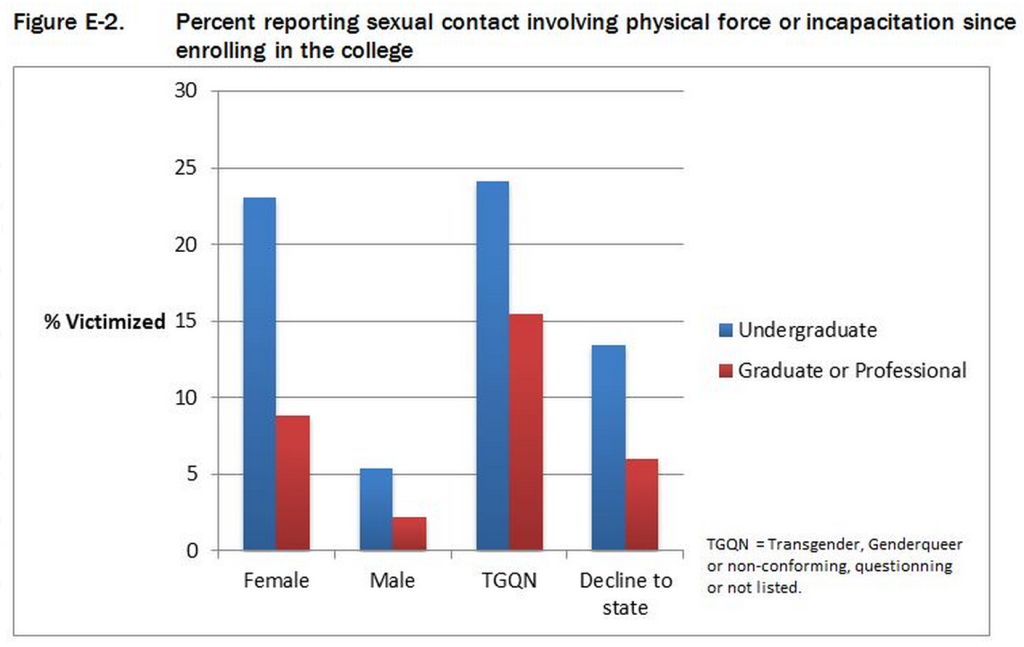 Freyd: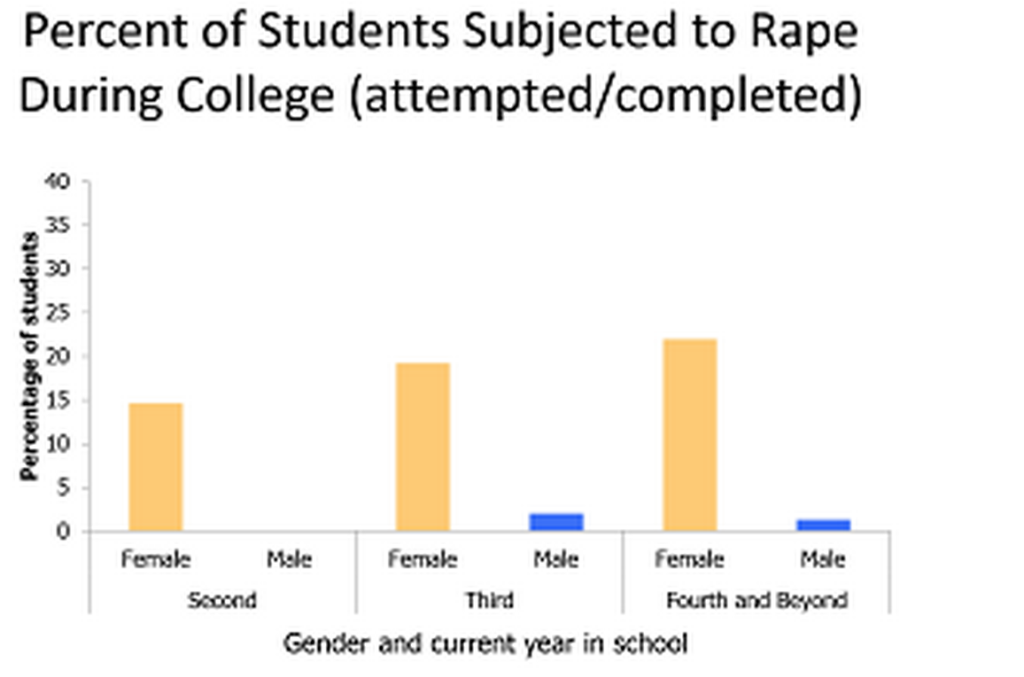 In an admirable bit of transparency, UO has posted the UO results under the euphemistic heading of "Climate Survey". Or at least "Around the 0" says we have posted them, the link is not working yet. Check back later.
Here's the full "Around the 0" report, which does not include an apology from Holmes:
UO releases new sexual assault climate survey results
September 21, 2015 – 6:54am
http://ir.uoregon.edu/UOClimateSurvey
The results of a survey conducted at 27 college campuses, including the University of Oregon, reaffirm previous findings that one in five college students has experienced some form of sexual assault. The survey shows that incidents of sex assault and misconduct at UO generally mirror statistics at campuses nationwide, and it also shows an ongoing need at UO to increase awareness of services and to improve perception of university support and response.
The Campus Climate Survey on Sexual Assault and Misconduct, conducted at the UO in spring of 2015, was part of an Association of American Universities (AAU) national initiative to provide insights into students' perceptions of campus climate. The University of Oregon released the results on September 21, and the aggregate results are now available on the AAU's website.
Among the UO findings, 14.5 percent of student respondents reported experiencing nonconsensual sexual contact by physical force, threats of force or incapacitation since enrolling. The incidents were much higher among women, with 24.2 percent of undergraduate female students reporting nonconsensual sexual contact, and 10.6 percent saying they had experience nonconsensual penetration.
"The fact that the incidence of sexual violence at the University of Oregon is for most groups roughly comparable to other AAU universities makes the news from this survey no more acceptable," said Robin Holmes, UO vice president for student life. "The data we've collected in both of the campus climate surveys will continue to inform our prevention and response efforts. This national data is also especially helpful because it allows us to see how we compare to other universities."
The UO data is consistent with results from two local surveys conducted by UO psychology professor Jennifer Freyd in 2014 and 2015. The UO will use all the information to continue to improve its prevention, response and investigative efforts, as well as review policies to improve awareness and safety.
Holmes is also troubled by students' lack of awareness and confidence in services and support at the university. According to the survey, only 34.8 percent of UO students reported they are very knowledgeable about where to get help if they experience sexual assault or misconduct, and only 26.8 percent are very or extremely knowledgeable about where to report an incident. Less than half of students said they believe campus officials would take reports of sexual assault or misconduct seriously.
"Turning the tide on this is critical." Holmes said. "Students must be aware of the services available to them, have confidence they'll be supported, and be assured that incidents will be investigated swiftly and fairly."
Holmes says the university has increased the number of prevention trainings for incoming freshmen this fall. New students will now have multiple prevention education sessions before the start of classes, about consent, bystander intervention and the range of services available. The university also recently overhauled and updated its sexual assault website, SAFE.uoregon.edu, to make it easier to find reporting and support resources.
These efforts are part of a series of new investments  that create new initiatives or enhance existing programs to prevent and respond to sexual assault and sexual misconduct including hiring an Associate Vice President and Title IX Coordinators and other staff dedicated to prevention and investigation of sexual assault.