Pretty packed agenda. Summer session changes look good. Substitute Senator motion should go smoother the 4th time around. Who the hell knows what's in the policy repeals except Triplett? The police motion unfortunately comes well short of calling for real reform – starting with replacing Chief McDermed – but it's a start.
The motion to keep Faculty Advisory Council meetings confidential will get lots of discussion (see below and in the comments) and will I hope then pass. My position?
Any president needs a group of people they can brainstorm with, try out ideas, and discuss things like potential donations and personnel changes, without having to worry it will show up in the papers, or some nasty muckraking blog. If we don't pass this I assume Schill will stop coming to FAC meetings and set up his own confidential advisory group.
Approving this legislation means we ensure that the faculty (and OA's) elect the people who give the president confidential advice. Voting against it means that JH will hand-pick them.
I was elected to the IAC in 2010, so I was on it through two of UO's more disastrous recent years. Now that was an education. (Full disclosure: I was elected again for this year, and I'm also ex-officio as Senate VP.)
So one final reason to vote for this legislation is that anyone can run for the FAC, get elected, and learn how universities function, or don't. The more faculty who understand universities, the better for the faculty and for the universities. Although the OA's are probably more important.
Senate Meeting Agenda – November 11, 2015, Browsing Room, Knight Library; 3:00-5:00 pm
Mike Price (Math): Thank you Frances! Passes unanimously.
4.3       US15/16-07 (Policy Proposal): Repeal of IMDs 2.001-015 University System Curricula; Senate Executive Committee
Bonine: Amends to note that the UO Charter gives the faculty jurisdiction over curricula. Board of course has ultimate authority. Amendment and motion pass unanimously.
4.4       US15/16-08 (Policy Proposal): Repeal of OUS 05 Accreditation Reports; Senate Executive Committee
This one goes sideways. Poorly written motion from Triplett requires revision on the floor. Ahlen blows the whistle. Triplett claims the Senate has gotten too specific about motion wording in recent years, no need to give the UO policy number when repealing a policy. (How odd. Last year Triplett was saying we were too loose with the rules.) Effort to postpone to rewrite fails. I point out UO's accreditation website is out of date. Hubin disagrees, but also says it will be updated shortly. http://accreditation.uoregon.edu/documents-reports/current. Motion to repeal passes.
4.5       US15/16-06 (Legislation): Revision of Faculty Advisory Council's charge and exemption from Senate Open Meetings rule; Bill Harbaugh (Economics), Chair of Committee on Committees
Lots of good discussion from Stahl and the Senators. Time runs out, we lose the quorum. Discussion will resume Dec. 2.
4.6       US15/16-04 (Resolution): Improving Effectiveness of the UO Police Department; Frank Stahl (Biology, Emeritus) and John Nicols (History, Emeritus), Statutory Faculty
No time.
4:30 pm    5.   Open Discussion
4:45 pm    6.   Reports
4:45 pm    7.   Notice(s) of Motion
4:45 pm    8.   Other Business
5:00 pm    9.   Adjournment
11/10/2015: Frank Stahl's reasons for open FAC meetings
The agenda for the Wed Sept 11th Senate meeting is here. Among the motions is this, which would allow the Faculty Advisory Council to hold closed meetings with the UO President, on the condition that these meetings not be a substitute for normal Senate and Committee meetings: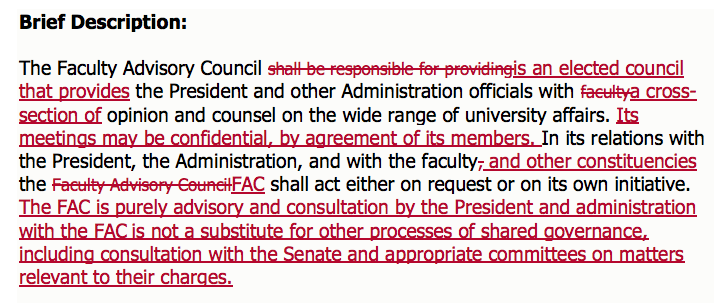 I am a co-author of this legislation (along with an ad hoc working group and the Committee on Committees) and I support it, for reasons which I'll explain in the Senate Wed but which basically involve my belief that the president and provost should able to brainstorm with a representative faculty group in private.
Frank Stahl was one of the supporters of the original open meetings legislation which opened up Senate and University committee meetings. He's opposed to this move to allow the FAC to continue to meet in secret.
I asked Frank if I could post his reasons for wanting FAC meetings to be open, and here they are. Well worth reading:
SPEECH for November 11
FRANK STAHL, Biology Emeritus.
 I speak in heartfelt opposition to this Motion, which would exempt the FAC from the Senate's Open Meetings Rule. 
 The problems associated with granting such an exemption have been clearly identified in recent nation-wide studies. These studies have classified University Senates into several types, two of which are of interest to us.
 First, the studies describe the "Influential Senate."
The Influential Senate can significantly affect decision-making that encompasses a broad spectrum of the university. In addition to curriculum, student conduct, and promotion and tenure, these senates are involved, for instance, in athletics, budget priorities, and the selection of new senior administrators. Influential senates drive issues and promote policy changes that result from their concern for the entire university. They are responsive to the administration, and the administration responds to them. 
 Because an influential senate can create change, it tends to be well perceived by other institutional constituents. At the UO, our Constitution has provided us with all the tools needed to allow our senate to be an effective Influential Senate. That is, unless we allow our senate to remain what the studies call a "Subverted Senate".
 Subverted Senates are those that are ineffective because they have been subverted by other bodies for shared governance, such as the FAC.
 Before we go any further, let's explore the often used claim that, because the FAC is strictly advisory to the President, it cannot be viewed as a component of shared governance.
First, when the proposed FAC charge states "…the FAC is not a substitute for other processes of shared governance …" it, in fact, identifies the FAC as a branch of shared governance.
 Moreover, in many institutions, shared governance is exercised through an Advisory Board only.
 Finally, because of the President's veto power, our Senate, too, is essentially an advisory body, albeit one whose advice is provided in a defined and open manner. It is clearly disingenuous for FAC supporters to insist that because their confidential advice is given informally, it is not governance.
 Now recall that our Constitution gives the authority for shared governance to the Senate and forbids the Senate to delegate any portion of that authority.
 Thus, a confidential FAC is clearly unconstitutional, but is it really a Subverter of the Senate?  You bet it is! It's very existence fuels the belief, justified or not, that all the important stuff happens when the elected FAC gets together for lunch in closed meetings with the President, the Provosts, and the Senate Officers and plots the future of the University. Of course, if the FAC remains closed and confidential, there will be no way to dismiss this belief. As a result, there will continue to be little interest in serving in the Senate (as noted by the difficulty stirring up candidates for election to the Senate), and faculty participation in Senate meetings will be low (as noted by all who attend Senate meetings). In sharp contrast, the FAC has an abundance of candidates for membership. This is the most conspicuous and quantifiable evidence of subversion of the Senate by the FAC, and it is a serious threat to our Constitutional governance.
 Other ways in which the Senate may be subverted by the Confidential FAC are not so assessable but may be similarly serious. For example:
1. The information gained by Senate officers at FAC meetings can affect the Senate Agenda, 
2. Information gained in confidence by Senate FAC members can distort Senate debates when Senators vote on the basis of information that they will not reveal because it was gained in confidence.
3. Administrators are apt to resent having to appear at the Senate. They will prefer to get faculty input in closed session and in the form of confidential advice that they can ignore at their convenience.
In our Constitution, the processes of shared governance are wisely crafted to promote constructive interaction that is transparent at all stages. Only when governance is transparent can the Statutory Faculty, and the rest of the University Community, judge the effectiveness of that governance.
 The insidious effects of agreements of confidentiality were implied by the American Association of University Professors (AAUP) who wrote: QUOTE "Because requiring a pledge of confidentiality as a precondition for participation in any governance activities, other than serving on committees that deal with personnel matters, is incompatible with widely accepted standards of shared governance, faculty members should not agree to preemptive confidentiality mandates or agreements." END OF QUOTE.     I presume that United Academics of the University of Oregon supports this position of its parent organization, the AAUP.
If the Senate were now to endorse the FAC as a confidential branch of shared governance, it would not only be violating both the spirit and the letter of our Constitution, it would be shooting itself in the foot. 
For the sake of shared governance at the UO, I urge you to reject the Motion before you, and I thank you for your attention.