11/9/2015: That's the report in the Daily Mail, here:
The Swedish athletics officials so incensed by the decision to award the 2021 World Athletics Championships to Eugene in Oregon have vowed to 'go back to the process' if allegations of bribery are proven against former president Lamine Diack and other officials at the governing body.
Bjorn Eriksson was the head of the Swedish athletics federation when the International Association of Athletics Federations (IAAF) awarded their showcase event to the American city earlier this year without allowing Gothenburg to even participate in a bidding process.
At the time Eriksson, Sweden's former chief police commissioner who went on to serve as the president of Interpol, called it 'a violation of fair play'.
… 'I'm not surprised by what I've read,' said Eriksson. 'But I'm angry. And it adds to my lack of confidence in the former leadership.
'If it turns out there is something in this, I'll go back to the process (of how Eugene won the championships). They gave us no chance. In the best of worlds it was highly unethical. At worst we have to wonder if there was some kind of bribes involved.'
Eriksson takes encouragement from the fact the WADA commission passed the evidence it uncovered as part of an investigation into allegations of systematic doping in Russia to Interpol.
… There is no evidence of bribes being paid by the Americans.
The bid by Tracktown USA's Vin Lananna and the UO Foundation's Paul Weinhold for the 2019 championships came with an extraordinary promise from Governor Kitzhaber and Kate Brown (Sec of State at the time, now Gov) of $30M in Oregon taxpayer's money. Weinhold promised that the UO Foundation's assets would guarantee the championships "against any budgetary shortfall".
It's not clear if Brown and Weinhold realized that their presentation to Diack and the IAAF would become public. Video here: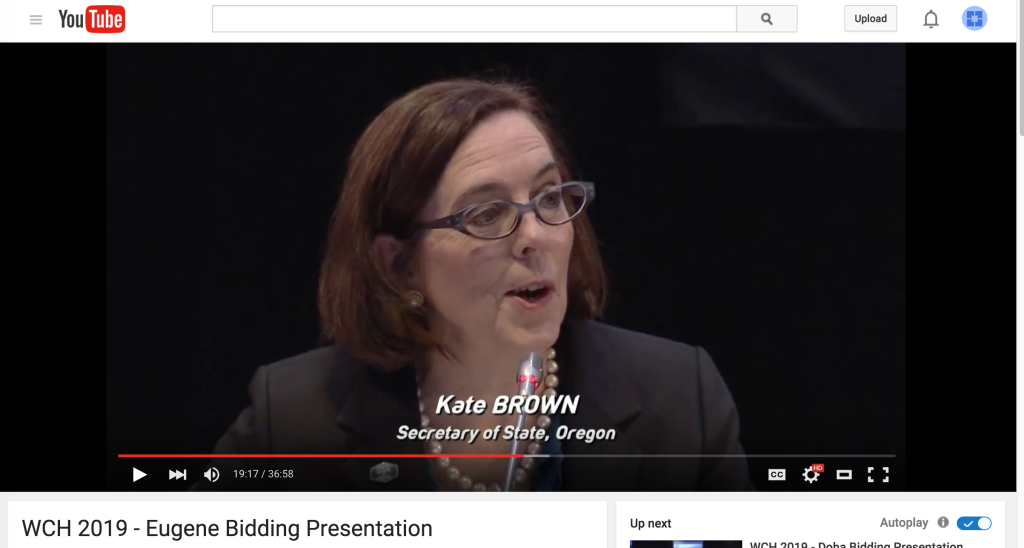 The IAAF rejected Lananna's bid for 2019, but after secret meetings with Lananna, Diack brought it back to the IAAF and then announced that they were giving the 2021 championship to Eugene without any public process.
11/6/2015: French cops bust Track and Field's Lamine Diack for $1M Russian drug bribe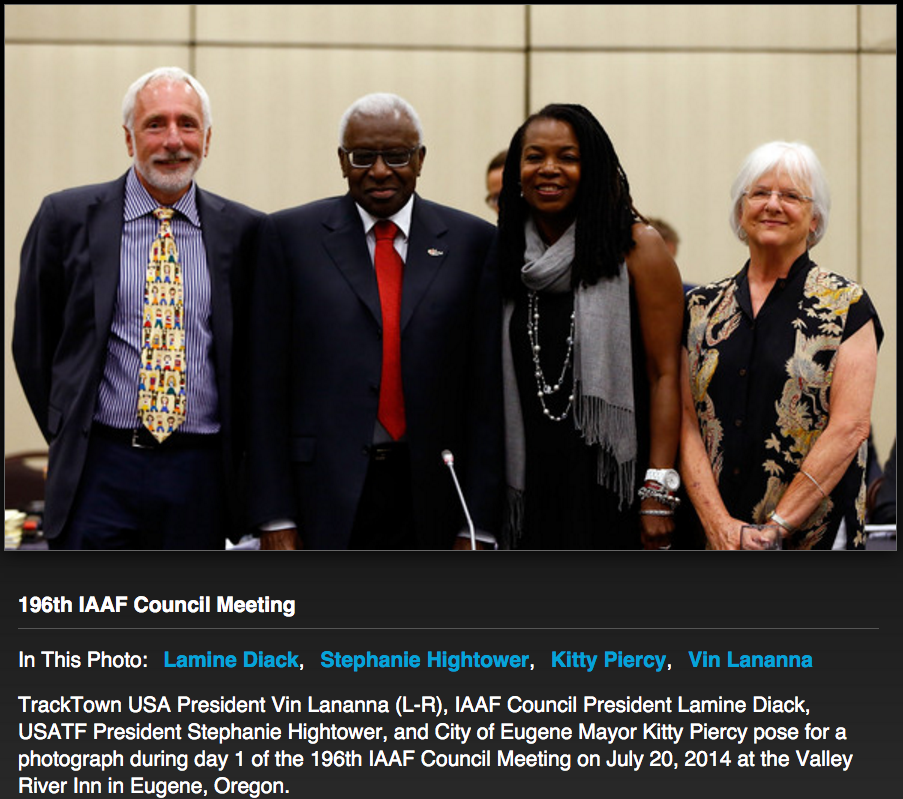 The Manchester Guardian has the story here:

Athletics is facing the biggest scandal in its history after a former IAAF president and other senior officials were placed under investigation by French police following allegations Russian athletes were protected after failing drugs tests.
Those under scrutiny include Lamine Diack, the president of the International Association of Athletics Federations for 16 years until the Senegalese stepped down in August, who is being investigated for corruption and aggravated money laundering – and is suspected of taking around €1m from the Russian athletics federation to cover up positive doping tests. …