11/26/2015: 
The BBC has the latest from the IAAF headquarters – in Monaco, of course. Apparently the IAAF will replace his Nike money by paying Coe a salary, in an effort to reduce the IAAF's longstanding system of bribes, kickbacks, and side deals: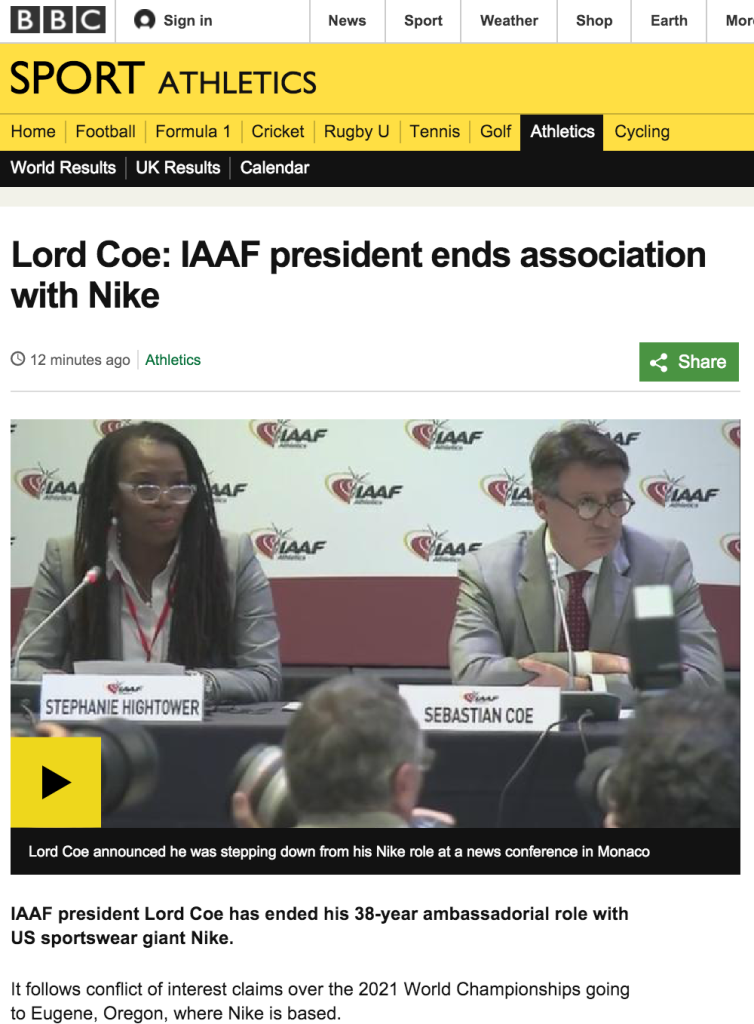 The British press is now asking why public money was spent on lobbying the IAAF members to elect Coe. And British MP Damian Colin's parliamentary hearings will be on Dec 2. Report here:
"The question is: why should we trust him?" Conservative MP Damian Collins is talking about Lord Sebastian Coe, the president of the International Association of Athletics Federations (IAAF). The peer has been called to give evidence to the Culture, Media and Sport Select Committee on Wednesday December 2, to answer questions about the doping crisis currently enveloping his sport.
Collins is a committee member and co-founder of New FIFA Now, an international organisation that campaigns for FIFA reform. He believes the scenario that has played out at the governing body of world athletics has its roots in the same rotten core that has brought FIFA to its knees.
"It basically boils down to poor governance structures," he says. "Where the leaders of those sports are not under any real scrutiny."
Until now, that is. For on Wednesday, Coe will face some uncomfortable questions about his position at the helm of a sport that has been rocked to its core by allegations of bribery, corruption and doping cover-ups.
And you don't have to understand Swedish to get the gist of this story: The Swedes are pissed: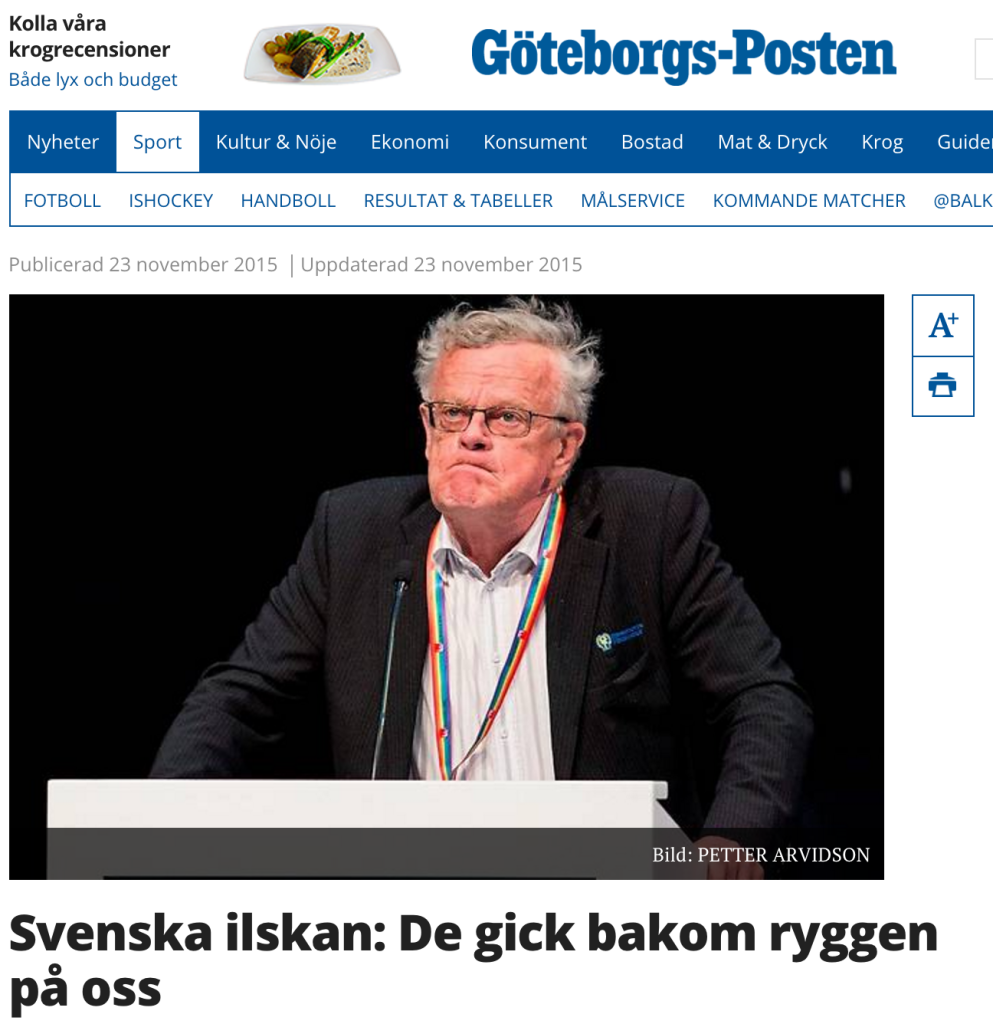 That's Swedish Minister of Sport Björn Eriksson, reacting to the news that Eugene got the 2021 IAAF championships, while Gothenburg didn't get a chance to bid. As it happens Mr. Eriksson is a former Chief of Interpol, and his friends in the French police are now investigating how Vin Lananna got the 2021 championships without the Swedes having a fair chance to match the emoluments that Track Town was promising.
Meanwhile back in Oregon, new docs show that Governor Kate Brown reiterated Kitzhaber's secret promise to hit up the state legislature for $30M, and even raised it another $10M.
And UO Foundation CEO Paul Weinhold promised that the UO Foundation, which by state law is supposed to be about supporting the University of Oregon, will "cover any shortfall of the future organizing committee budget".
11/24/2015: BBC digs into Lananna emails, finds link to Nike and 2021 IAAF
The Guardian points out how lucrative Coe's connection to Nike was:
The role is believed to pay around £100,000 a year but is also thought to be linked to a complex multimillion-pound earn out deal that Coe signed when CSM, the Chime sports marketing arm he chairs, was sold to Sir Martin Sorrell's WPP and private equity firm Providence with the rest of the company this year in a deal worth £374m.
Now also getting some attention on twitter, here. The IAAF is spending some big bucks on crisis management consultants. The WSJ's angle on how well they're doing is here. One new strategy is to have the IAAF do a "prebuttal" of stories, by posting the questions they get from reporters, and their answers, on their own website before the story comes out. All in the interest of transparency, of course. The IAAF FAQ for this latest expose is here.
The scoop by Mark Daly & Calum McKay for the BBC, here:
IAAF president Lord Coe is facing conflict of interest allegations after emails emerged suggesting he lobbied his predecessor over the hosting of the 2021 World Championships.
…  Other emails seen by the BBC reveal that Lananna made at least one trip to Europe to visit Diack a few weeks after this email was written.
And by 15 April 2015, Track Town USA's campaign had paid off.
"We got 24 hours' notice of this vote and it was made clear to us what Lamine wanted – he wanted Eugene to get these championships," an IAAF council member told the BBC. The decision was announced on 16 April.
'It smells and needs investigating'
Then there's the classic "don't use my work email for this!", which Lananna sent from, yes, his work email: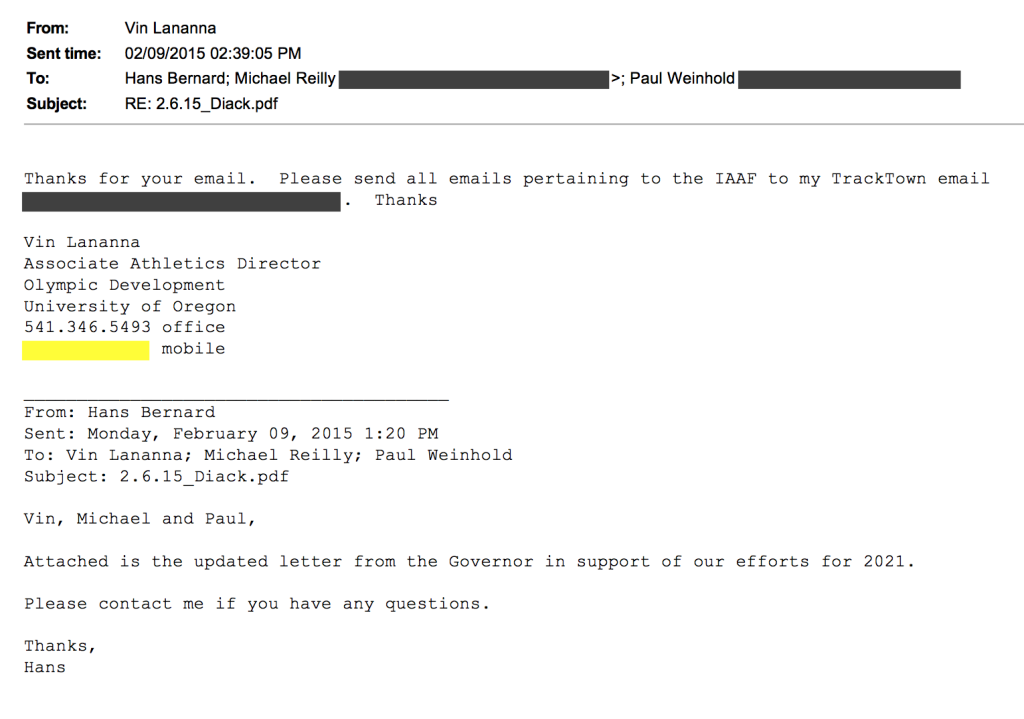 11/21/2021: IAAF to take back decision to give Eugene 2021 championships?
Former IAAF Pres Lamine Diack is out on bail. In two weeks current IAAF President Sebastian Coe has to testify at a Parliament committee hearing about the $1M Russian drug deal, about Nike / IAAF money going astray in Kenya, and about the decision to give Eugene the 2021 Track Championships.
The Swedes seem to think the decision to give the games to Eugene was corrupt, and are asking the French police to investigate. Corruption in big-time sports? Shocking.
The weird thing from a U.S. perspective is that all these side payments (except for the drug testing deal) and much, much crazier stuff – as in keep all the money for the coaches and athletic directors and Mark Emmert and Larry Scott while paying the athletes $0 – would have been totally legal, and mostly tax-deductible, under the institutionalized corruption that is the NCAA.
Meanwhile the Times (London) is on the story, and seems to have obtained some interesting emails from Vin Lananna and others. The complete story is behind a paywall here, I'm posting a few extracts: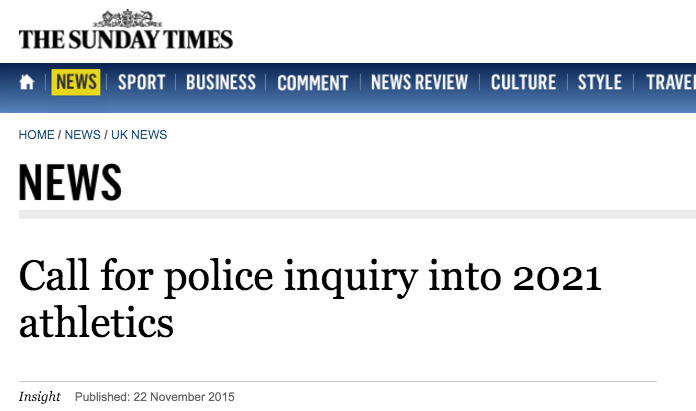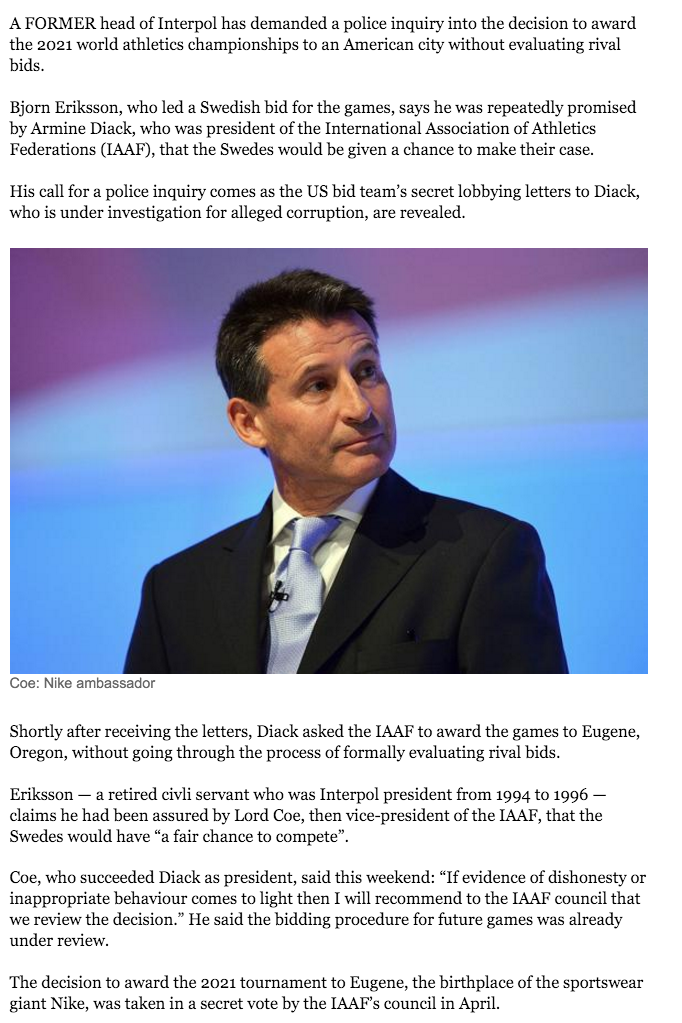 …

…

…

Really? So who guaranteed Paul Weinhold's promise to use the full faith and credit of the UO Foundation's $1B in assets, which by state law are supposed to be used for UO, to support the Track Town bid? Not John Kitzhaber or Kate Brown. Video here: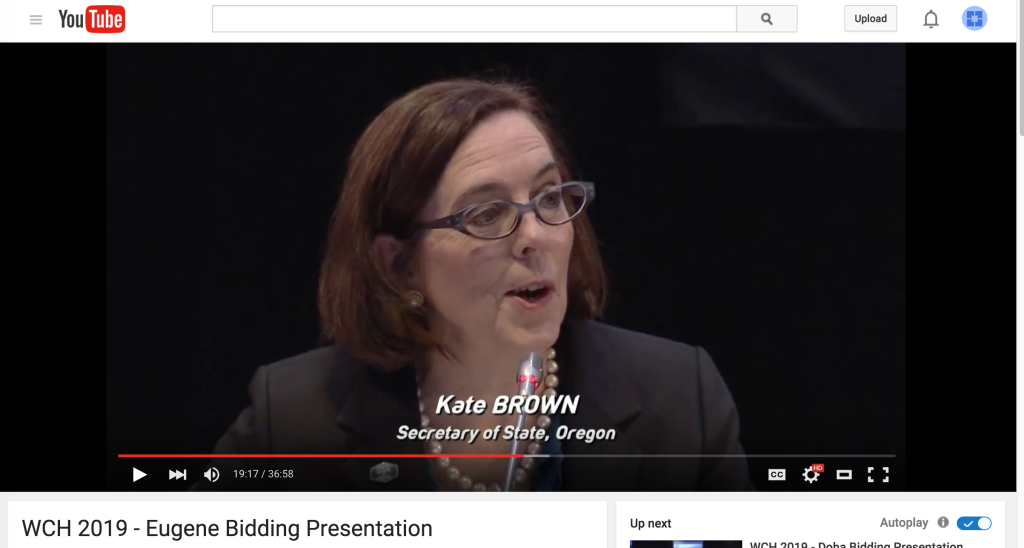 Maybe it was Kitty Piercy?