The NCAA made its annual release of graduation data last week, here. Despite UO's $80M Jaqua Center for Student Athletes and the $2.4M SSA program (which UO's non-athletic students pay for and which former Interim Provost and Athletic Director Lorraine Davis oversees at ~$200K a year), the graduation rates for Duck revenue sport athletes are near the bottom of the PAC-12. And they're not increasing.
Here are some extracts. These are sorted on the 6 year Federal Graduation Rate. This measure has lots of problems, but so do the alternatives. The NCAA would like you to use its home-brewed "Graduation Success Rate" on the argument that it deals better with transfers. Which it does. But it also counts players like Brandon Austin, who was able to transfer out of UO in good academic standing, as a success. (KATU story here.)
The most recent available NCAA data is for the 2008 cohort. So Stanford's FGR of 92 means that 92% of the football players they admitted as freshman in 2008 had graduated from Stanford by 2014, six years later. Not bad. For UO this was 52%, the 9th worst in the PAC-12. For contrast, back in the day for the 1998 cohort UO graduated 66% within 6 years – the second best of the PAC-12:
PAC-12 Football, 2008 v. 1998 freshman cohorts:
2008: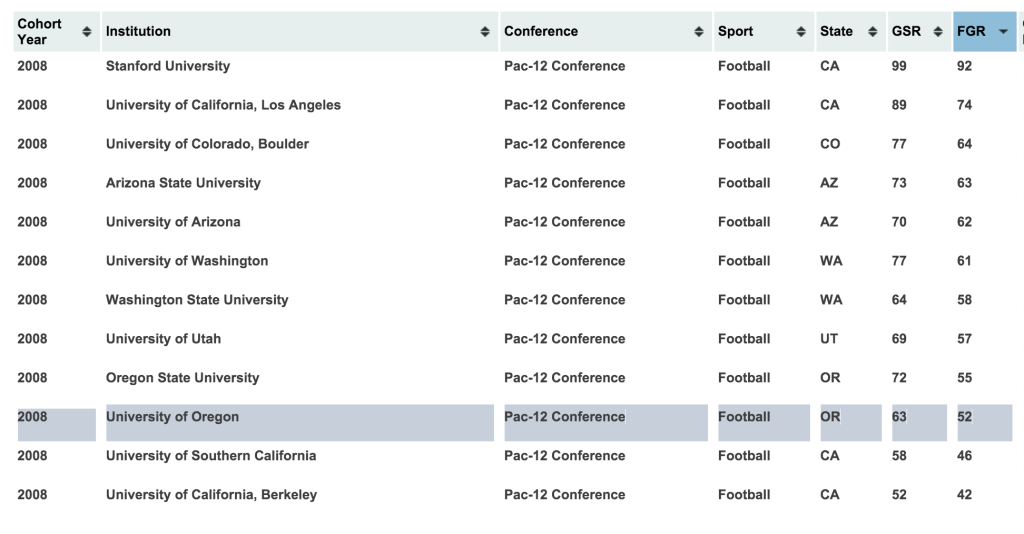 1998: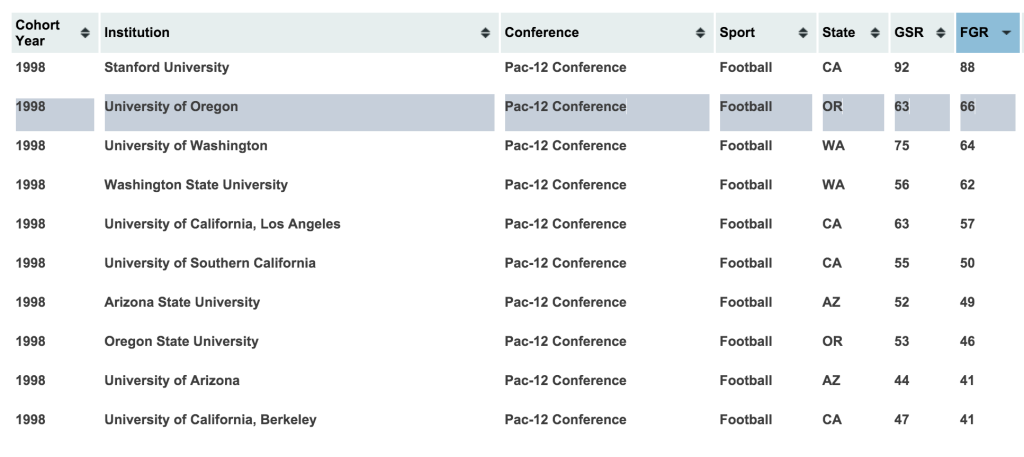 I picked 1998 since it's the earliest year in the NCAA database, but it turns out to have been a high point for UO's FGR, though not for the GSR. Here's the whole history. The simple takeaway is that UO is pretty bad: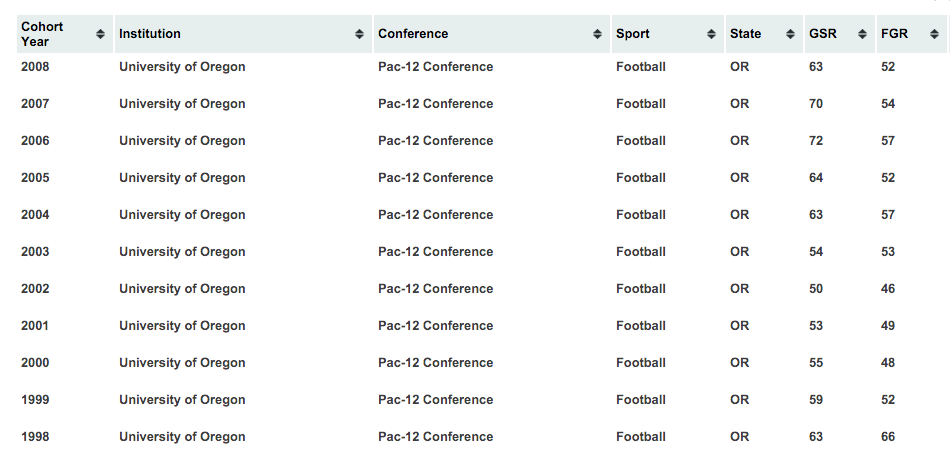 For basketball, the Ducks have always been towards the bottom, and still are:
PAC-12 Basketball, 2008 v. freshman 1998 cohorts:
2008: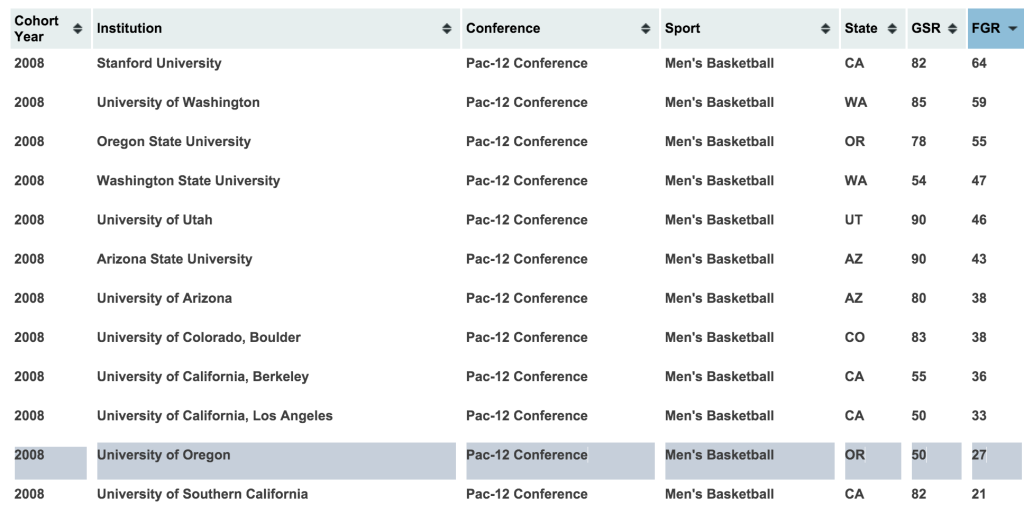 1998: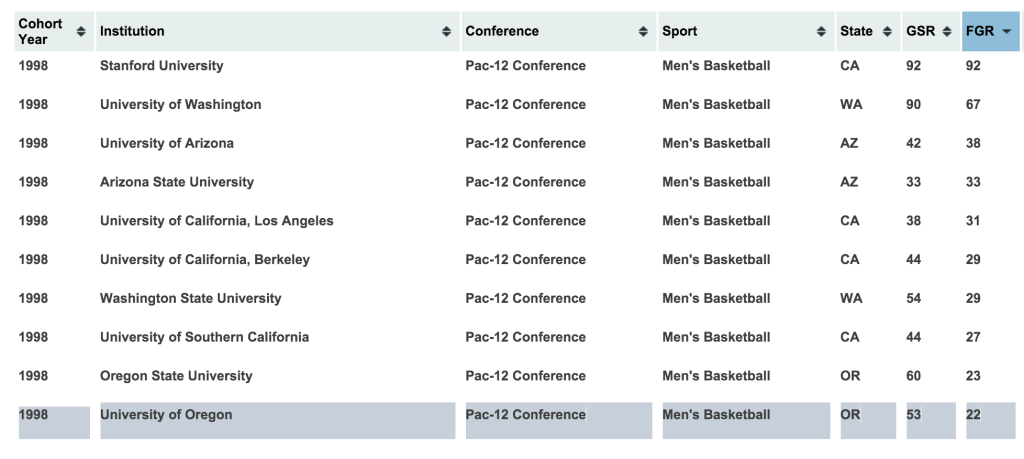 GODUCKS.COM has buried the press release on the NCAA data here. No mystery as to why Craig Pintens and Tobin Klinger are hoping not to be asked about this story. Perhaps the Jaqua Center is having a positive impact somewhere? Any comments are welcome.
The are several reviews of Steve Stolp's SSA on Provost Scott Coltrane's website, here. It's the usual white-washing. Here's Eric Price from the PAC-12, doing what is ludicrously labeled as an "external review". He doesn't present any data on outcomes – none – but the building? Just stunning: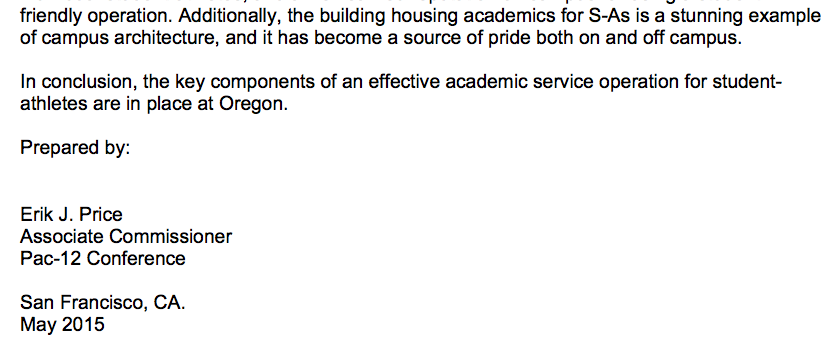 Here's the conclusion of the report from UO's former Interim Provost Frances Brohnet. Who cares if they're graduating, they think they're doing great, and they're not complaining to the press:

Just what does Lorraine Davis do to earn her ~$200K? According to UO's Public Records Office, that's top secret:
The NCAA's blurb on graduation rates is here: