Apparently none of the first 3 finalists worked out – long delay between job posting and interviews – so candidate #4 will be on campus Monday and Tuesday. I'm not sure if the problematic dual reporting issue has been resolved. Holmes and Moffitt are on the schedule, but not Resnick? Catherine Carroll has extensive experience, resume here: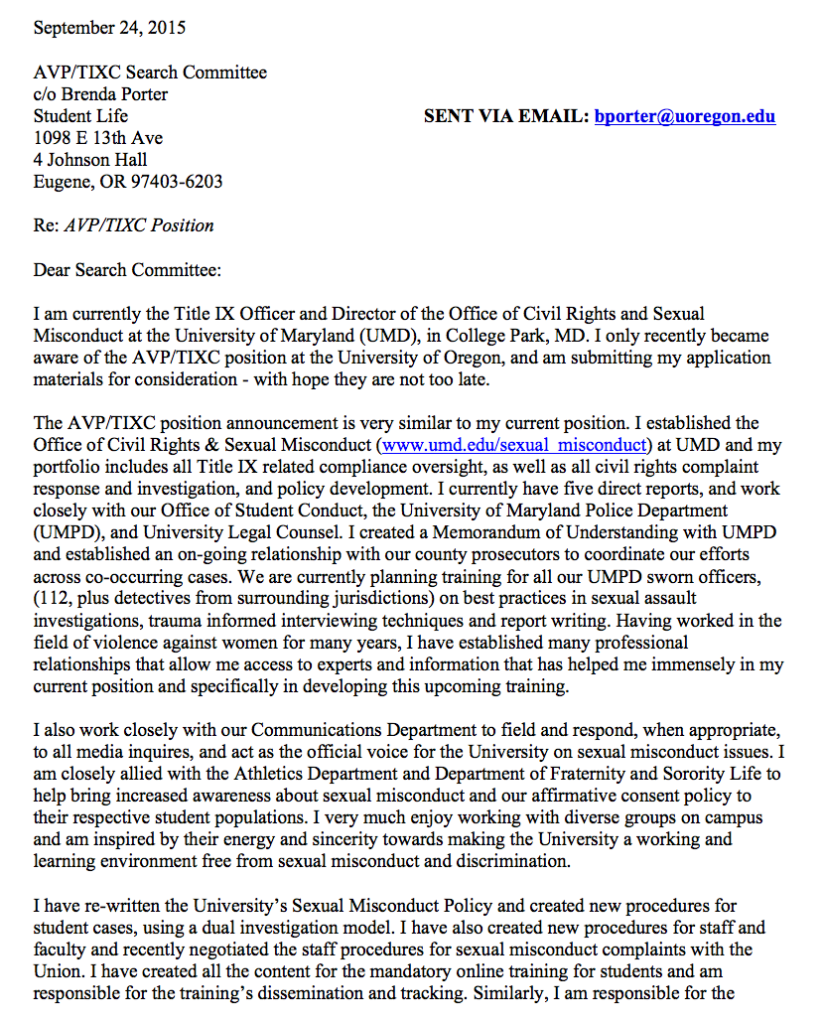 Schedule:
Monday, January 4
Noon – 1:00 pm Lunch
1:30 – 2:30 pm Search Committee Interview
Living Learning Center 116
2:30 – 3:30 pm Interview with Dean of Students Office Staff
Health Center Library
4:00 – 5:00 pm Public Presentation – Getting It Right: Overcoming Obstacles and Forging a Campus-wide Response to Sexual Assault
EMU Ballroom; open to faculty, staff and students
5:00 – 5:30 pm Interview with Jamie Moffitt
103 Johnson Hall
5:30 pm Dinner
Tuesday, January 5
Noon – 1:00 pm Faculty and Senate Colleagues (University Senate, committee on sex and gender based violence)
Living Learning Center 116
2:00 – 3:00 pm Campus Colleagues Q&A (AAEO, UOPD, athletics, general counsel staff)
Living Learning Center 116
3:00 – 4:00 pm Student Groups Q&A
Health Center Library
4:15 – 5:00 pm Interview with President Schill, Greg Stripp
110 Johnson Hall
5:00 – 6:00 pm Interview with Robin Holmes
220 Johnson Hall
11/3/2015: Here's hoping this hire will replace AAEO Director Penny Daugherty ASAP. I'll post candidate materials as they become available. The President's website link for this restarted search is here, job description here.
Candidate #1
Wednesday, November 4: 10 am – 11:00 am Public Presentation – Getting It Right: Overcoming Obstacles and Forging a Campus-wide Response to Sexual Assault; EMU Ballroom; open to faculty, staff and students
12:30 – 1:30 pm Faculty and Senate Colleagues (University Senate, committee on sex and gender based violence); EMU South Dining East 
Candidate #2
Tuesday, November 10: 10 am – 11:00 am Faculty and Senate Colleagues (University Senate, committee on sex and gender based violence); EMU South Dining East
2 – 3 pm Public Presentation – Getting It Right: Overcoming Obstacles and Forging a Campus-wide Response to Sexual Assault; EMU Ballroom; open to faculty, staff and students 
Candidate #3
Thursday, November 19, 4:00 – 5:00 pm Public Presentation – Getting It Right: Overcoming Obstacles and Forging a Campus-wide Response to Sexual Assault; EMU Ballroom; open to faculty, staff and students
Friday, November 20, 1:00 – 2:00 pm Faculty and Senate Colleagues (University Senate, committee on sex and gender based violence); EMU South Dining East