It's easy to see why Bruce MacAllister was so essential, and so respected. His full report is here. Read it all, here are a few selective snippets:
2. Classified Staff
Deep Mistrust of AA/EO
Classified staff report high levels of distrust and low levels of confidence in the
fairness, competence, and responsiveness of the University's AA/EO function.
Examples of concerns reported include reaching decisions and conclusions about
employee medical fitness without adequate input from an employee's physician,
sharing information outside of the appropriate confines of HR record-keeping, and
generating shadow files. Ombuds does not independently investigate concerns and
draws no conclusions beyond noting a pattern of reported perception. I also note that
perception does not necessarily equate to fact, but patterns are important to the
acceptance and long-term efficacy of any particular program.
Patterns of abusive management style in trades positions.
Ombuds received extensive reports of managers in the "blue collar" positions being
subjected to perceived retaliation for surfacing safety concerns or physical injury.
Patterns of perceived avoidance of "Weingarten" protections
Ombuds received reports that employees felt "ambushed" in meetings that were
announced with a more generic topic, but in actually included disciplinary action,
which the employee perceived implicated certain NLRB protections.
3. Officers of Administration and Other Non-union Positions
Widespread perception of a lack of functional protections equivalent to those
available to unionized employees.
Officers of Administration consistently report a perception of an utter lack of due
process protections associated with their position. They report an incomprehensible
and unusable employee grievance process and a widespread sense of vulnerability.
Further, employees in this category report that they have no sense of confidence that
their managers will exercise progressive discipline or even candidly communicate
performance issues and expectations. Rather, these employees report that they
perceive that their managers simply use the annual contract renewal/non-renewal
process to winnow out non-classified personnel perceived to have performance
issues.
4. Faculty
Widespread perception of an academic culture that accepts abrasive behavior
and harassment.
There was a strong pattern of concerns reported among faculty that, as colleagues,
faculty are very hard on one another, and that department heads, deans, and other
administrators do not enforce standards of civility.
Perceptions that University "administration" is not transparent
A significant number of faculty reported that they do not trust "Johnson Hall," and
that "Johnson Hall" resists sharing information and reacts to faculty who speak out defensively and with a tendency towards laying blame or finding faulty with the source of the particular comments.
Polarization … For a large portion of my tenure as ombuds, it was clearly apparent that faculty had splintered into subgroups around polarizing issues, such as the role of NCAA athletics on a campus, or the appropriate role of the President in challenging personnel or student issues. This extreme polarization led to a widely perceived sense that "Johnson Hall" was operating with a "bunker mentality" and refused to engage. The more that "Johnson Hall" was perceived as refusing to engage, the more activated groups of faculty became. I note that the polarization was not focused exclusively on the Administration versus Faculty vector, but included polarization among faculty, some who perceive that the UO Matters blog inhibits safe and open communication, in itself, and others who believe that the venue provides a valuable independent forum.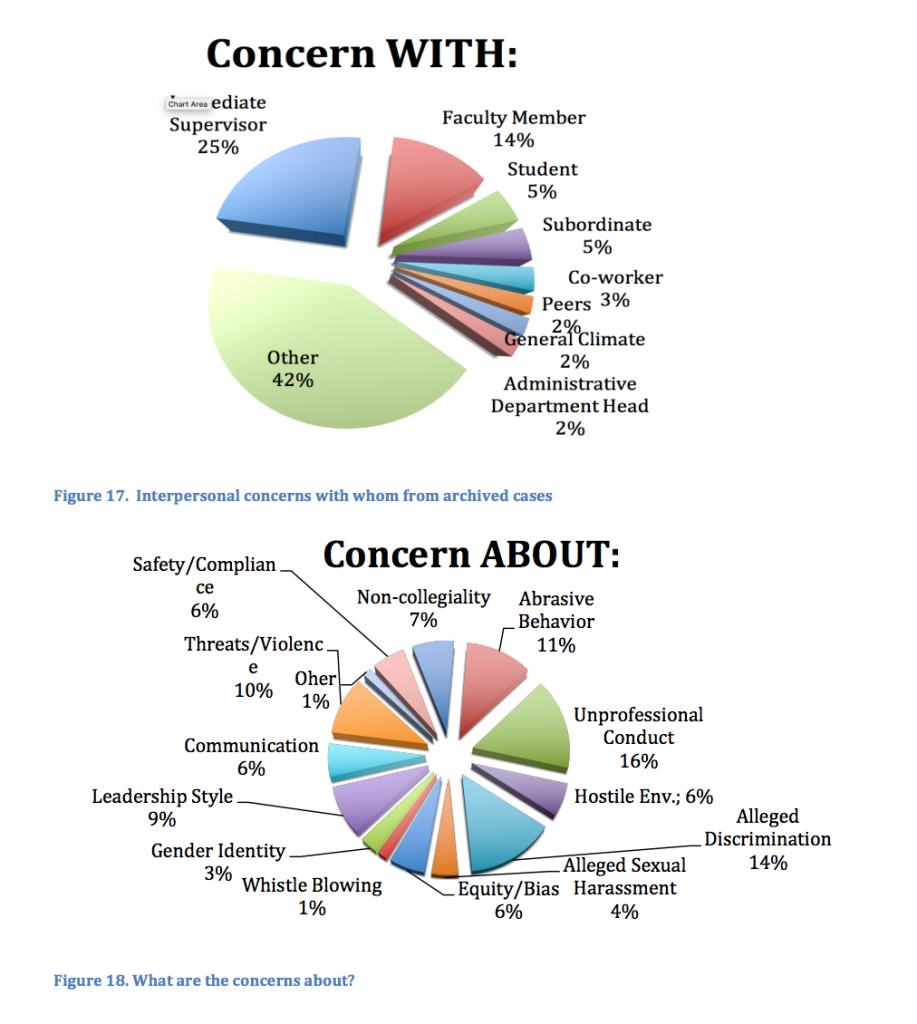 The Reynolds announcement is here:
Reynolds, faculty director of ADR Center, named interim ombudsperson
Jennifer Reynolds, associate professor of law and faculty director of the Appropriate Dispute Resolution Center at the UO, has been named interim University of Oregon ombudsperson. Her appointment will run Jan. 15 to May 15 while the university searches for a permanent replacement.
The UO's Ombuds Program is a safe and confidential place for members of the UO community to discuss concerns, explore options and find resources. As the ombudsperson, Reynolds will serve as independent and neutral confidant who can assist in resolving university-related concerns through informal means. 
Reynolds fills the position vacated by Bruce MacAllister, who left the UO in November to return to his home in Santa Fe, New Mexico, and pursue ongoing consulting commitments.
Reynolds, a graduate of Harvard Law School, teaches civil procedure, conflicts of law, negotiation and mediation. Her research interests include dispute systems design, problem solving in multiparty scenarios, judicial attitudes toward appropriate dispute resolution, and cultural influences and implications of alternative processes.
She has received the law school's Orlando J. Hollis Teaching Award and the UO's Ersted Award for Distinguished Teaching. She also has served as the national chair of the ADR Section of the Association of American Law Schools.