Some good news. Just seven months ago, as part of a series on UO's "What the F" branding campaign, the RG's Diane Dietz got this quote from Chuck Lillis, the Chair of UO's Board of Trustees:
Lillis, the inaugural chairman of the UO board — and $14 million donor to the UO business college — is squarely behind the 160over90 campaign. "We can't spend $3 million more intelligently than this," he said recently.
Fortunately new VP for Communication Kyle Henley thinks we can. As his email below explains, 160over90 is not working for UO any more, and they are not going to get the other $17M that Lillis was apparently prepared to spend on their branding [redacted].
Instead, Henley sketches out a centralization and in-house shift for UO communications, designed to save money. Maybe even enough money to support President Schill's academic excellence plans? Of course the expensive Duck athletic department's communication operation is exempt, and Tobin Klinger keeps his well paid job sending out "No Comment" emails to reporters. FWIW, here's the latest google trends data. Searches for UO in green, vs. a few comparators. Worth the $3M we paid 160over90? I'm not sure I even see a blip.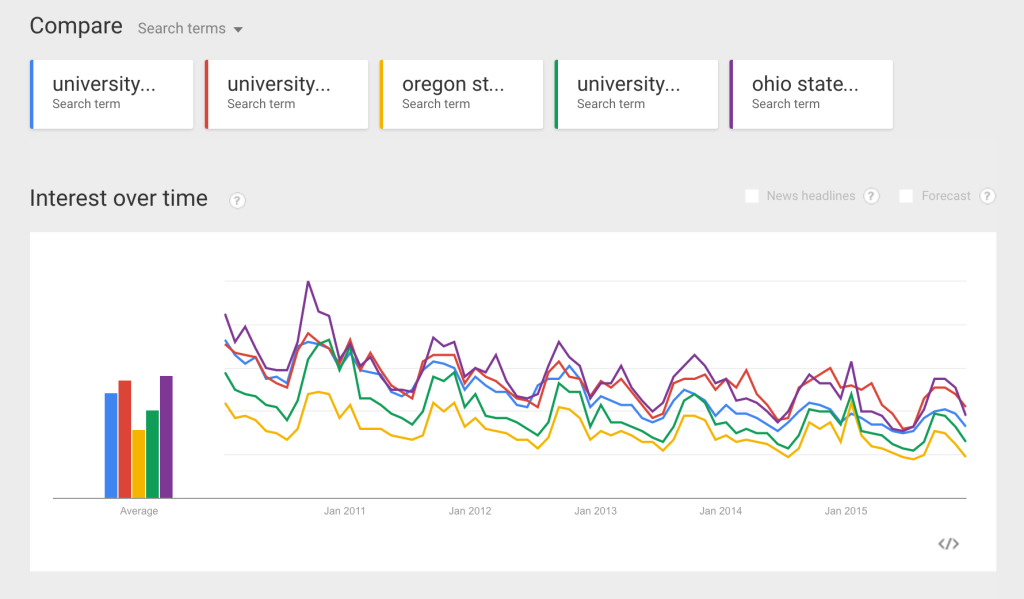 From: University of Oregon <[email protected]>
Date: Wednesday, January 6, 2016 at 12:01 PM
To: Univ Communications – All Staff <[email protected]>
Subject: Communications Integration
All,
I hope all of your holidays were fantastic and that 2016 is off to a good start. At the beginning of a new year, I am so optimistic and excited about the progress we have made in building the division of University Communications in such a short time and about the opportunities that are ahead of us. You're a talented group of communications professionals who are doing wonderful work on behalf of UO, and I'm honored to lead this team and work alongside you.
I want to let you know about some significant developments in University Communications that we are rolling out this week. President Schill has charged University Communications with integrating communications operations from the other vice presidents' units into our central communications operation. I have had conversations in the last few days with members of the university's executive leadership team and with our University Communications directors about this plan.
This is part of a university-wide focus on aligning our resources and operations with the university's strategic priorities and goals as stated in the president's email to campus http://president.uoregon.edu/content/aligning-our-resources-support-academic-excellence. Broad decentralization across the university has weakened the UO's abilities to achieve administrative coordination, predictable budgeting and realize economies of scale. It is a challenge in communications, IT, HR, budgeting and elsewhere. Addressing this issue through smart and well-planned integration strategies in a variety of areas is one of many steps the university will be taking in the coming weeks and months as we focus on improving coordination and efficiency across the university.
For us, it's pretty simple. Starting now, those in marketing, graphic design, public relations, writing and web development positions who currently report to a vice president within the administration will jointly report into University Communications. Over the next six months, the directors and I will work with the other vice presidents to ensure a smooth transition process from a management, HR and budgeting perspective. Beginning July 1, 2016, these communications positions will permanently report directly to University Communications. In most cases, individuals will continue to sit within their respective units and remain content experts, but they will be part of our management infrastructure and have greater access to communications resources.
A couple of caveats – Communications directors in enrollment and student life will be joint reports with University Communications and their respective units. I plan to have them join our leadership team, but their staffs will continue to report up through their current structure. Athletics is not included in this integration plan, but will remain connected to communications as they are now.
There are a lot of details that need to be worked out and many of you will have questions about this. I have some, but probably not all, the answers, and I'm happy to discuss your concerns and answer questions. We're going to talk more about integration during our all-staff meeting on Friday, but I want to make a few things very clear – our priority is to improve coordination, collaboration and strategy across the board. Our priority will be to improve the central communications support to other administrative units throughout the university. Our priority will be to rein in expenses by aligning communications work with strategic priorities and by working to reduce the need for outsourcing.
This integration effort is not about cutting costs by reducing staffing within our shop or within any of the administrative units. Our priority and focus is on improved collaboration, coordination and service.
To launch this effort, I am making some changes within the University Communications management structure to help us successfully realize this integration strategy. As I've told many of you, I am not going to hire another AVP for branding and marketing. Instead, I'm asking people to step up within a flatter management structure to help us build the organization we need. Those moves include:
· I've asked Ann Weins to manage an expanded Marketing and Branding portfolio. This will include all of our graphic designers (including those coming in from other units), advertising and partnership marketing, and licensing and branding. Ann will be charged with ensuring that our branding efforts maintain strong momentum even though we are no longer using 160/90 and that the brand continues to be rolled out across the university. This is a massive effort, an institutional priority, and will require her full attention. I want to thank Ann for her willingness to take on this new, important challenge.
· I've asked Jonathan Graham to take on the role of editor of Oregon Quarterly. He'll do this under the leadership of George Evano, who will head up Alumni and Development Communications. Ultimately, Oregon Quarterly's primary audience is UO alumni – Alumni Association communications also reports to George – and this move will create opportunities for greater alignment and coordination of our efforts to engage this important audience. George will now report directly to me. Oregon Quarterly is an amazing channel that is the envy of universities nationally. That must continue, and I'm tremendously confident in the ability of both Jonathan and George to maintain and grow the publication's reputation for quality and excellence.
· Jennifer Winters will lead our Internal Communications program. Under this new structure, she'll continue to serve as our executive communications lead and manage a team that includes communicators from academic affairs and human resources. Internal communications is increasingly important at UO, and Jennifer will be responsible for helping us break down traditional silos to rethink the way that we engage faculty and staff. She will also continue to manage President's Office communications.
· Tobin Klinger will continue to lead Public Affairs Communications, although we may elect to change the name of this group of communications pros. He will serve as our university spokesperson and crisis communications counselor, while taking on management of staff from other administrative units. This support will be critical as he and his team transform Around the O into one of the nation's premier digital communications platforms within higher ed. ATO is good, but we must aggressively work to make it better. We have amazing content, we have powerful channels, and we must build ATO into a tool that reaches out into the world – regardless of what traditional journalism is doing – to tell the UO's story of academic and research excellence. This is a big lift, my expectations are high, and I'm confident Tobin has the vision and leadership to help make it a reality.
· Zack Barnett's world will become significantly more complex as we start to integrate digital communicators and web developers from across campus into his shop. As we move to bring consistency across the UO's digital platforms – no small job – Zack will also continue to lead visual communications, social media and e-communications strategy for the university. Going forward, he'll report directly to me.
OK, deep breath, lots to take in (that may have been more for me than for you). Let me just say that this is not something that has happened in the last few days. These moves reflect themes and priorities I've been talking to all of you about since the first day I stepped foot on campus. Integration reflects the themes and priorities of our university president. A lot of discussion, analysis and planning has taken place in the last few months as we've moved toward this day.
As I've said before – I don't have all the answers. There will be questions, concerns and challenges that we'll need to work out as we move forward. But we have solid leaders within this department that care about the University of Oregon and that care about each of you. I have no questions that, together, we will overcome the challenges and come out of this transition stronger, more nimble and unified behind a mission of telling the stories that position UO to succeed and thrive in the future.
Thanks for all that you do. Go Ducks!
Kyle
Kyle Henley
Vice President, University Communications
O: 541.346.2329 C: 541.972.0222
[email protected]