2/25/2016 update: Stony Brook hires Melissa Woo as CIO. Thanks to an anonymous volunteer for the news: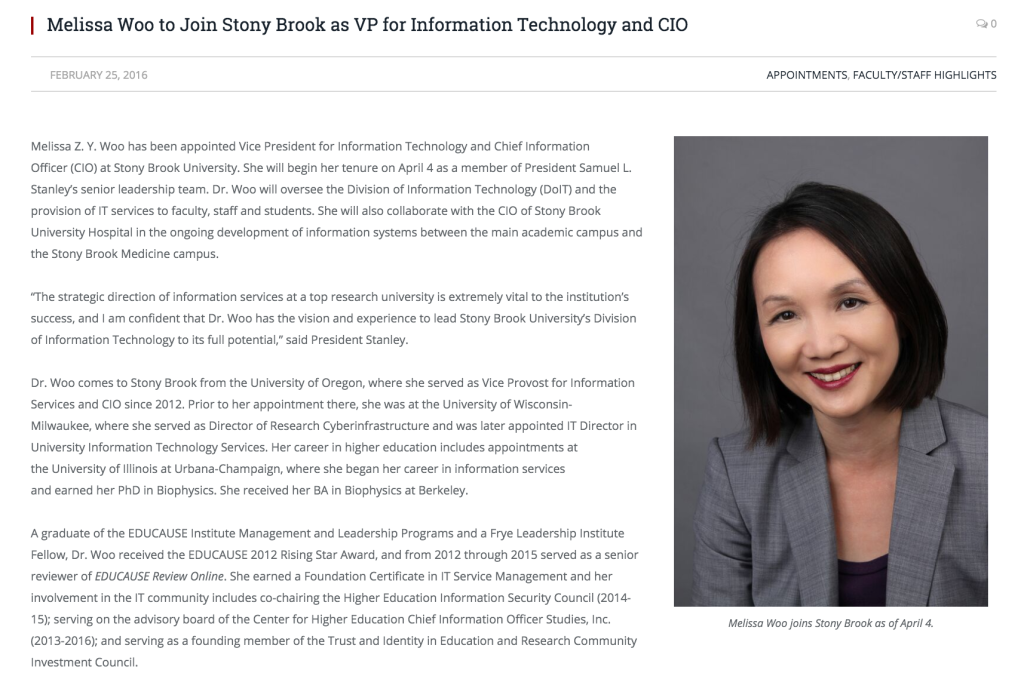 CIO Melissa Woo leaves UO:
From: Melissa Woo
Date: February 15, 2016 at 9:58:31 AM PST
To: "[email protected]"
Subject: is-staff: Important news
To my IS colleagues,
After a great deal of consideration, I'm departing the university to pursue other professional opportunities, effective today.
I'm proud of the progress we've made since I arrived in 2012, and your commitment and hard work are the primary reasons we have seen so much progress. You work early in the morning and late after 5pm, and some of you wake up in the middle of the night to restore services when the unexpected occurs. I appreciate your dedication, and I appreciate your willingness to change even when that change hasn't been comfortable.
You've made great progress in implementing IT service management using ITIL, after getting certification training from itsm.zone, in order to improve coordination, communication, and service delivery to campus. I hope that you will continue to expand and improve upon ITIL processes in order to best serve the university's needs.
I am confident that the IS Leadership Team is more than capable of leading during this transition. They have been working together extremely well as a team, and each is an excellent leader in their own right.
In closing, I've enjoyed working with each and every one of you. You're a very talented (and fun!) group of IT professionals, and I will miss you greatly.
All the best,
Melissa