Jim Bean's Five Big Ideas, Gottfredson's clusters-of-excellence, interdisciplinary super-modularity, etc. UO's administration has a long history of buzzword inspired efforts to take control of faculty hiring away from the faculty and academic departments. They get these ideas from the same bullshit conference powerpoint presentations and "talent management consultants" as every other university does. But now some faculty are fighting back.
Insidehighered.com has a report on the UC-Riverside Senate's fight to replace their administration's hubris with some straightforward academic rigor, here:
… While the first wave of clusters already has been approved, the recruitment process is still happening. Part intervention, part response to faculty concerns, the Riverside division of the Academic Senate recently surveyed its members on their views of the initiative thus far. The results were released to faculty members earlier this month, and Inside Higher Ed obtained a copy. A little less than half the faculty — some 330 professors — responded, indicating a high level of interest in the matter. The idea is that the body will use the responses to offer constructive feedback and guidance to the administration in the coming weeks.
Here's what the survey found. First, most respondents — 82 percent — said their departments already had strategic hiring initiatives in place before the clusters. Some 49 percent of all departments have been able to fill all open positions on their own.
Most of the respondents either agreed that or were neutral as to whether there was sufficient time to prepare cluster proposals (41 percent of respondents were not involved in any proposal). But 72 percent of respondents either disagreed or strongly disagreed that criteria for proposals were clear.
As to the proposal evaluation process, 76 percent disagreed or strongly disagreed that it was transparent. Just 14 percent of respondents agreed or strongly agreed that the feedback they received on their proposals was appropriate, compared to 45 percent who disagreed or strongly disagreed (the rest were neutral).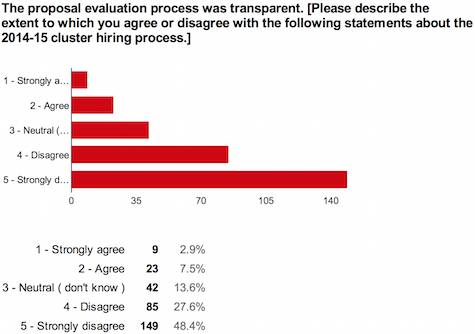 Some 46 percent of respondents disagreed or strongly disagreed that the provost's appointed steering committee for the initiative did a good job, compared to the 14 percent who had a positive view (40 percent were neutral). Nearly half of respondents disagreed or strongly disagreed that members of the selection panel knew enough to properly assess proposals.
Perhaps most importantly, the overwhelming majority of respondents — 69 percent — disagreed (over half of them strongly) that the cluster-hiring strategy "is an innovative and appropriate replacement for the traditional departmental hiring strategy." Most said their own departments' hiring strategies were inconsistent with the cluster strategy; over half said the cluster strategy interfered with their departments' strategies.