2/17/2016 update: From the Lund Report, here:
Partisan animosity broke down in Salem on Presidents' Day, as Republicans frustrated by the Democratic agenda turned to D.C.-style delaying tactics, forcing House and Senate clerks to read, verbatim, dozens of pages of legalese in each bill before it could come to a vote.
But the Senate still managed to unanimously pass a bipartisan bill that closes a critical gap in medical privacy — forcing university-based health providers to abide by the same confidentiality rules as off-campus providers.
… The demand for the bill was spurred by a notorious case involving the University of Oregon and a student who alleged she'd been raped by members of the basketball team. The woman sued the school, and the university ordered the school's counseling center to turn over her therapy records to try to disprove her case of emotional distress.
I should note that UO lawyers Doug Park and Sam Hill dispute the claim that UO planned to use Jane Doe's therapy records to try and disprove her case. They say that they were securing them on request of Jane Doe's lawyers. However they have never explained why they scanned them into the GC's computer system, or what procedures they had in place to monitor who then accessed them, or why Counseling Center Director Shelly Kerr would tell Karen Stokes not to stamp the file and keep the GC's request a secret: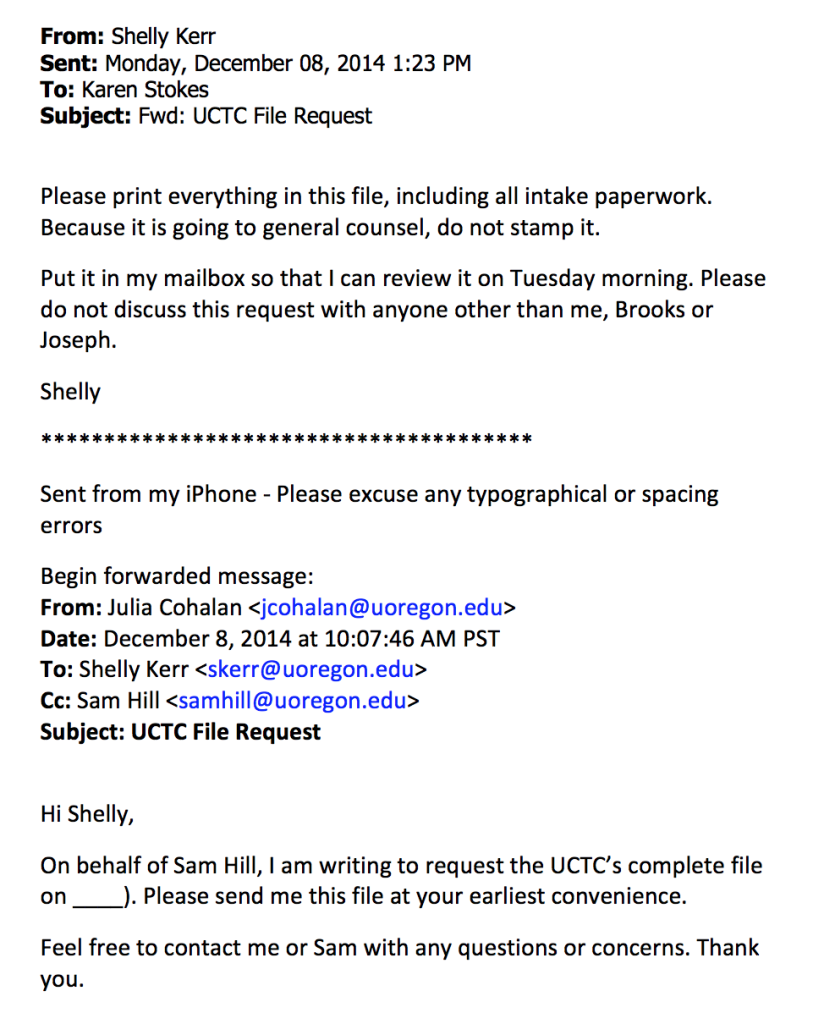 2/4/2016 update: Oregon legislature considers bill making it illegal for university lawyers to do what Park and Hill did
Legislation and testimony etc. here: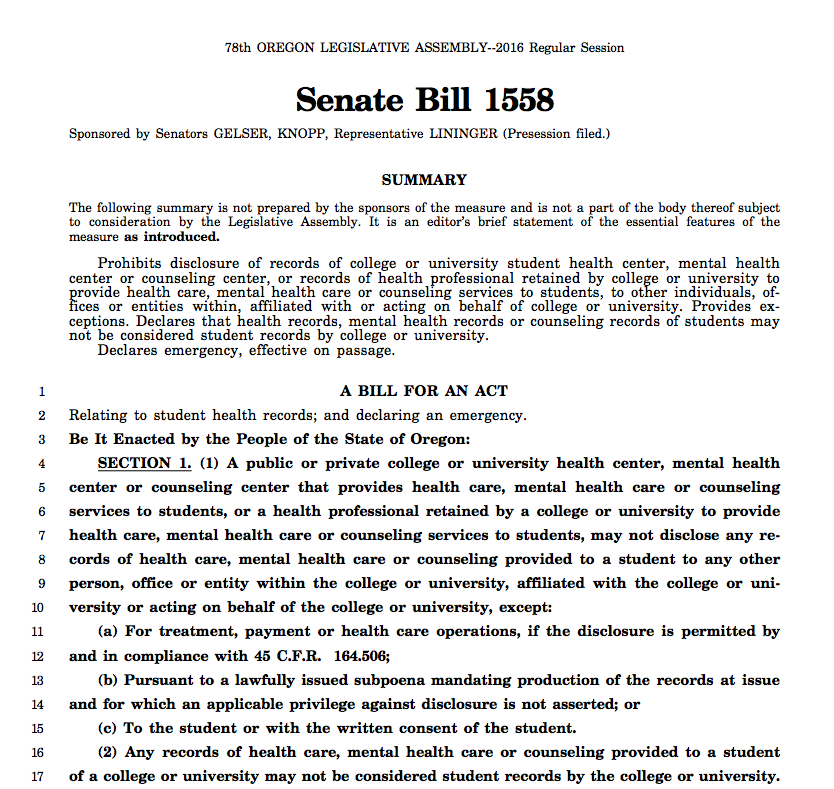 This isn't a hard one: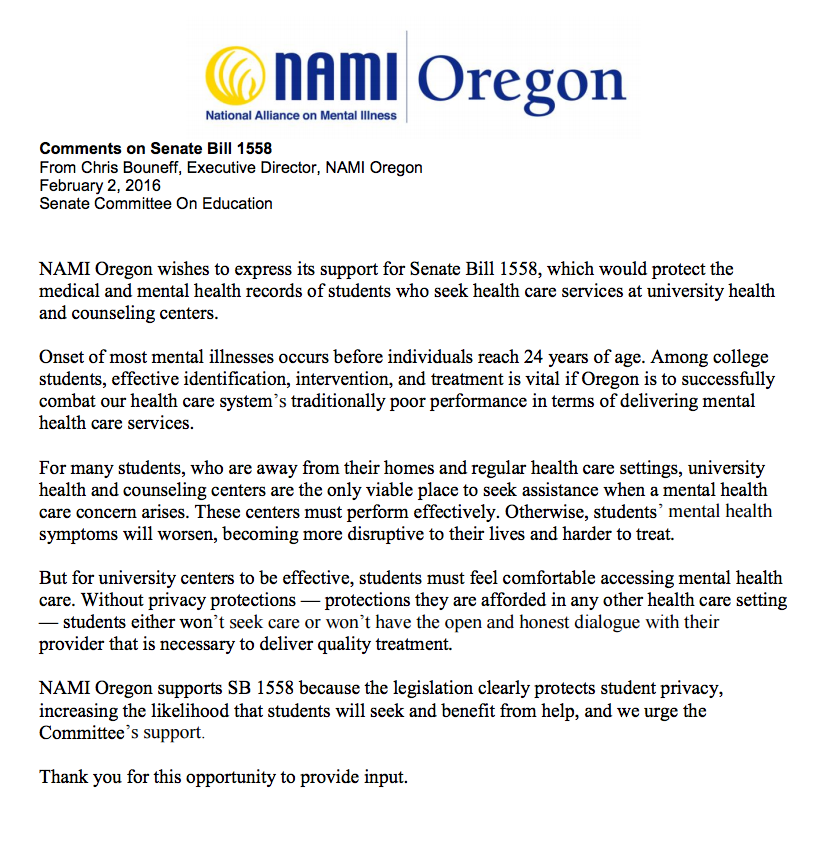 Meanwhile, UO's lawyers are getting nasty in their attacks on Stokes and Morlok, the UO Counseling Center employees who blew the whistle and brought the whole matter to state and national attention, and who have alleged that UO responded by retaliating against them:
1/26/2016: UO lawyers use Stokes and Morlok's OA award against them. Updated below with text of the award letter, making clear that the OA's (technically I think the award came from HR OA's and staff) decided to give the award to Stokes and Morlok in part because the OA's expected the UO administration to retaliate, just as Stokes and Morlok allege then happened. Quoting from the award: "They sought to make the University a better place despite the possibility for retaliation." and "They value our integrity greater than our brand." This is not sort of language the former UO administration would have used in making an award!
1/26/2016: No good deed shall go unpunished. In April 2015 UO's Officers of Administration gave Karen Stokes and Jennifer Morlok of the University Counseling & Testing Center their "Outstanding Officer of Administration Recognition Award":
The award was widely seen as a vote of support by UO employees for Stokes and Morlok in their courageous fight against the efforts of UO's Interim General Counsel Doug Park, AGC Sam Hill, and Counseling Center Director Shelly Kerr to obtain the confidential counseling records of Jane Doe, during her lawsuit against UO over its handling of her allegations of a gang-rape by three members of Dana Altman's basketball team.
1/26/2015 update from a helpful commenter, "Records Leak"
Here's a copy of the actual nomination, which was distributed amongst employees. Right off the bat it mentions the imminent risk of retaliation:
Jennifer Morlok and Karen Stokes demonstrated exemplary leadership by publishing a letter affirming their professional standards, at great risk to themselves. They sought to make the University a better place despite the possibility for retaliation. Their letter resonated with the community during a troubled time, and their frank honesty was a welcomed change. A copy of their letter is available at:
https://www.scribd.com/document_downloads/255145466?extension=docx&from=embed&source=embed
They quite literally embody the University mission. Through their actions, they sought to protect and safeguard the wellbeing of one of our students. They aim to raise the bar in an institution already under intense scrutiny for its response to sexual violence. They value our integrity greater than our brand.
Their actions can be seen as the first step towards rebuilding trust from a growing sense of mistrust, and serve to remind us that we as a University community will need to unite as we continue down this path. They exemplify what we should strive to become.
For these reasons, we are nominating both Jennifer and Karen to share the 2015 Outstanding Officer of Administration award.
The award followed a UO Senate resolution supporting the position of Stokes and Morlok, which really pissed off Interim President Scott Coltrane and his AVP for Collaboration Chuck Triplett. Video here.
Stokes and Morlok's willingness to fight for the confidentiality of UO student's counseling records led to changes in Oregon law and UO policy limiting any future such efforts by university attorneys. As well as some spectacularly bad press for UO's leaders. The UO administration was not happy and Stokes and Morlok sued UO for retaliation. The docket is here, and UO's hired attorneys have now filed their response. Page one: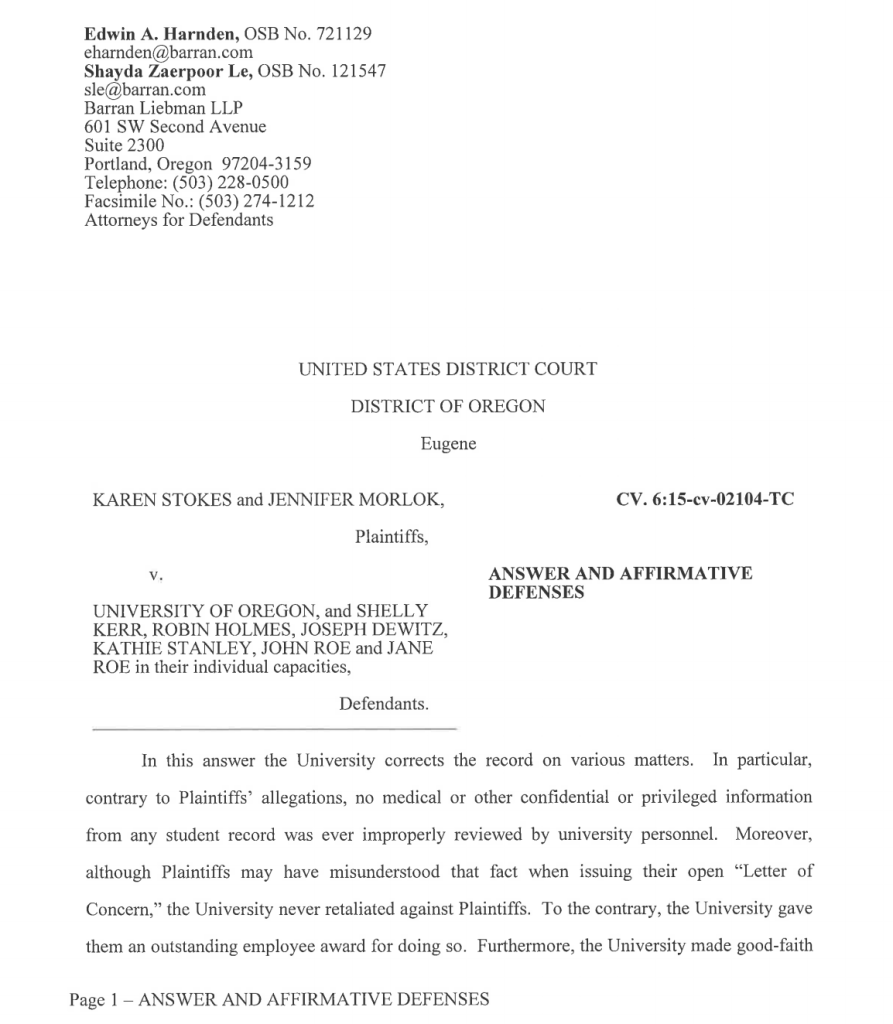 That's right, the UO administration's lawyers are now using the award that the OA's gave to their colleagues Karen Stokes and Jennifer Morlok for courage under fire against them.