Live-blogging will be light.
Senate Meeting Agenda – May 18, 2016
3:30 pm    Introductory Remarks, Senate President Randy Sullivan

3:30 pm    1.   Call to Order
3:30 pm    2.   Approval of Minutes 2.1      May 11, 2016
3:32 pm    4.   New Business
3:32 pm            4.2     US15/16/-25: Scheduling of Examinations Policy; Undergraduate Council and Senate Executive Council. Passes unanimously
3:37 pm            4.3     US15/16-24: Major/Minor/Certificate/Program Course Overlap Policy; Undergraduate Council. Passes unanimously
3:42pm             4.4     US15/16-23: Responsible Employee Policy; Committee on Sexual & Gender-Based Violence
The Senate blog has many statements and comments, here.
3:50: Clarifying amendments pass unanimously. The Senate is now working on the version here.
Koopman (Philosophy): Introduces a sunset clause for 12/15/2016, arguing that the policy is important, affects many campus groups, and many different kinds of interactions, and that the Senate needs to ensure that all stakeholders are involved and all issues considered.
Sunset clause passes 27-10. Discussion of main motion resumes.
Koopman lays out the issues: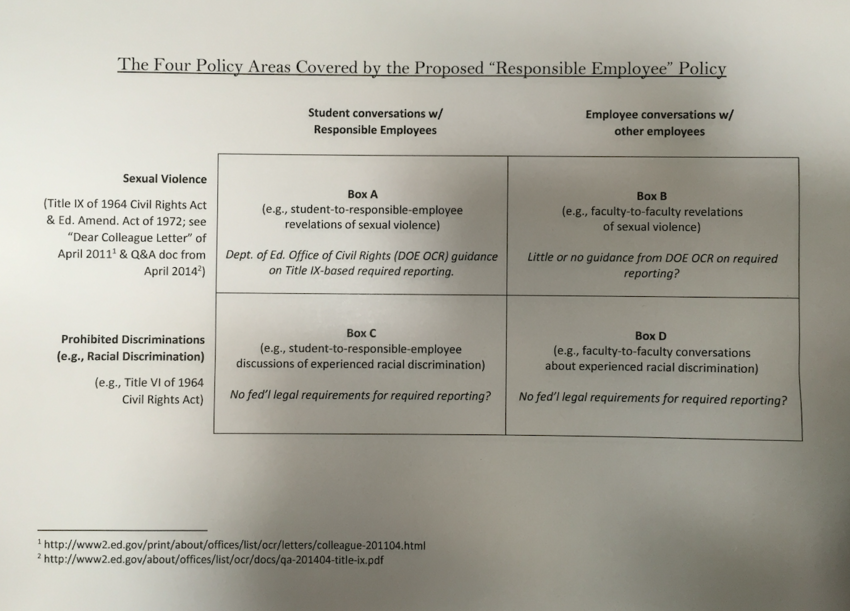 He then proceeds to use this to show that mandatory reporting does not need to be universal, and shows the internal contradictions of the proposed policy.
5:30: The policy fails, 15 to 16.