7/7/2016 update: At some point you know the Ducks are going to have to do the same. It's inevitable. Meanwhile CNN has the story on Baylor here. Of course it's not just the athletes – see Lindo et al.: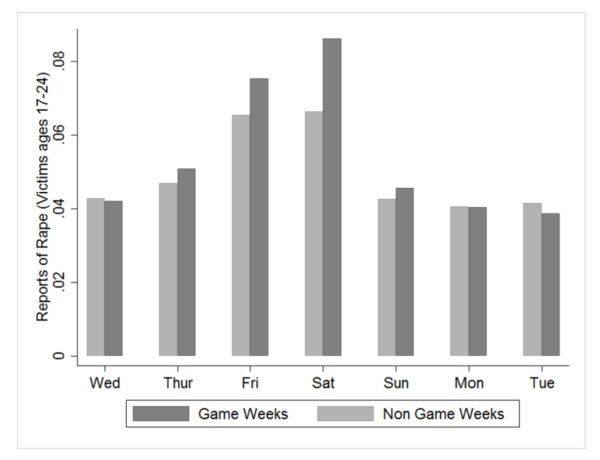 6/24/2016 update: Riley's footballers hear from Brenda Tracy, OSU rape survivor, while Helfrich's team hears from Tom Hart about Egyptian prostitutes on Harleys
A guest blogger forwards the following:
Brenda Tracy met with Mike Riley and the Nebraska football team this week. She's getting some nice national attention. I looked it up. Lincoln, Nebraska is a 1600 mile trip. Autzen Stadium is about 40 miles away.
Washington Post: https://www.washingtonpost.com/news/morning-mix/wp/2016/06/23/i-hated-this-man-more-than-my-rapists-woman-confronts-football-coach-18-years-after-alleged-gang-rape/
USA Today: http://www.usatoday.com/story/sports/ncaaf/bigten/2016/06/22/rape-survivor-brenda-tracy-meets-nebraska-coach-mike-riley-oregon-state/86270018/
Said Riley in a statement released Wednesday night: "As part of our ongoing educational efforts, I invited Brenda Tracy to Lincoln, to share her experiences with the young men in our program. Brenda has suffered immeasurable pain and has shown the strength and willingness to share her story. Her story today was powerful and I know that it left an indelible imprint on our student-athletes, staff and myself."
Riley also expressed "sincere gratitude" for Tracy's willingness to come to campus and meet with him.
"This has been an important day for me and for our football program and we must keep the focus on the victims, and on preventing inexcusable acts in the future," Riley said.
Tracy is the survivor of a sexual assault by two Oregon State football players and two others, 16 years ago. She went public after newspapers broke the story of the alleged UO basketball player gang rape of Jane Doe. John Canzano published Ms Tracy's horrible and courageous story in the Oregonian, here, Kurt Krueger, the chair of the UO Senate's Intercollegiate Athletics Committee, invited her to speak at UO. Here is her story, which must be heard: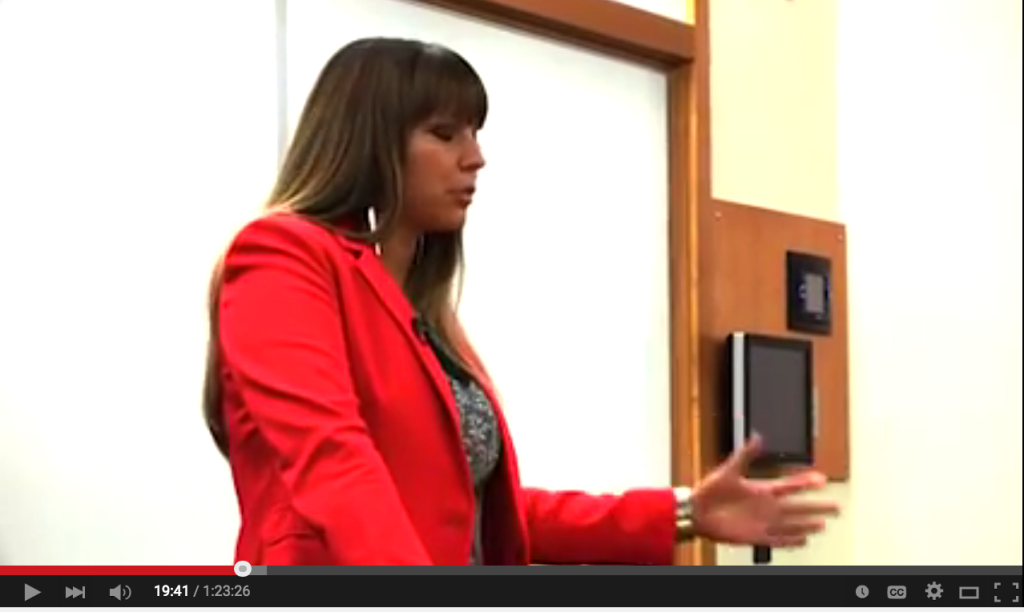 Meanwhile, here's some information on how the Ducks have been handling sexual assault prevention training
6/6/2015 update: Prostitutes from Russian motorcycle-mob strip clubs lead Duck athletes astray?
Before you page down and watch the video of UO Basketball coach Dana Altman do the duck and weave with reporters about alleged gang rape by his basketball players, and check out Tom Hart's powerpoint presentation telling football players to watch out for Russian prostitutes hired by Egyptian motorcycle gangs, please watch some of the Brenda Tracy video.
8/22/2014 update: Sure enough, this presentation on how football players can avoid getting assaulted, and advertised as "Sexual Assault Awareness" was one of the few things the Duck AD could point to as examples of "Sexual Education" they provide their athletes. Note that the athletic department's Katie Harbert – who was also the instructor of record for the Ducks athlete-only sham FHS 199 course – began collecting these documents a full month before the rest of the campus learned of the basketball rape allegations: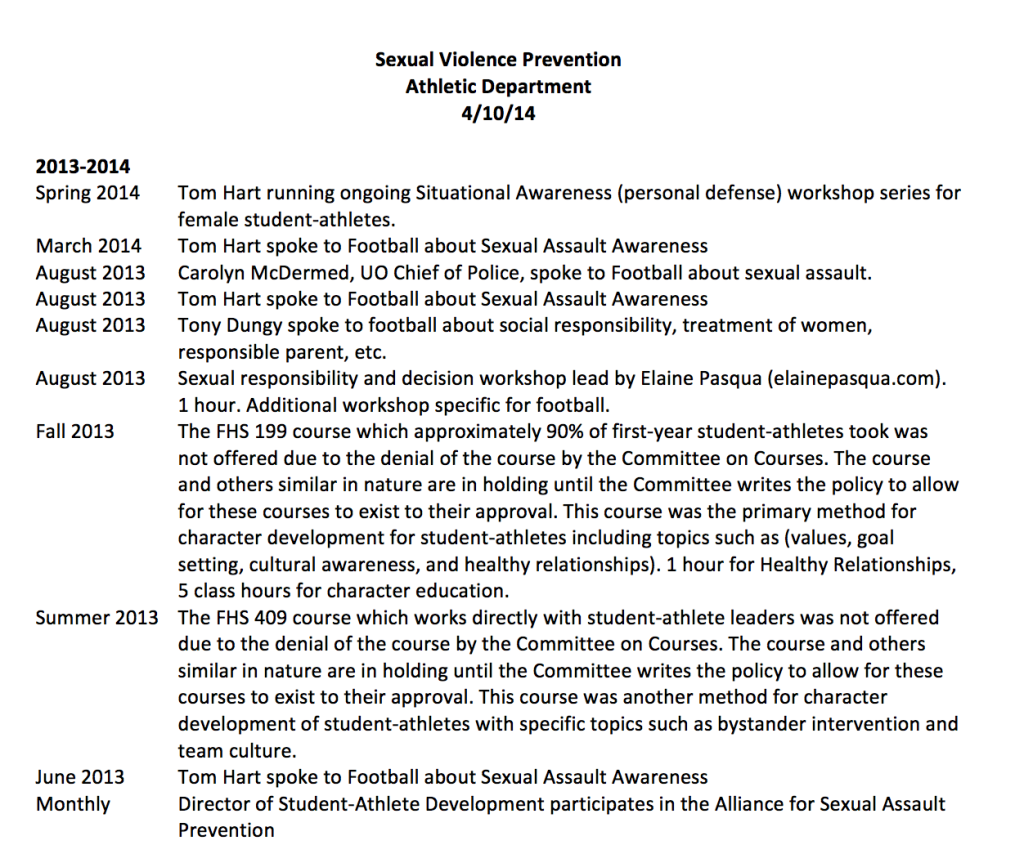 8/21/2014: Updated below with redactions from Gottfredson's Sexual Assault Review Panel of the doc showing the "Team Rule" to call Tom Hart's *personal* phone if in trouble with police.
8/20/2014: At his May 9th press conference a question from a UO student (whom the Ducks had tried to keep out) revealed that Dana Altman was very confused about what sort of sexual assault prevention training his athletes had received:
Now we know a little more. The athletics department is worried that it's their players – and their coaches, and NCAA eligibility – that might be the victims of sexual assaults from predatory prostitutes that have probably worked on websites controlled by Russian/Egyptian motorcycle gangs. Or at least that seems to be the warning in this bizarre powerpoint from Tom Hart, hired in 2011 as Director of Duck Security and Facebook Monitoring (contract here).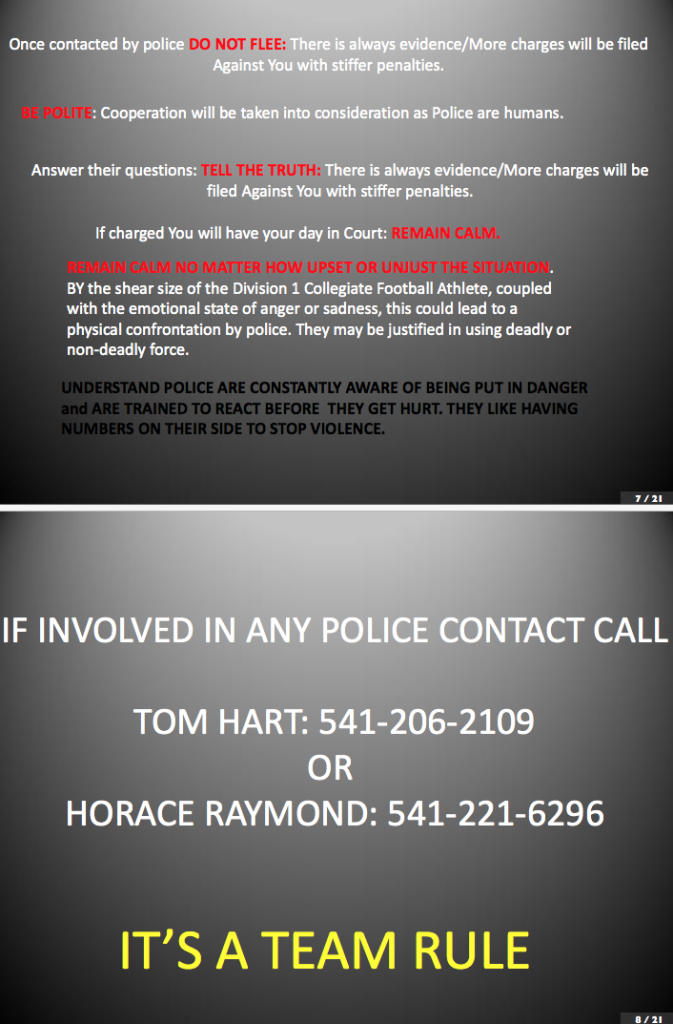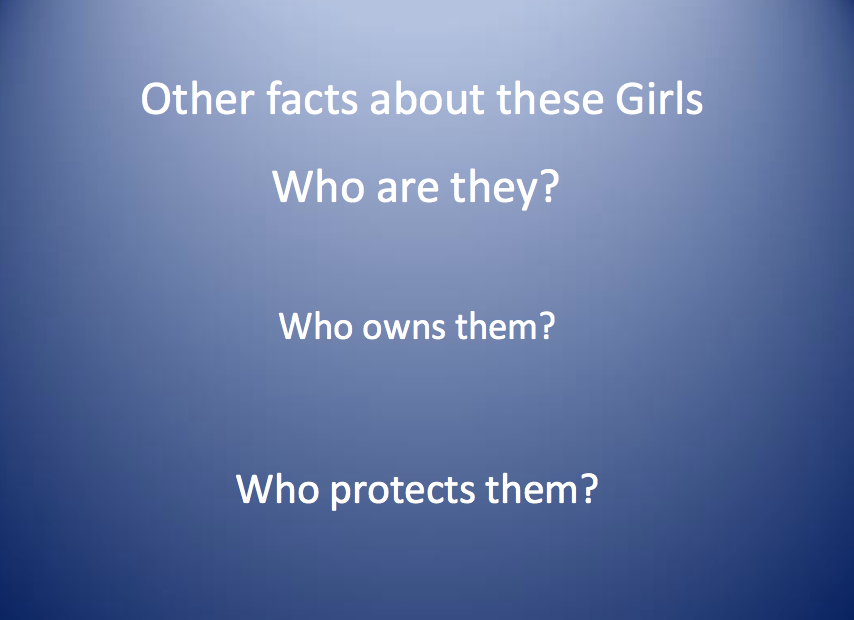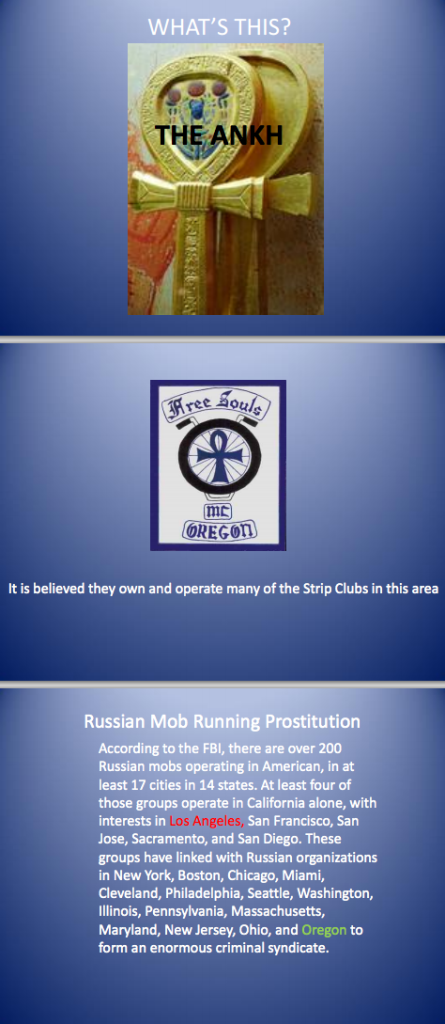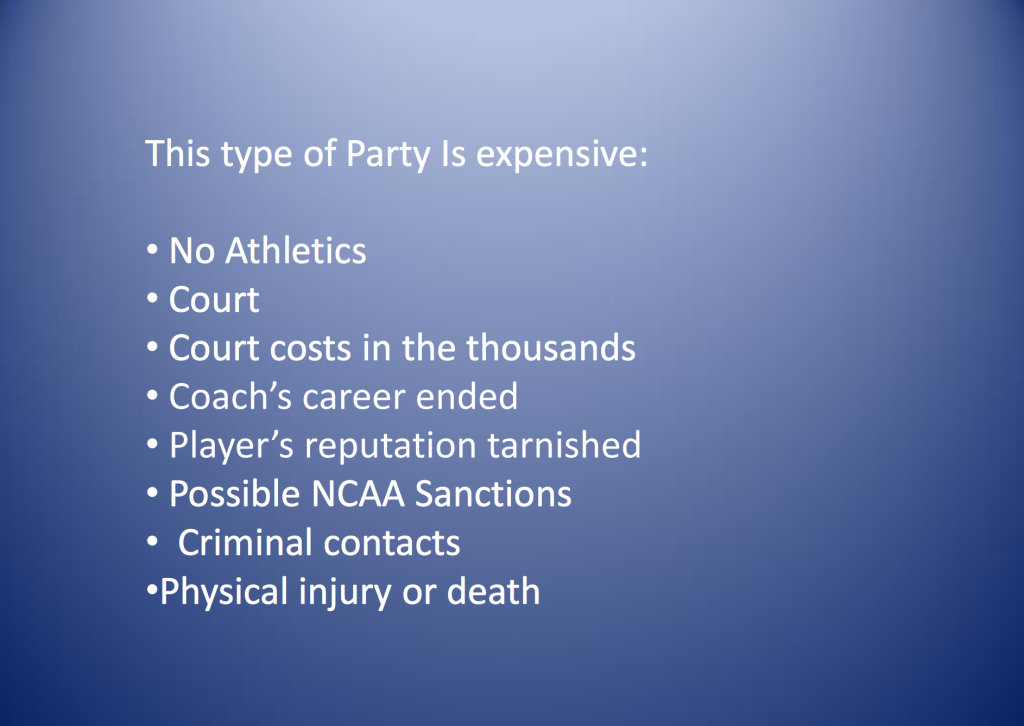 Hart is still on Rob Mullens's payroll, as "Professional Development Coordinator":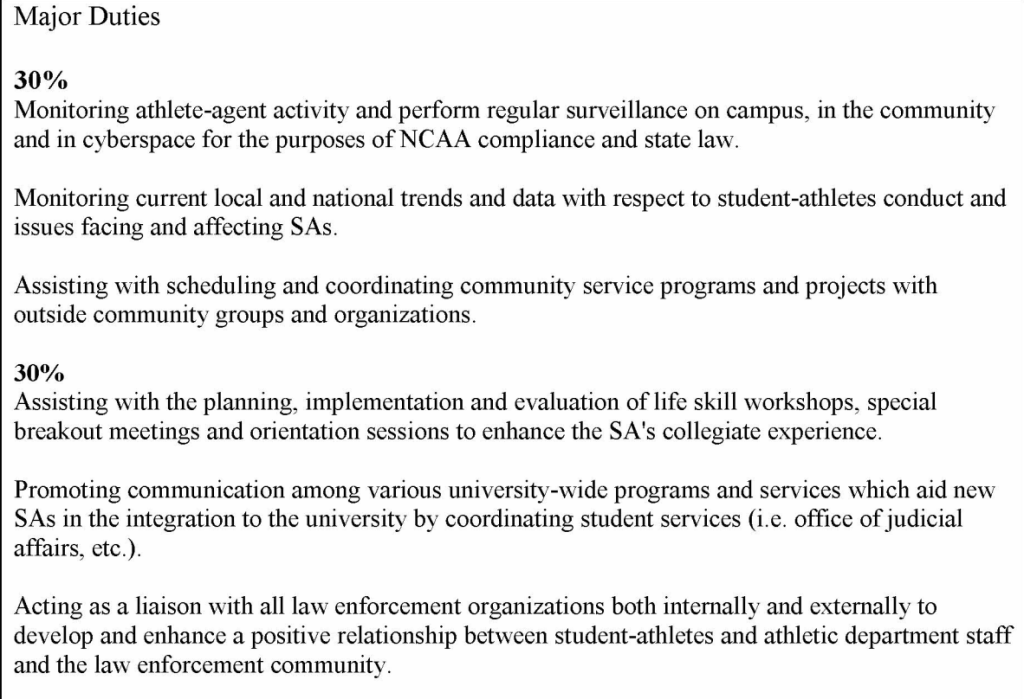 This and some other fascinating documents from the athletic department – more revealing than anything Mullens has ever showed the IAC without me first filing a petition with the DOJ – were posted yesterday on the Gottfredson SARP website: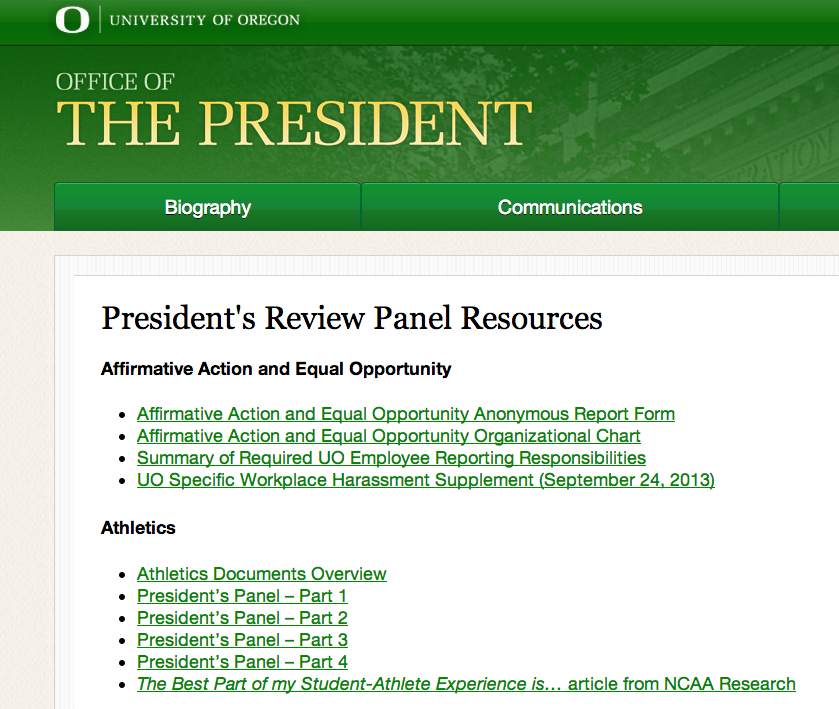 Today, less than 24 hours later, the good stuff has been taken down and replaced by a sanitized set of links:

But don't worry, we archived it:
Athletics
Athletics Documents Overview
President's Panel – Part 1
President's Panel – Part 2
President's Panel – Part 3
President's Panel – Part 4
I'll try to dig through these as I have time, but I immediately see the student-athlete conduct handbook, numbers on GPA and SAT scores for special admits by team, data on majors, and a statement that seems to back off previous claims from the AD that the Senate was to blame for canceling the FHS 199 class , and thereby preventing them from educating their players about sexual assault and harassment.
Update: Even Winston Smith would be confused. Now the SARP has reposted the Hart powerpoint – "with personal phone numbers removed":

So Hart is using a personal phone to take calls from athletes in trouble with the cops? I hope he's keeping Jim O'Fallon, Jody Sykes, and the NCAA in the loop on that idea.