3/1/2017:  ESPN picks up the story, here:
The University of Oregon is writing a new policy that could make coaches' disciplinary records inaccessible to the public under Freedom of Information Act laws.
According to The Register-Guard, the policy "explicitly says the personnel records of about 1,400 staff members, called 'officers of administration,' a classification that includes coaches, are to be treated like faculty personnel records and kept secret."
2/27/2017: Lots of interesting stuff in the Oregon DOJ's Public Records Opinions, here. The origin of UO's claim that Duck coaches are UO faculty seems to have been former UO General Counsel Melinda Grier, who was fired by President Lariviere after the Oregon DOJ decided she had provided "deficient legal representation" in a case that came to light because of her and current Deputy GC Doug Park's failure to respond to public records requests for Coach Mike Bellotti's contract. Jeff Manning had the story: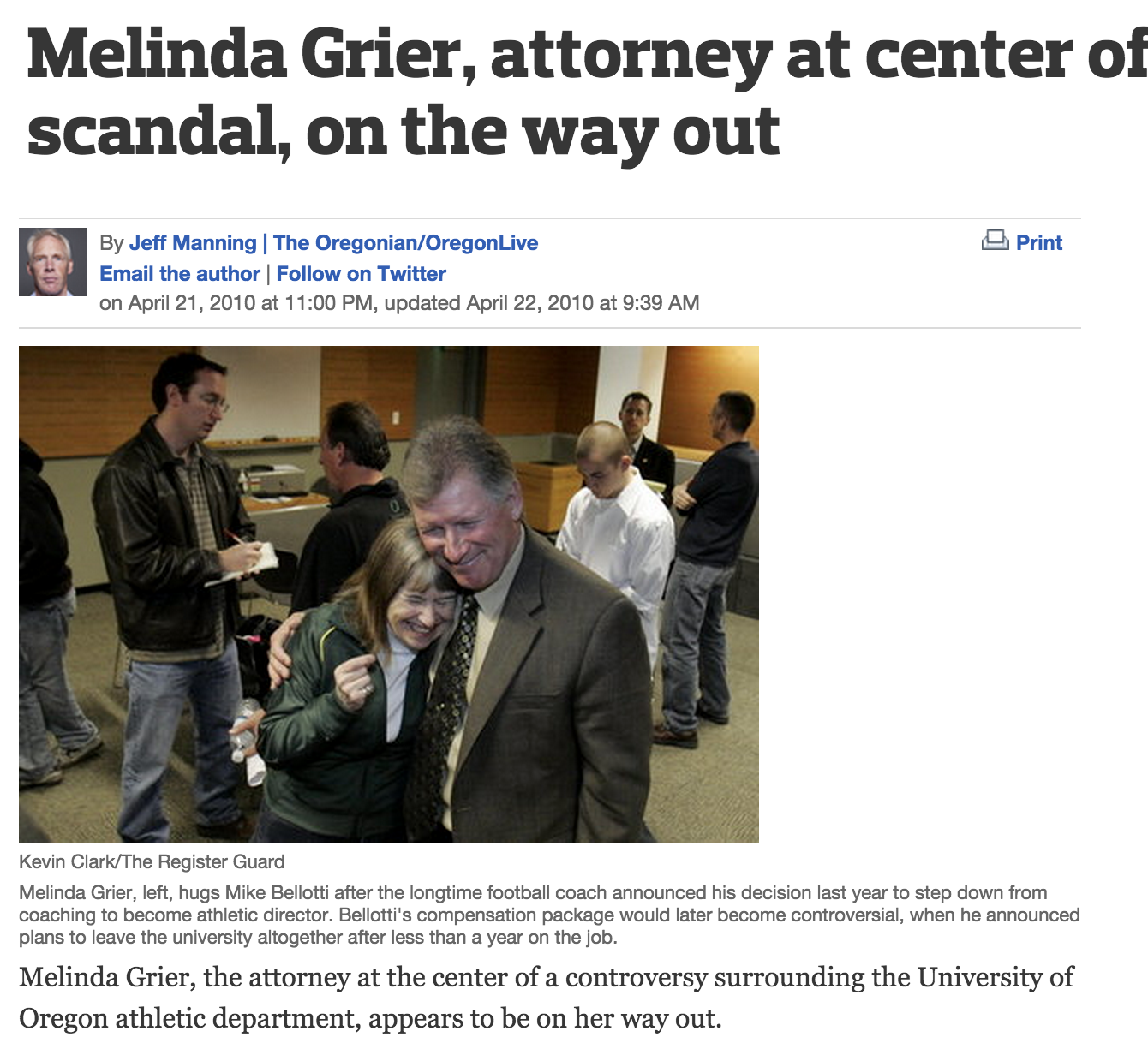 Or should that have been "Professor" Mike Bellotti?
Way back in 2001, Ms Grier established the precedent that Duck coaches were faculty for the purposes of public records requests. Here's the DOJ ruling, which hinges on the fact that Basketball coach Judy Runge had been specifically appointed as a "professor" – something that I'm guessing was not the case with Reaves:

That opinion was a stretch even for AG "Hardly Matters", who bent over backwards trying to gut Dave Frohnmayer's public records law. Not that I'm a law professor.
2/26/2017: DA to rule on UO claim that drunk Duck coach deal is a secret "faculty record"
Diane Dietz has the long story here. Some snippets:
… But the original 1971 law that made faculty personnel records secret said only that "personal information" held by a university about faculty and students would not be subject to disclosure under public records law.
In subsequent iterations, lawmakers took students out of the law and dealt with their privacy elsewhere.
At no time in the law's evolution to its current version as ORS 352.226 did lawmakers mention any category besides faculty and students. None of the hearing minutes or legislative records that survive mentions "administrators" or "coaches," for example, as being covered by the law.
… On Feb. 15, the UO Public Records Office cited the faculty records policy to withhold Reaves' disciplinary records.
Reaves came to Eugene to serve as co-offensive coordinator and tight ends coach for new head coach Willie Taggart.
Reaves signed a two-year, $300,000-a-year contract with the UO.
Within a week, police stopped him at 2:12 a.m. on a Sunday at 10th Avenue and Willamette Street in downtown Eugene, ­according to the Eugene Police Department.
The charges stemming from the stop are: driving under the influence of intoxicants, reckless driving and reckless endangerment. Associated violations included failing to maintain a lane, failing to obey a traffic control device, making an improper left turn and refusing to take a breath test for intoxicants.
The UO publicly said it would fire Reaves, but Reaves soon resigned. The Register-Guard's record request sought "any separation agreement or financial settlement related to the resignation."
In the past, the UO has paid big bucks to buy out coaches' employment contracts. But the UO Public Records Office replied that the documents sought "are faculty records per University of Oregon policy, and as such are not ­public records."
The RG is petitioning Lane County District Attorney Patty Perlow, asking her to issue a public records order to UO and put a stop to this nonsense. Meanwhile I'm wondering how it is that UO's GC made a public records request for all my emails with reporters about academic freedom, if faculty records are really exempt from the public records law.