UO Board of Trustees Chair Chuck Lillis is a former marketing professor and dean, and the only regular UO trustee with a PhD. (Academic publications and citations here, ERISA lawsuit settlements here.) He started off a Board meeting a few years back with a brief rant about deadwood tenured faculty. Newly appointed President Mike Schill responded with a vigorous defense of UO's faculty, and since then Lillis and the rest of the board has switched to saluting Schill for his very successful efforts to maintain UO as a viable research university, with all the respect to the faculty that this requires – such as tenure.
But was Lillis right? A soon to be published paper looks at the publishing patterns of pre- and post-tenure faculty at top Economics departments (top 50 as of 1995, which sadly excludes UO Econ) and concludes he was. Here's the report from InsideHigherEd:
Malaise, slump, deadwood — there are lots of words for what supposedly happens to professors' research outputs after tenure. A forthcoming study in the Journal of Economic Perspectives doesn't use any of those terms and explicitly says it must not be read as an "indictment" of tenure. But it suggests that research quality and quantity decline in the decade after tenure, at least in economics.
The authors of the paper — Jonathan Brogaard, an assistant professor of finance at the University of Washington at Seattle; Joseph Engelberg, professor of finance and accounting the University of California, San Diego; and Edward Van Wesep, associate professor of finance at the University of Colorado at Boulder — started with a question: "Do academics respond to receiving tenure by being more likely to attempt ground-breaking 'homerun' research and in this way 'swinging for the fences?'"
After all, they wrote, "the incentives provided by the threat of termination are perhaps the starkest incentives faced by most employees, and tenure removes those incentives." (The question is sure to annoy academic freedom watchdogs. In the authors' defense, they do cite the benefits of tenure, including job stability's potential to encourage risk taking.) …
The paper is here. The gist: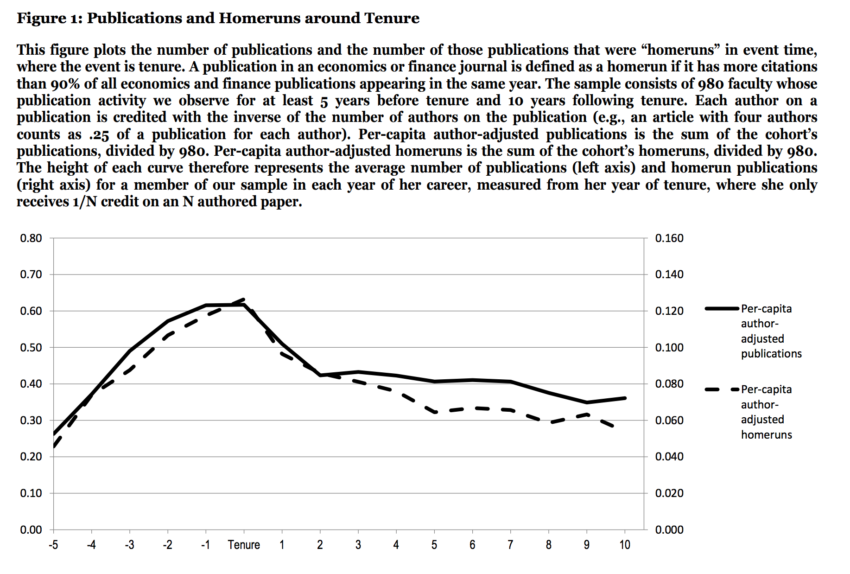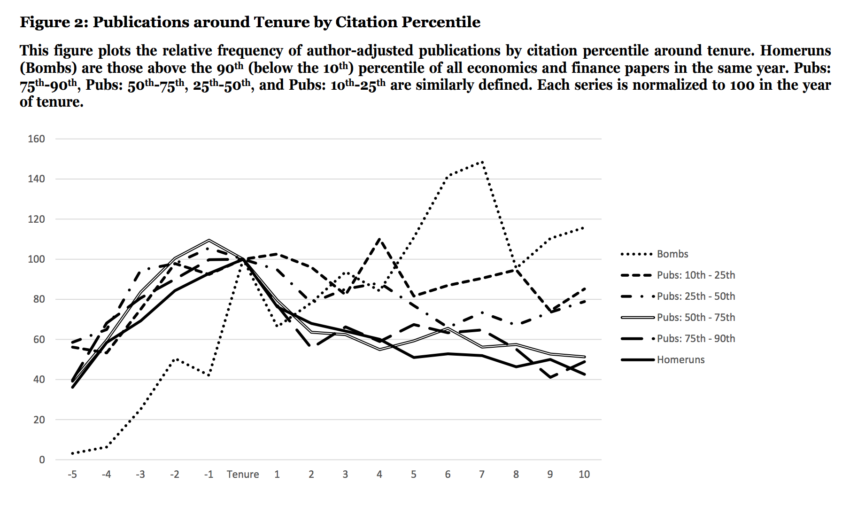 The paper of course includes all the expected qualifications against using these figures or the statistical analysis to conclude that tenure is a bad thing.
FWIW Chuck, my own publishing and citation record is here. I was tenured in 2001. Of my top 5 publications in terms of citations, 3 were published after tenure.