4/7/2018 update: 
Actually, as much as the administration wants to ignore it, the Senate's hardfought Policy on Academic Freedom does too:
c. POLICY AND SHARED GOVERNANCE. Members of the university community have freedom to address, question, or criticize any matter of institutional policy or practice, whether acting as individuals or as members of an agency of institutional governance. …
SECTION 2
These freedoms derive immediately from the university's basic commitment to advancing knowledge and understanding. The academic freedoms enumerated in this policy shall be exercised without fear of institutional reprisal. Only serious abuses of this policy – ones that rise to the level of professional misbehavior or professional incompetence – should lead to adverse consequences.  Any such determinations shall be made in accordance with established, formal procedures involving judgment by relevant peers.
Apparently UAUO had to work pretty hard to extract this apology. No word on what happened to the photos:
Dear Colleagues:
There has been some discussion recently in our College regarding shared governance and the faculty's right to gather and discuss difficult and often controversial subjects with respect to the direction of a particular department or program. Given those discussions, I want to take this opportunity to reiterate my strong commitment to shared governance principles, including the right of faculty to gather and discuss affairs without repercussion, retaliation, or interference by the administration.
In our unionized environment, those principles often overlap with the legal right of the union and its members to discuss union issues in a similar environment. I know my commitment to these principles has been questioned recently due to a member of staff inadvertently attending a closed faculty meeting and taking a picture. While I can assure you that those actions were not taken at my direction and were based on a misunderstanding that the meeting was an open town hall, I understand that this person's actions may have been intimidating and caused some faculty to feel uncomfortable discussing important issues freely. For that, I apologize.
Since that incident, I have met with my staff and reiterated that attending union meetings, or taking actions that may interfere with a faculty member's ability to participate in protected union or shared governance activities, is not permitted.
As we continue to build our new College of Design, I look forward to working together to create a positive and healthy work environment.
Sincerely,
Christoph Lindner, Dean and Professor
2/22/2018 update: CoD fundraiser drops in on CoD Town Hall, photographs attendees
The event was pretty well attended, with about 30 CoD faculty and 5 or so union reps. There was a full and frank discussion that went on til 5:30, and continued in small groups afterwards.
I helped bring in extra chairs, one of which was then taken by a gentleman who unobtrusively started taking cell phone pictures. A union rep saw this and asked him to leave, which he did. He came back a few minutes later, and since I was lounging by the door he asked me why he'd been asked to leave and what the rules were for union meetings.
Full disclosure: I have no idea. So I told him that people wanted to have an open discussion and he was making them nervous since they didn't know who he was. I asked him who he was. He said he was the director of development for design. I asked him why he was there. He said because he was worried about what they were talking about and wanted to know what was going on. I asked him why he was taking pictures. He said because he didn't know many faculty by name and wanted to know who was there.
It seems a bit sad that the director of development would need to photograph a faculty/union meeting to figure out who the faculty are, but maybe he's new. In any case turnabout is fair play, and so here's his photo: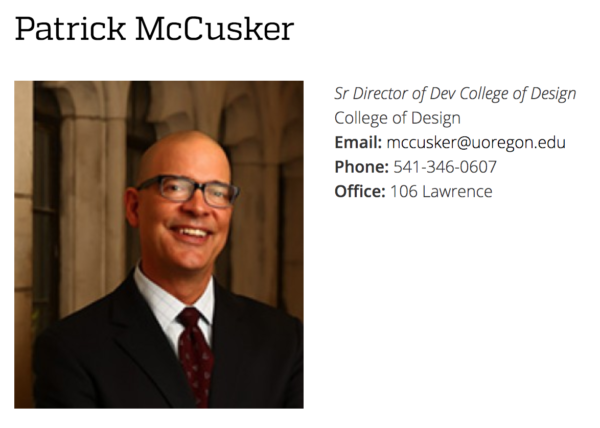 2/22/2018: College of Design faculty to hold Town Hall:
This Thursday at 4PM in Lawrence 230. Issues include:
The fate of AAD and the process used to terminate that program
The cutting of the summer Architecture program for high school students
The Portland Faculty Assignment Criteria & Process
The lack of Post-Tenure Review criteria
The management of the Ross Fund
De-emphasis on professional work and emphasis on peer-reviewed publications in reviews
The restructuring causing administrative bloat