Update: If anyone knows what's really going on, please post a comment.
Around the O has the official trust-destroying non-explanation from strategic communicator Tobin Klinger here. It's all part of "Ensuring the University of Oregon has an inclusive and welcoming campus":
The University of Oregon is forming a new Office of Civil Rights Compliance with the responsibility of investigating and responding to all forms of discrimination and harassment.
The restructure consolidates efforts previously housed in the Title IX and Affirmative Action and Equal Opportunity offices.
President Michael H. Schill, Vice President for Finance and Administration Jamie Moffitt and Vice President for Student Life Kevin Marbury announced the restructure in a memo to academic and administrative leaders.
"Ensuring the University of Oregon has an inclusive and welcoming campus for students, staff, faculty and the community is a top institutional priority," they state in the memo. …
Ms Tsugawa spent an hour talking to the faculty union's representative assembly meeting on Tuesday. If she had any knowledge of this reorganization she hid it well. She did make clear her objections to the UO General Counsel Office interpretation of FERPA, her amazement at the lack of written policies and procedures she found when she arrived at UO, her belief that many AAEO practices violated due process rights, her belief that it was a mistake for UO to appoint so many administrators without open searches, and her efforts to address some of these problems.
5/24/2018: 
I must have missed the job posting and open search for her replacement: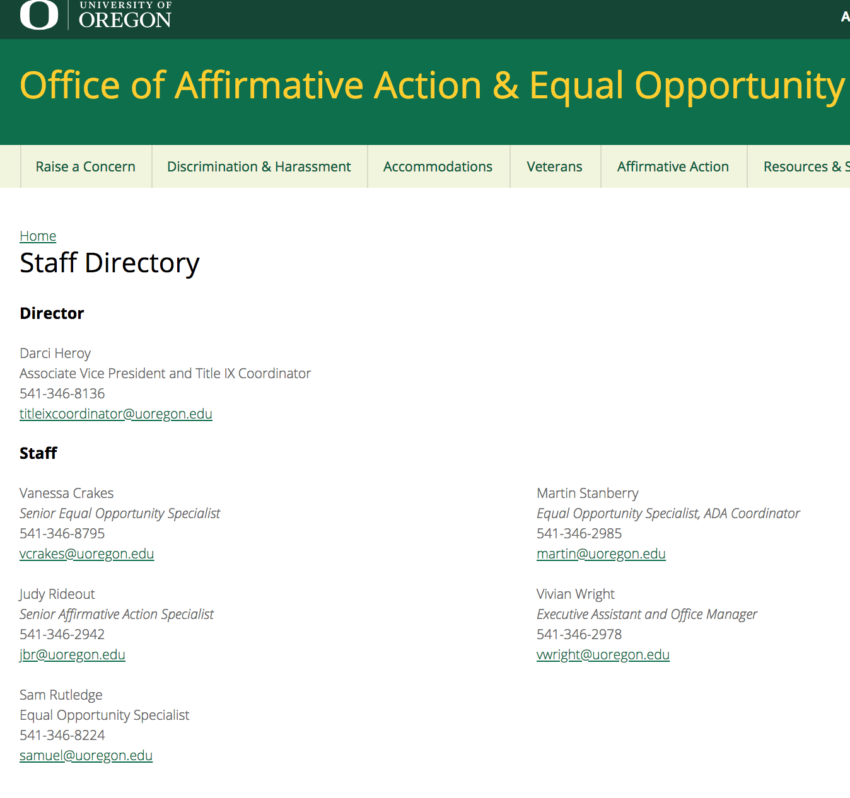 9/26/2017: Wow did she take the wrong job
Daily Emerald reporter Logan Marks has the report on new AAEO Director Tracey Tsugawa:
New Affirmative Action Director has social justice in her genes
"[I want to] make sure that we have a campus that is as free as possible from forms of harassment and discrimination, and cultivate a campus that is truly inclusive and welcoming for everyone…" Tsugawa said. "I'm totally excited about coming to Oregon – totally excited about becoming a Duck."
Tsugawa mentioned two overarching goals for the AAEO office. One is providing prevention education and training for office staff on how to address interpersonal conflict. The other is making processes more transparent so people know what their options are. She also emphasized the importance of protecting people instead of the university.
"Our job is to protect the students, staff and faculty of the campus, not to protect the university…We need to be independent and autonomous to a degree so that we can protect people."
Which sounds admirable, but is either disingenuous or confused. UO will be not be paying her ~$150K to protect people. Her job is to protect the university. As UO's Discrimination Complaint and Response Policy warns:
Employees should be aware that AAEO is tasked with ensuring compliance with this policy and state and federal law.  Therefore, while AAEO will work with employees, students and campus community members to ensure that they understand their complaint options, are protected from retaliation and are provided with interim measures as appropriate, AAEO employees are not advocates for individuals participating in the process.
This policy wording was approved by the UO General Counsel's Office and has been implemented twice by the UO President – once as an emergency policy and once as an interim policy. It is still in effect, except for situations involving sexual harassment or violence against students. Those are now handled by UO's Title IX Office, under UO's new student-directed reporting policy.