2/5/2019:  After adjusting for cost of living increases, Oregonian's average real income rose 2.7% last year: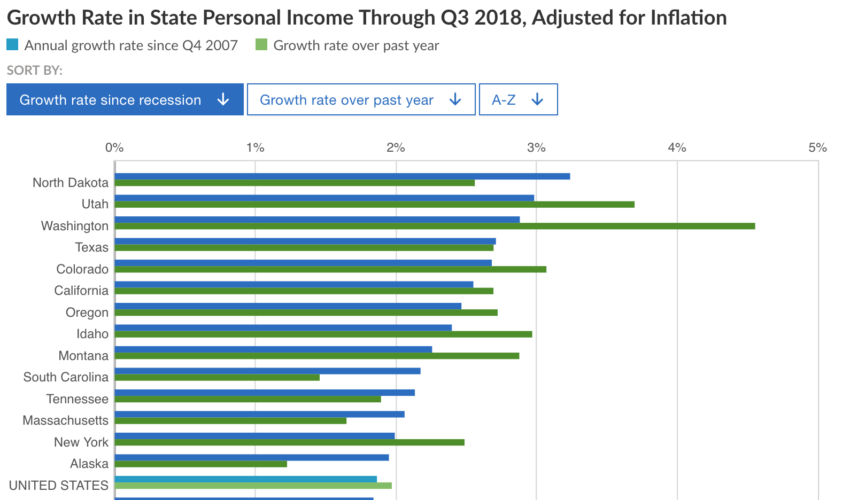 The UO faculty, not so much:
1/18/2019: Provost announces 1.1% pay cut for UO faculty
I'm no economist, but I can subtract. Last week the Bureau of Labor Statistics reported that the cost of living in the western US increased by 3.1% over the past year. And this week our Provost reported that UO faculty would get an average 2% raise:
Dear Faculty Colleagues,
I want to remind you that January is the month when fiscal year 2019 salary increases kick in for both represented and non-represented tenure-track faculty (TTF) and career non-tenure-track faculty (NTTF) at the University of Oregon.
The fiscal year salary increases are provided to faculty members who meet the eligibility criteria, which requires an appointment as of December 31, 2018.
Faculty members currently in the tenure-track classification received a 1.25 percent across-the-board increase on January 1, 2019, and that will appear on the January 31 paychecks. There's an additional pool of 0.75 percent to address equity that will be distributed after an internal study currently underway is completed. Funds from this equity pool will be distributed as soon as they are available, consistent with the United Academics collective bargaining agreement and the related memorandum of understanding. For more information on the equity study, please refer to the Faculty Salary Equity Study webpage.
All increases provided from the equity pool will be retroactive to January 1, 2019. If there are funds remaining in the equity pool after equity decisions are made, those funds will be applied as an additional across-the-board increase to TTF.
Under the collective bargaining agreement, career NTTF members received a 2.0 percent across-the-board increase on January 1, 2019, with those increases appearing on the January 31 paychecks.
For more information on faculty salary increases, please refer to the Annual Salary Increases webpage. If you have any questions, please contact Human Resources by email at [email protected] or call 541-346-3159.
With warmest regards,
Jayanth Banavar
Provost and Senior Vice President
Next year the faculty union's MOU with the adminstration calls for average raises of 2.125%: 1.625% for merit, and 0.5% for external equity, so exceptionally excellent faculty in departments that have been underpaid for years may actually get small increases in real pay. The rest will get another cut.
How are we doing in comparison to other universities? I don't know, the annual update on UO's IR page from the AAUDE data is now 4 months late, and Director JP Monroe has stopped responding to my emails.