5/17/2019 update:
The Oregonian's Rob Davis reveals still more of the documents UO tried to hide from the public, including more new information about the redactions by Kevin Reed's Public Record Office.
If I understand the story right, Reed's office let the lobbying group decide what UO should redact from UO's public records. They made some interesting choices. Weird. Full story here with links to all the records:
What UO didn't want the public to know about industry group's climate bill opposition
… The newly released documents documents include the alliance's legislative updates, lobbyist reports and memorandums to members. The university originally contended portions of the documents were protected by the attorney-client privilege and by an exemption allowing material submitted confidentially to be withheld in very narrow circumstances.
Ed Finklea, the alliance's natural gas director, told The Oregonian/OregonLive it was the energy alliance's attorney who made the redactions when the university released the records. Molly Blancett, a school spokeswoman, said the university "always solicits the input of third parties when it comes to their records that have made their way to the university's possession."
The clean documents show a consistent theme in what was initially redacted: References to potential benefits of Brown's proposed climate change bill. …
5/14/2019 update:
I have it from a generally reliable source that, as of yesterday, UO has withdrawn its membership in AWEC, the industry group that is lobbying against Governor Brown's Cap and Trade legislation.
5/12/2019: It backfired. Rob Davis has the story in the Oregonian, here. A few snippets:
… along with Oregon Health and Science University, UO is a member of the Alliance of Western Energy Consumers, a group lobbying to kill the governor's climate change agenda. One of the energy group's leaders during a recent interview cast doubt whether greenhouse gases are causing the earth's temperatures to rise. It's a position at odds with the findings of scientists worldwide.
OHSU pays the group $21,000 in annual membership dues. UO, which joined the group last November, pays $13,000, records show.
… hundreds of pages of internal documents show that university administrators were aware of the energy group's opposition to Brown's climate plan and knew it would be controversial.
When University of Oregon officials released the records, they deleted references to the group's opposition, asserting attorney-client privilege. But OHSU provided some of the same documents without redactions.
Reached by The Oregonian/OregonLive, [UO Director of Utilities and Energy Tony Hardenbrook] said he was happy to discuss the school's participation in the alliance. But he said he first needed authorization from university public relations officials. "I have nothing to hide," Hardenbrook said.
The university refused to allow Hardenbrook to be interviewed by The Oregonian/OregonLive.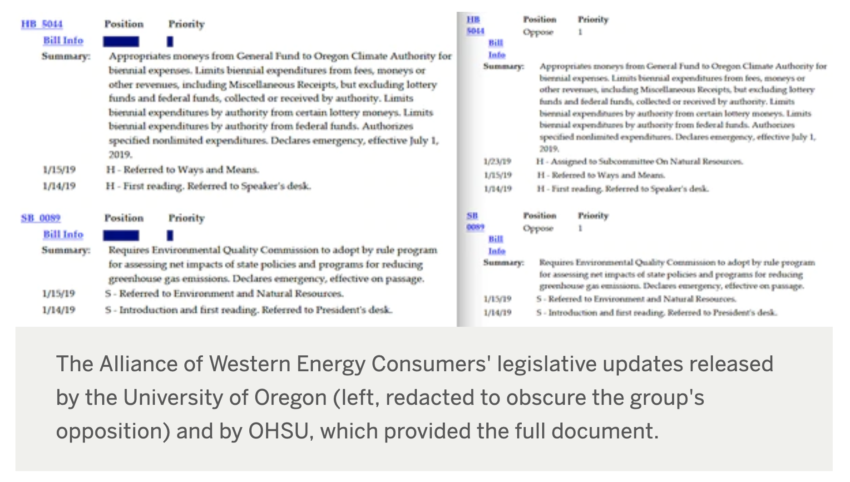 Thanks to a reader for the link.