Location: EMU 145 & 146 (Crater Lake rooms) 3:00 – 5:00 P.M. Livestream here.
3:00 P.M.   Call to Order
Introductory Remarks; Senate President Elizabeth Skowron
Discusses possibility of move senate and committee elections and appointments to earlier in the year, so we're not filling seats in the summer. Great idea. Currently the interest survey goes out in April, the proposal is to move it to March. Maybe it should even be Feb.
3:10 P.M.  Approval of the Minutes

3:15 P.M.   [Not President Schill's] State of the University
Janet Woodruff-Borden, Executive Vice Provost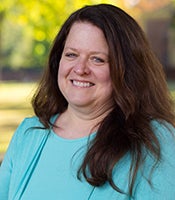 Janet Woodruff-Borden
Executive Vice Provost for Academic Affairs
541-346-8994
janetw@uoregon.edu
Executive support: Suzette Howard
Janet Woodruff-Borden leads the academic and faculty affairs efforts for the Office of the Provost. She oversees issues around curriculum, academic training, professional development, online and hybrid education, and employee and labor relations matters. She previously served as vice provost and dean of the UO Graduate School. She came to UO from the University of Louisville where she was professor of psychological and brain sciences. She held a number of administrative positions throughout her career at Louisville, including director of graduate studies for the clinical psychology doctoral program and associate dean for graduate studies in the College of Arts and Sciences. Her research focuses on the etiology, developmental psychopathology, and treatment of anxiety disorders. She received a bachelor's degree in psychology from Wake Forest University, an M.S. and Ph.D. in clinical psychology from Virginia Polytechnic Institute and State University and completed postdoctoral training at the University of Pittsburgh.
She has the job formerly held by Scott Pratt. For those who are having trouble keeping up, here are the latest org charts:
Woods: Will there be an attempt to do peer reviewed research on the new teaching evaluations? A: I'm science based, so I expect so. Mentions some possible outcome measures – i.e. better teaching.
3:30 P.M.   New Business
One noteable change:
School of Law
 The following changes to the Doctor of Jurisprudence degree have been approved by the Provost (Effective
fall 2019):
o A maximum of 28 law credits earned outside of the US changed to 57 credits
o 15 law credits earned through Distance Education changed to 28 credits
o No limit for LAW 714 changed to a limit of 14 credits
o No double dipping for Diversity requirement changed to Ok to double dip in Diversity requirement
and either the Writing or Experiential Learning
Report is approved unanimously.
Sorry, I've heard this 4 times. It's much needed and well thought out. If you want to be a troublemaker, ask Joe why they want to make their students take calculus.
Approved unanimously after a full and frank discussion.
No vote this meeting, discussion only. Very positive reception.
Intro/Update: Accelerated Masters Programs; Andy Karduna
No vote this meeting, discussion only. Great idea, imho. Senate agrees.
4:30 P.M.    Open Discussion
4:40 P.M.   Reports
4:50 P.M.   Notice(s) of Motion
4:55 P.M.   Other Business
5:00 P.M.   Adjourn