3/2/2020: Nigel Jaquiss has the story in Willamette Week, here. The donation was made in January. Nike's ROI is $20,000,000/$25,000, or $800 per dollar invested, assuming the Legislature passes the pork legislation, and Gov. Brown then signs it. She's term limited, so what will she spend it on?
12/9/2020: Quid Pro Quo for Gov. Kate Brown for IAAF 2021's public funds?
Say it isn't so: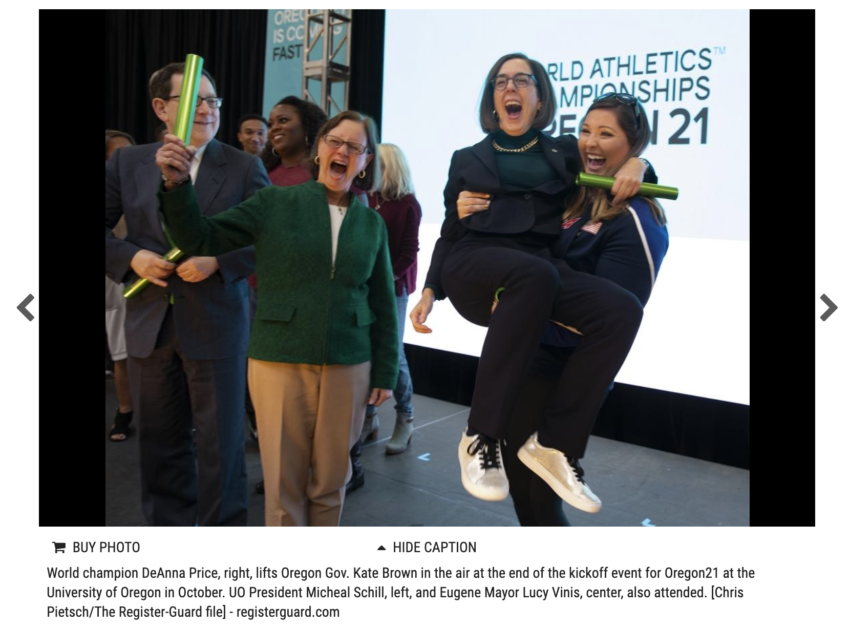 Call me a believer in self-interest and public choice economics, but I'm starting to wonder what's in it for Governor Brown as she doubles down on her efforts to get the state to pay for the Oregon21 IAAF championships.  The Oregonian's Jeff Manning has been on this since the start, and has a recent report giving Oregon Senate President Peter Courtney's take:
Brown and others in Salem are confident that the Legislature will be supportive enough to give Brown what she needs. That is, unless Senate President Peter Courtney's ongoing financial concerns gain traction with other lawmakers.
Courtney predicted an enormous wave of additional financial demands as the event comes closer — and afterwards.
"It'll be in the hundreds of millions of dollars before it's over," he said. "I'm telling you right now, we don't know how much money they're going to need and we have no idea where the money is coming from."
Courtney added that he thinks Brown and the World Championships will carry the day, "I've lost," he said. "The event is coming. I just want to know how big the tsunami is going to be."
In 2018 Manning had this story on UO Foundation Paul Weinhold's off again on again promises threats to use the Foundation's $1B endowment to backstop any losses, given an apparently vacillating guarantee from some anonymous donor named Phil Knight that he'd cover any overages.
Weinhold's problem, of course, is that Knight would prefer that the state pays, and if his commitment is too firm then Gov. Brown's appeals to the legislature for money start to look even more suspicious. But if it's too weak, Seb Coe and the IAAF will start to ask for more assurances – i.e. cash up front from Knight, who didn't get rich from a poor understanding of backwards induction.
Perhaps the legislature will demand to see the guarantee's Knight has given Weinhold in writing before writing another check with other people's money.
At the moment, Weinhold seems to have gone back to claiming he's got a firm guarantee. Christian Hill had the story in the RG this weekend, here, with this from Gov. Brown:
The full state contribution represents about half the nearly $80.9 million budget for the 10-day event, records show.
"I'm confident we will have the resources we need to pull this event off," Gov. Kate Brown reassured while speaking to reporters after the event's Oct. 10 kickoff at the University of Oregon. "We have a number of legislators who are, shall we say, all in."
"All in". Yes, I suppose that's one way to say it.
This story came with the picture above, from the RG's excellent photographer Chris Pietsch, showing Brown at the UO party for the 2019 officials and athletes. I expect this picture is now at the top of the file of the FBI agents that are investigating this whole mess: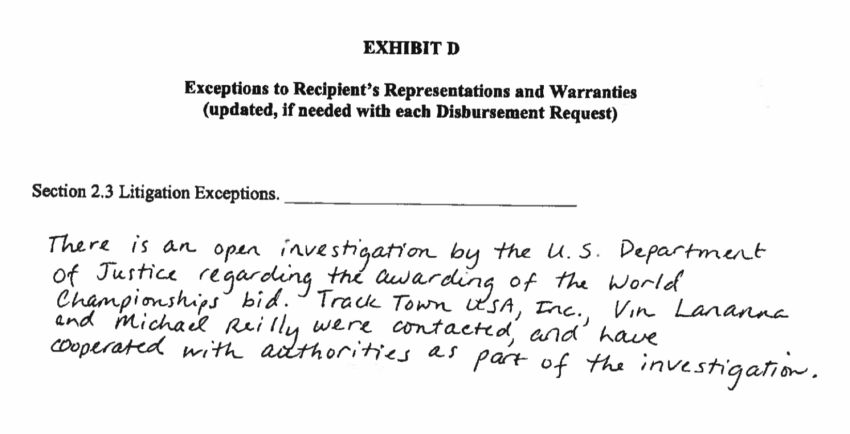 Please don't send me a takedown notice Chris – I'm still a subscriber!