Thanks to SB270, the aging boomers on UO's Board of Trustees have complete authority over the Code of Student Conduct, and they want to make a few changes. First, expand UO's control of students when off campus to include such things as substantially disrupting any UO community members – which presumably includes the Trustees:
Section III: Scope, Authority, and Jurisdiction

Student behavior which occurs off-campus in which the University can demonstrate a clear and distinct interest as an academic institution regardless of where the conduct occurs and a) which causes substantial disruption to the University community or any of its members, b) which involves academic work or any University records, documents, or identifications, or c) which seriously threatens the health or safety of any person.
That seems rather broad. But wait, there's more:
j. Public Urination or Defecation: To urinate or defecate in any public location not specifically designated as a restroom.
That's going to be a bit of a problem for the Outdoor Center's camping trips. I'm going to guess this party, inspired by the spring Duck Football scrimmage, was a little too close to someone's house: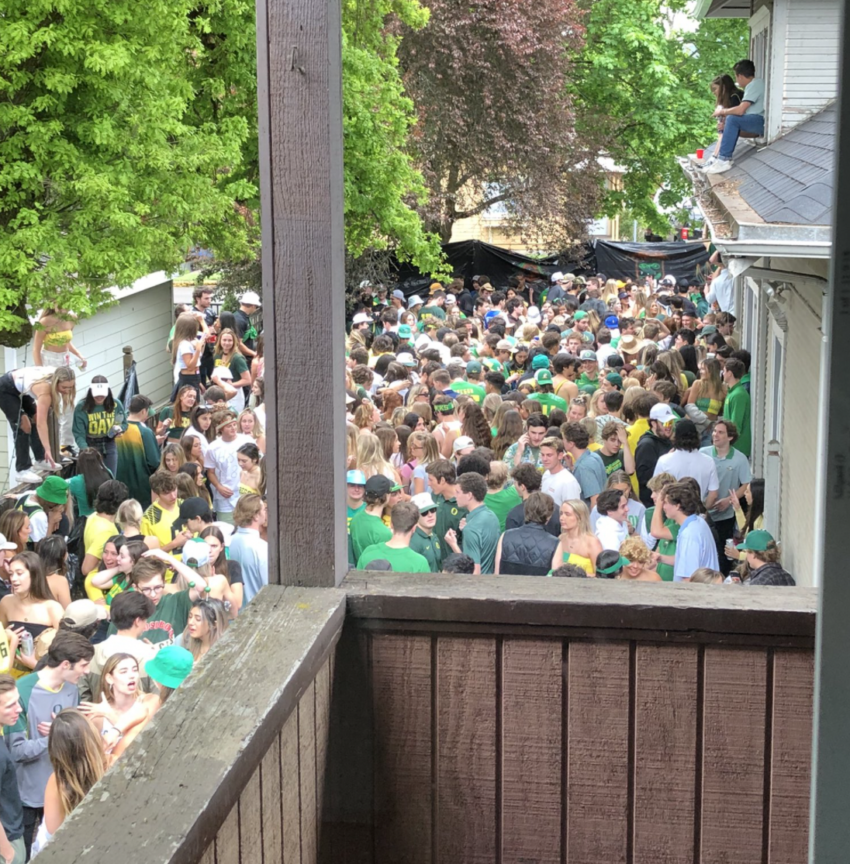 The proposed student conduct changes are much bigger than this – e.g. incorporating by reference every other UO policy. The changes never came to the UO Senate for discussion, and are buried on page 202 of the 212 page agenda for the Board meetings, to be held May 19-20. I'll have more on other aspects of the agenda later.
The Board meeting will be broadcast via live stream:
Wednesday, May 19th: https://youtu.be/tmfg-1czRNM and Thursday, May 20th: https://youtu.be/q0Mpo1zlk7o