11/3/2017:  Just when you thought the UO administration's response to the student protest couldn't get any more ridiculous, it does. Daily Emerald reporter Casey Crowley has the latest:
A University of Oregon student who was charged with student conduct code violations for participating in a demonstration on Oct. 6 says she was not at the protest.
… "This is what I found particularly problematic, I did put attending on a Facebook event," said [the UO grad student]. "Like everyone, I get sent a bunch of events. I put 'attending' to most of them randomly."
So it seems that UO is paying staff (UOPD? DoS? VP for Communication?) to monitor the UO Student Collective's Facebook site, and they used this student's click mark to decide that she'd disrupted President Schill's right to speak. Then they sent her a discipline letter. More from Crowley's report:
In order to identify students to charge with conduct code violations, the conduct office looked at photos, videos and social media activity that was available, [UO spokesperson Tobin Klinger] said.
[The student] said she will contest the charges and go through an administrative conference, where she can present information so that the conduct office has a full understanding of the situation.
Presumably this also explains how Klinger was able to make his prejudicial statement to the Oregonian that  ".. the demonstration actually violated university policy…" just 5 minutes after the protest ended. He knew the students were guilty, because he'd already read it on Facebook. This might raise a few entrapment issues?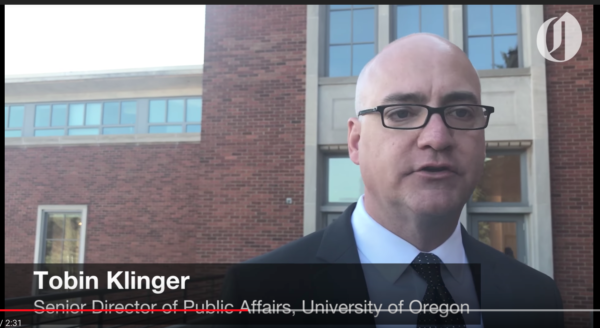 I've read about thought-crime, and I saw a movie about pre-crime, but leave it to the UO administration to charge a student with the latest: Facebook-crime.
For the curious, here's the UO Student Collective's Facebook page. This may cost me my tenure, but I just clicked the "Like" box: