This is despite the March 2017 report from UO General Counsel Kevin Reed, saying the Ducks don't prevent players from talking to the press. Steve Mims has the report in the RG here:
… Altman found a few things that fit into the "you-can't-do-that" category after Oklahoma defeated the Ducks 90-80 Sunday afternoon to close out the Phil Knight Invitational at Memorial Coliseum.
"We put them on the free-throw line 44 times, I know a couple were late, but still 40 free throws when the game is on the line, you will not have much success," Altman said.
… "Defensively, we are not in the right position and not ready to play," Altman said. "Our knees are not bent and we are one step behind, that's one reason why we are fouling so much." …
"We are not getting any leadership there on the offensive end, there is way too much dribbling," Altman said. "The ball has to move but the guards pound it and then the forwards get it and pound it. That's going to change, I can control that."
How does he do that? "If the ball movement doesn't get better, they are not going to play," the coach said. "I am not going to stand and watch them dribble all game."
Oregon did not let any players speak to the media after the loss to Oklahoma that took away what likely would have been its best nonconference win.
Altman has a long history of this sort of thing, which would seem to be a violation of the First Amendment, and the claims in the March 2017 report from the General Counsel's Office prompted by complaints from Daily Emerald reporter Kenny Jacoby, here: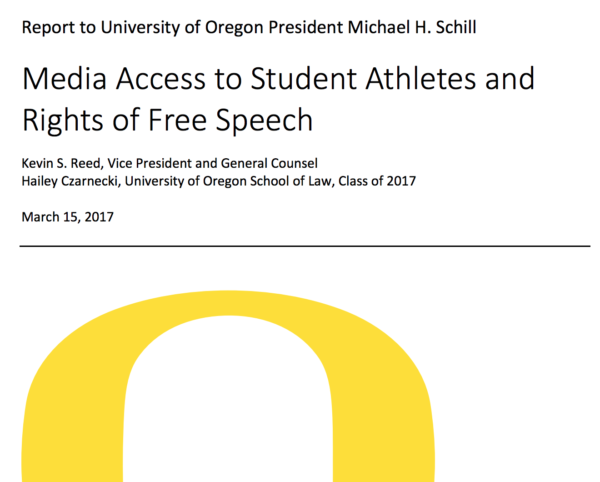 …