8/24/2018 update: Dean of Libraries Adriene Lim has issued a thoughtful statement here. Worth reading it all, here's a snippet:
… On a personal note, I share this recollection of my days as a new librarian at Wayne State University in Detroit. I was involved in producing a major exhibit on "Lesbian Pulp Fiction" in one of our libraries. The year was 1997, when being lesbian or gay was still viewed as deviant and perverted in mainstream culture (and still is by some in our society). The exhibit included panels that I had borrowed from the Lesbian Herstory Archives (LHA). After the opening of the exhibit, someone vandalized the works; they painted the word "dyke" over an artifact and damaged a few of the LHA panels.
My point for sharing this story is to illustrate why I am convinced that condoning acts of vandalism like this or censoring or removing works with which we are offended will ultimately and more deeply affect those of us in the minority. This experience and many other incidents I can relate, including demands from individuals to remove what they deem to be offensive books and materials from the library, inform my own reactions to this incident of vandalism now. …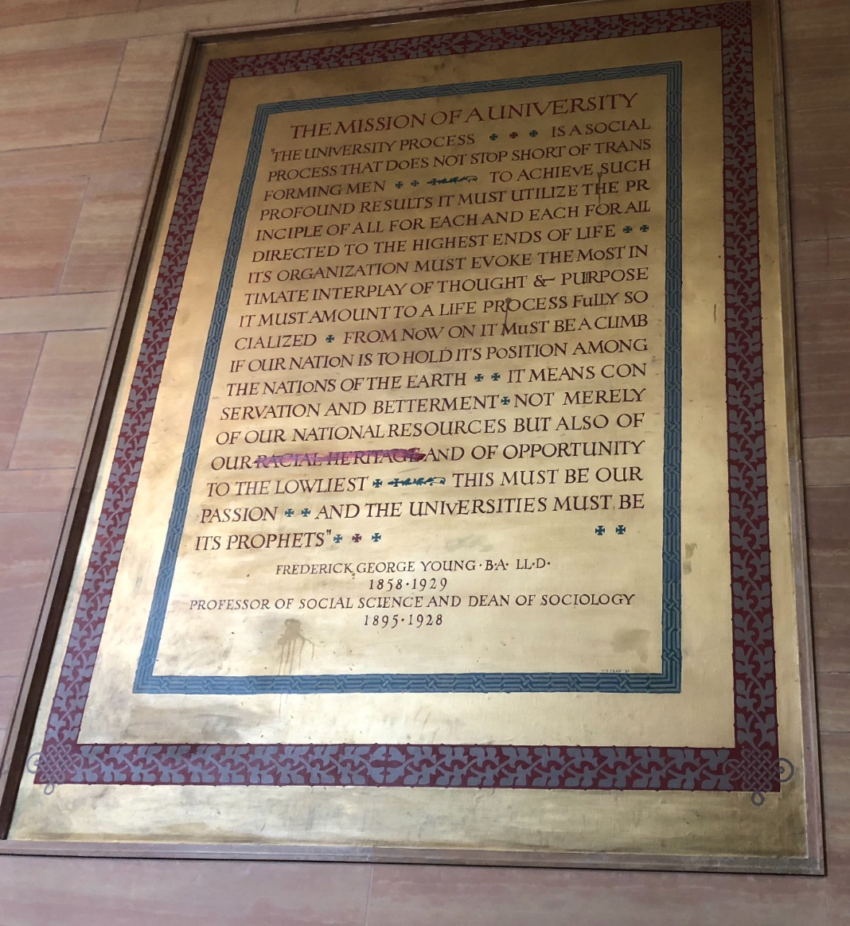 8/23/2018: I'm shocked and appalled that these vandals couldn't find a ladder tall enough to fix the gibberish at the top too. I know the stairs make for a tricky set-up, but this $139.99 Harbor Freight 17 footer adjusts nicely. I've put a loaner out by the carport. This post is not in any way meant to express UO Senate endorsement of this sensible act of free-speech.
Thanks to Prof Sanjay Srivastava's excellent twitter feed for the breaking news and photo.
From an earlier post:
12/7/2017: Students want to remove insipid, racist UO Mission Statement from library wall
The Daily Emerald has the story here:

The change.org petition is here. It focuses on the part about "… conservation and betterment … of our racial heritage…", which at the time was the language of eugenics, racist immigration policies, and forced sterilization –  the death camps came soon after. Personally, I'm in favor of leaving the thing up as a warning to our students and the future, but only after giving UO's History and English faculty a crack at it with a ladder and a fat red marker. Here's my attempt: